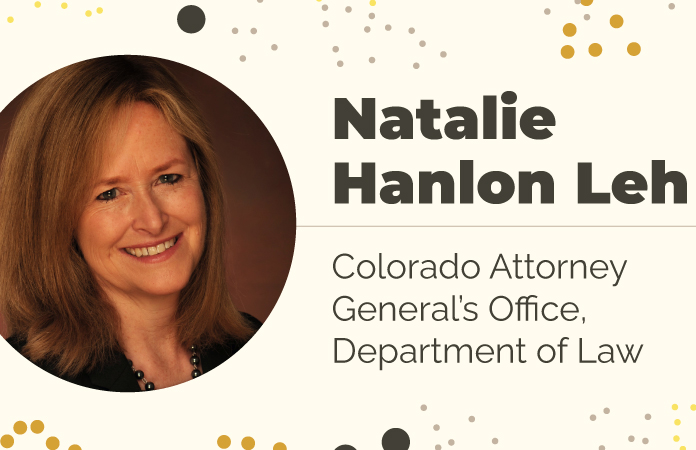 Overseeing over 300 attorneys, Natalie Hanlon Leh leads Colorado's biggest legal organization, but it's not the BigLaw environment that might come to mind.
As second-in-charge at the Colorado Attorney General's Office, Hanlon Leh oversees the legal function of the state office, which includes advising the state on diverse legal matters, managing roughly 500 staff including 350 lawyers on 45 different units and representing the AG in policy work. She describes her position as Colorado's chief deputy attorney general as part managing partner, part general counsel and "the best legal job in Colorado, because it is interesting and important every day."
Hanlon Leh is one of Law Week Colorado's 2022 Top Women based on a career of leadership and impactful work. Colleagues say Hanlon Leh brings collaboration, inclusivity and innovation to her leadership style and also credit her ability to foster connection as well as her high emotional intelligence.
Hanlon Leh was appointed chief deputy attorney general in 2019 by Colorado Attorney General Phil Weiser. She wasn't expecting to be offered the job by Weiser, she said, but accepted the opportunity and hasn't regretted it since.
Weiser and Hanlon Leh met first through Silicon Flatirons, the technology, law and policy center at the University of Colorado Law School founded by Weiser in 1999 to foster interdisciplinary work around technology and the law. From 1993 through 2019, Hanlon Leh worked in private practice on intellectual property litigation and other IP matters first at Faegre Baker Daniels, now known as Faegre Drinker Biddle & Reath, and then at WilmerHale. She was involved in Silicon Flatirons early on, serving on its advisory board and speaking at conferences, but didn't expect that her involvement would ever lead her to the Colorado AG's office with Weiser.
"It's an interesting journey. I don't think 20 years ago either of us would have imagined he'd be attorney general and I'd be his chief deputy," said Hanlon Leh.
At both WilmerHale and Faegre Drinker, Hanlon Leh maintained her own practice while also rising to leadership positions. At Faegre Drinker, she was the group leader for the firm's national IP practice and co-partner in charge at WilmerHale's Denver office. The leadership positions at the large firms have helped Hanlon Leh oversee the AG's Office's diverse work and large team, she said. The AG's Office is responsible for representing the state on legal matters that can range from environmental work on things like air and water quality to financial fraud prosecution, medical discipline cases and employment law disputes. "It really is a wide range of work that we do, remarkably wide," said Hanlon Leh, who helps lead the office in some of its most important matters and cases.
Before her career in private practice, Hanlon Leh was a staff attorney for Colorado Legal Services and a judicial clerk to former 10th Circuit Court of Appeals Judge John Porfilio. She graduated from Harvard Law School in 1989 and got her undergraduate degree in business from the University of Colorado Boulder.
Both her and Weiser's background with Silicon Flatirons has also come into play in their current positions, Hanlon Leh said. In 2021, the Colorado General Assembly passed the Colorado Privacy Act which will go into effect next year. The CPA is the third state-level privacy act in the U.S., following California and Virginia, and creates protections for the personal data of Colorado consumers. The law tasked the Colorado AG's office with determining how it will be implemented.
"That is something we're heavily engaged in right now," said Hanlon Leh. She explained that the AG's office currently has a team to work on CPA implementation, collect public and stakeholder input, roll out proposed rules and hold hearings on proposed rules before official implementation.
Prior to the CPA, Hanlon Leh said, the AG's office was already involved in developing its data privacy expertise. While she had worked on data and privacy technology matters in her private practice, Hanlon Leh wanted to develop an internal team that could advise the state on data privacy matters as a government entity. She created an impact team, bringing together attorneys from across the office who all worked on data privacy matters in their separate units and later hired dedicated data privacy lawyers.
"It's been a really interesting journey but we have now, I think, the most robust data privacy practice of any AG's office in the country," said Hanlon Leh. "We have this fancy new law we're trying to figure out how to implement and I just think it's provided us with a lot of interesting opportunities and that we're doing good work for Colorado."
Overseeing the AG's staff and attorneys, Hanlon Leh has made efforts to create professional peer advising opportunities like those she says have helped her.
In early 2021, Hanlon Leh created a program to bring together first assistant attorneys general and other department supervisors through peer support groups. The groups, which meet monthly, include supervisors from across the office and allow them to learn from one another, to discuss challenges and workshop solutions and to connect and develop as professionals.
"I really invested in that group of people because I think they are really important to success and whether we do really excellent work," Hanlon Leh explained. "It's just been really good as a way for them to build relationships outside of their work group but also to develop peer mentorships and for me to help support them better."
Anne Lee, the chief transformation officer at the Attorney General's Office, has worked with Hanlon Leh over the years both in private practice and now at the AG's Office. In Hanlon Leh's nomination, Lee explained that she has "an extremely high EQ and knows how to speak to people and lead with empathy." Lee added that Hanlon Leh makes an effort to get to know all the attorneys and staff she leads and looks for places to support individuals' career development.
Hanlon Leh was also nominated by the Colorado Women's Bar Association, which she's an active member of and was the youngest president of in 1996. "The hallmark of Natalie's leadership style and what makes her a Top Women Lawyer is her intentional inclusivity and ability to connect a broad base of people who can provide both pioneering and foundational details that inform her decisions," wrote Gina Simonson on behalf of the CWBA. "Her ability to do so ensures that her decisions and recommendations are sound, inclusive and innovative."
Reflecting on her career, Hanlon Leh credited the support she's received from other attorneys as well as Colorado's legal community. "There are so many people that have given me such a rich life and career that I'm really indebted to and it's part of why I feel so strongly about the mentorship piece," she said. "It's part of why I really enjoy this job now."
Outside of her career, Hanlon Leh is adjusting to a recently empty nest now that her two daughters are grown up and launching themselves as adults. She enjoys reading, hiking and spending time in nature and began taking tap dance classes with the parents of her daughter's former dance team.