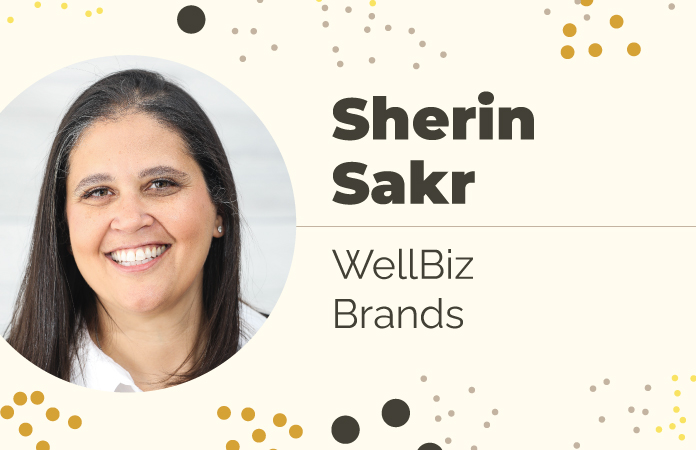 Sherin Sakr's leadership philosophy matches how she shows up for work as a lawyer every day — lead with authenticity and live authentically. 
"I made a decision a long time ago in my career to not apologize for who I am," Sakr said. She serves as general counsel for WellBiz Brands and leads an in-house legal team in complex franchise agreements and mergers and acquisitions. "I'm a five-foot-10, tall, strong, Middle Eastern, Muslim woman who also identifies as a lesbian — and that's how I show up every day."
By being authentic, Sakr said she's built a safe space for others to do the same. She encourages leaders who want to be more authentic with their teams to acknowledge their own struggles as a leader. "I think that there's a misconception that as a leader, you have to be strong all the time, or you have to have you know your stuff together at all times," Sakr said. 
Sakr is one of Law Week's 2022 Top Women and it's little wonder how she came to be nominated for the honor. Born in Cairo, she lived in Puerto Rico and Germany before settling in the U.S. with her family at age 12. Sakr calls herself a "third culture kid." "When I was in kindergarten in Germany, I didn't understand why the other kids didn't want to be my friend. It turns out it was because I didn't speak German — so I made myself learn German in a few weeks," she said. Sakr's never lived anywhere for longer than 10 consecutive years. 
She started her undergraduate program as an engineer before pivoting to international affairs and political science. She explained that both of her parents have Ph.D.s and are well-regarded in their fields — and both were tough sells on her going to law school. "I think that was probably my second big negotiation in my life," Sakr explained.
"In Eqypt, lawyers actually have the worst grades," said Sakr. She noted the profession wasn't very well-regarded at the time, "so I made my parents watch a lot of L.A. Law episodes so they could understand really what it means to be a lawyer in the United States." 
When she got to law school at the University of Denver Sturm College of Law, she initially intended to focus on international and human rights law but because of her background in engineering, tax law pulled her in. She got her law degree plus an LLM, starting her legal career working as a tax lawyer for Snell & Wilmer. There, she became familiar with franchise work and looked into various tax questions for Kahala Brands, the company that owns Cold Stone Creamery.
Sakr was eventually recruited by Cold Stone to join its team in-house. "We had a test store in our building… we were always the first to get to taste any new flavors," she said, recalling some of the best and worst flavor combinations she tried — crème brulée and dill pickle, respectively. 
She joined beauty, fitness and wellness brands franchisor WellBiz three years ago and in the past year alone, she's aided the company in acquiring two new brands while also managing the larger legal operations of the company, which has more than 900 beauty brand locations nationwide. "[N]othing leaves the company without passing under Sherin's eyes: from press releases to franchise agreements, she sees it all," wrote Wheeler Trigg O'Donnell partner and one of Law Week's 2016 Top Women honorees, Katie Reilly, in Sakr's nomination. "She brings assertive confidence to her role as the head of legal at a major company."
Notably, Reilly said, one of Sakr's greatest accomplishments was helping WellBiz acquire global franchise rights for blowout salon Drybar and body waxing brand LunchboxWax with a team of just one other attorney plus a paralegal. 
Now Sakr manages four other employees for WellBiz while serving on the company's diversity committee. In that role, she helped the company approve and install gender-neutral bathrooms. "The gender-neutral bathrooms were in our last company office, and that was something small and tangible where we just had two bathrooms that were just a stall," Sakr said, "and being able to do that and the message that sent to the rest of the company was one of inclusivity and one of belonging so that there wasn't that distinction."
Sakr also implemented a "blind recruiting process" that Reilly said allowed interviewers to mitigate implicit bias. "Resumes are stripped of the person's name, gender, and any identifying info that could imply the race, gender, or sex of the candidate," Reilly wrote in Sakr's nomination. "That way, the interviewer has no idea who the person is until they arrive for their interview. Sherin successfully hired two outstanding new employees this way." 
"I tend to live my life around the Four Agreements," Sakr said, referring to a life philosophy popularized by author Don Miguel Ruiz. "And those are kind of the ground rules that I set for our diversity committee." She explained the committee hosts discussions and activities centered around implicit bias and that the group has given employees a safe space to share their unique experiences. 
"I have worked incredibly hard to build a career as a powerhouse attorney while simultaneously respecting religious norms like fasting for Ramadan. It's not easy, but I make sure I openly exist in both worlds," Sakr said. "It's really important to me that I lead by example, to show others that it's ok to fully be yourself."