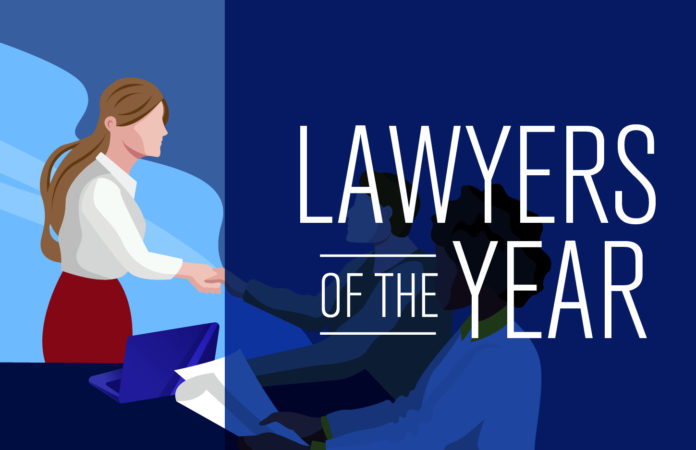 In his more than 35-year career, John Walsh has tried to bring public service to the forefront of his work as a lawyer. 
"I think it's something that is inherent to the best traditions of the legal profession," explained Walsh. "One of the things in law school that I was so energized by, which I hope law students today are still energized by, is the opportunity that having legal skills and legal training gives you to be almost a kind of super citizen."  
It's an ideal that Walsh says has run underneath his work as a federal prosecutor, an attorney in private practice, in the political arena and beyond and it's one of the reasons he was selected by Law Week as a 2023 Lawyer of the Year. 
Walsh is currently a partner at WilmerHale's Denver office and co-chair of the international firm's white collar defense and investigations practice. He first joined WilmerHale in 2017 after serving as the U.S. Attorney for Colorado from 2010 to 2016. Prior to that, Walsh worked at Denver area firms Holland & Hart from 1995 to 1999 and Hill & Robbins from 1999 to 2010. His first job out of college was as a federal prosecutor working out of Los Angeles from 1987 to 1995 where he eventually specialized in white collar crime prosecution. 
Walsh has run for office twice, first in 2004 when he ran against Beth McCann and Mitch Morrissey for Denver District Attorney and then in 2019 when he put his hat in the ring to challenge former U.S. Senator Cory Gardner. Walsh left WilmerHale briefly when he announced his campaign for senator. While he didn't make it to Denver's run-off election in 2004 and withdrew his candidacy after now-senator and then-candidate John Hickenlooper announced his plans to run, Walsh looks at both experiences as a way lawyers can be committed to public service. 
"It's a wonderful profession in the end in that that sense of public service really is inherent to what we do," emphasized Walsh. 
When he was 12, Walsh and his family moved to Centennial, Colorado. He left the state to attend Williams College in Massachusetts before graduating in 1986 with his J.D. from Stanford Law School.  
While he said his family always instilled the importance of public service and giving back to your community, Walsh explained no one in his family was a lawyer. When he first went to college, he hoped to become a doctor but in his junior year changed course to pursue a career in the law. His ideas of what a lawyer did came from television and movie characters initially, Walsh explained, recalling Atticus Finch and Perry Mason as characters that stuck out to him. 
In law school, he set his sights on becoming a prosecutor and more specifically a white collar crime prosecutor. 
"I felt and still feel that's an area that is so important. It can be difficult to prosecute those cases just because of their complexity, and it was with that in mind that I applied to law school and was looking down the road to public service," said Walsh. 
After law school, Walsh clerked for Judge Skelly Wright of the U.S. Court of Appeals D.C. Circuit before he moved to Los Angeles and worked for the U.S. Attorney's Office for the Central District of California. Initially, he prosecuted a variety of cases but eventually focused on white collar crime and fraud. He later became chief of the office's unit. 
Looking back on LA in the late '80s and early '90s, Walsh remembers the city was experiencing an upswing in crime including white collar crime. During his tenure as a federal prosecutor in southern California, Walsh was involved in several high profile prosecutions and investigations including the prosecution of Charles Keating in connection with the savings and loan crisis, the prosecution of former California politician Bruce Young (whose conviction for charges connected to corruption accusations were later overturned) and appointment by the U.S. Attorney General to conduct a grand jury investigation into former Arizona Governor John Fife Symington. That investigation eventually led to the former governor being convicted on seven counts of bank fraud although Walsh had left the U.S. Attorney's office and moved to Denver by the time of the trial, he explained. 
Walsh returned to Colorado in 1995 where he worked in private practice until he was appointed U.S. Attorney for the District of Colorado in 2010 by former Pres. Barack Obama. As head of the office, Walsh continued his work investigating fraud and white collar crime, leading to a number of notable settlements and investigations. His six-year term made him one of the longest-serving U.S. Attorneys in Colorado, according to the U.S. Department of Justice. 
Under his leadership, the DOJ's Colorado office alongside the New York office launched the investigation that led to Citigroup paying $7 billion to settle claims that it defrauded customers. He was also involved in the investigation that resulted in a $3 billion settlement agreement between the DOJ and a pharmaceutical company to resolve allegations the company illegally promoted certain drugs, failed to report certain safety data and falsely reported drug prices. Walsh also co-chaired DOJ's Residential Mortgage-Backed Securities Working Group to investigate how institutional lending practices and fraud contributed to the 2008 financial crisis and led the U.S. Attorney General's national advisory committee. He calls working on the committee a "gift and responsibility" that gave him the opportunity to better understand unique challenges for states and regions across the U.S. 
In private practice, Walsh said he's maintained his commitment to public service and added WilmerHale has been very supportive of his volunteer work. "The reason I came here after being U.S. Attorney was a combination of the fact that the firm has such a reputation for this exact commitment and is very committed to public service and to the community," explained Walsh. 
Walsh, who is fluent in Spanish, is currently co-chair of the American Bar Association's International Law Section's Mexico Committee and is chair of Denver dual language school Escuela de Guadalupe's board of trustees. 
At WilmerHale, Walsh has had an impressive record defending clients in a number of high profile civil and criminal matters. He led the firm's team that secured a not guilty verdict in April 2022 for Denver-based dialysis company DaVita and its former CEO Kent Thirty after they were charged by the DOJ with conspiracy to violate the Sherman Antitrust Act and accused of colluding with competitors to not solicit each other's employees. In April 2022, Walsh and attorneys at WilmerHale were also handed a victory by the Colorado Court of Appeals that held the University of Colorado Foundation, the nonprofit department of the school responsible for investing donations, couldn't be sued by a donor and alumni who argued the group didn't effectively manage funds resulting in $1 billion in unrealized investment growth. He also co-hosts WilmerHale's podcast, "In the Public Interest," which is on its third season. 
Looking forward, Walsh said his commitment to public service will continue to guide his work. 
"I'm one of those lawyers who looks back and says, 'How lucky was I to choose this profession,'" said Walsh. "I think that combination of public service, government service and private practice has created, for me personally, just so many opportunities to give back for individual clients and also for the United States and for the community."