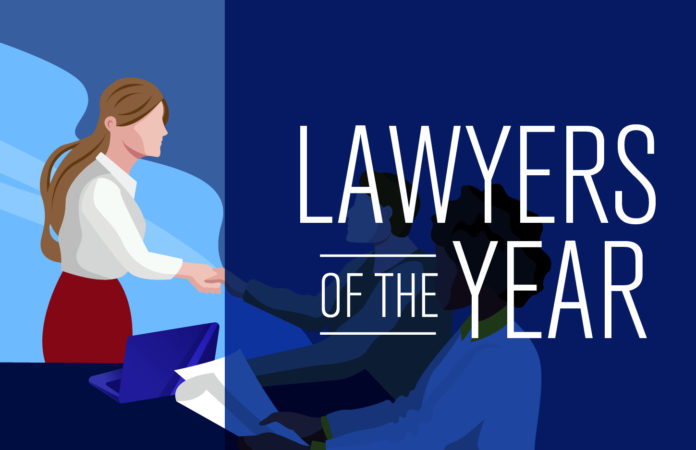 Polsinelli attorney Stacy Carpenter has been through it all.
Whether it's continuing to practice while going through two different cancer battles, raising a family or being the lead in some incredibly high-stakes cases, nothing seems to phase her.
Carpenter described herself as a traditional commercial litigator, meaning her practice consists of trial work and business litigation. She also has a fair amount of class action work and a strong presence in real estate litigation.
Carpenter serves as the chair of Polsinelli's national commercial litigation practice group and is the first woman to do so. "For me, the leadership has always been one of the most rewarding parts of my practice," Carpenter said.
Jennifer Evans, the Denver office managing partner at Polsinelli who nominated Carpenter, referred to her on the nomination form as "an experienced trial attorney for bet-the-company cases."
"When you [say] a 'bet-the company case,' it means that I'm the type of trial attorney that a company will hire when it feels like it has a lot on the line," Carpenter said. "It doesn't always have to be a monetary definition. Sometimes it is a public policy definition." 
Carpenter has faced other challenges including fighting off cancer twice while still working. The first time was breast cancer which she had while pregnant and being the president of the Denver Bar Association and the more recent cancer she battled was leukemia. Carpenter is now cancer free.
Carpenter said people will call her after they've been diagnosed to get her advice. 
"I'm very quick to say, 'look, there's no one right way to go about it, you have to do whatever feels right to you.' And to me, every day that I could work was a day that I didn't have to focus on the fact that I was fighting cancer," Carpenter explained. 
She noted she tells advice seekers to be upfront with their firm, while also being cognizant of how they are feeling and keeping positive mental energy.
"I like being a lawyer," Carpenter said. "I picked a career that I have no hesitation to say how much I enjoy what I do. It's positive energy for me to work and if it wasn't that way for you then that wouldn't be the thing you should focus on through all of this." 
Evans noted that Carpenter is wonderful at mentoring younger attorneys.
"In an industry where compassion can often be lacking, Stacy's personal journey has enabled her to empathize when her colleagues encounter personal challenges and crises," Evans wrote. 
In relation to her mentoring, Carpenter explained she believes it's harder now to find your place and build your practice and professional reputation. 
"That's probably largely just because the numbers have increased and the competition has increased … and it's not like you're going to develop something wholly new that's generally going to set yourself apart," Carpenter added. "I like really interacting on that level with folks because I think we all bring something to the table and sometimes you need somebody else to recognize what that should be for you."
Evans added Carpenter has compassion for others.
"There are often times … things will happen in somebody's life and it has to come first," Carpenter said. "I would never want any of the lawyers who I work with to feel that I'm not supportive in those situations. … My personal experience, obviously, I would suspect increases my level of empathy because people have had to do it for me and I really appreciate it and so I try to be very quick to do it for others."
One of Carpenter's mentees, Gina Tincher, an attorney in Polsinelli's commercial litigation practice group, explained on the nomination form the compassion Carpenter showed during a personal situation: "I've never felt so grateful to work for such a compassionate leader who truly understands that we have no control over when life decides to toss us curve balls. I've seen her exhibit that same understanding and compassion with others countless times."
Carpenter added other attorneys at Polsinelli are also great to work with. Her family is also very supportive of her. She has a 13-year-old son, a 24-year-old stepdaughter and her husband is also a lawyer. 
"I am extremely, extremely lucky I have a very supportive, very close family," Carpenter said.
Carpenter has numerous accolades including previously being named one of the "Lawyers of the Decade" by Law Week Colorado in 2011. Among her other roles, Carpenter also currently serves on the board of the Denver Scholarship Foundation.