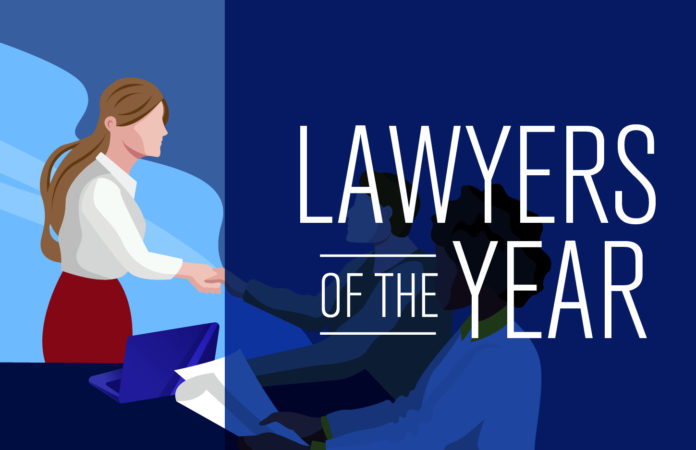 "I have a deeper appreciation for what I have based on the fact that in some respects it wasn't always going to be a certainty that I would be here," said Adam Massaro, Akerman partner and an intellectual property and corporate litigator. 
From central Pennsylvania, Massaro was always a fan of sports growing up. Playing football and baseball well into high school, he wasn't exactly sure what direction his life would take. But he knew sports wasn't going to be his forever career. In fact, from the age of 17 on, Massaro knew he'd become a lawyer. While working toward his bachelor's degree in public relations from Pennsylvania State University, he took pre-law classes, aspiring to attend law school. 
Massaro was waitlisted at every single law school he applied to. After searching for the best schools in the region, he found the University of Denver Sturm College of Law, where he was also waitlisted. But a week before school was going to start, Massaro got a call from the university that there was a spot for him in the upcoming school year. He packed his bags and headed west. At law school, Massaro was immersed in a competitive environment that helped shape and mold him as a lawyer. He fully embraced the process of the coming-of-age experience and was able to adapt better than others, he said. Ligation was his destiny. 
During law school, Massaro interned for several judges and after he graduated, he clerked at the Colorado Court of Appeals for one year. "I think inherently litigation was always the right piece [for my personality]," said Massaro. 
A partner at Akerman LLP in the firm's Denver office, Massaro's work ranges from trade secret litigation, patent infringement litigation, cannabis litigation, cannabis intellectual property enforcement and more. His litigation for intellectual property matters includes software, internet-based technologies, industrial equipment and sporting goods. 
Prior to working for Akrman, Massaro worked for Lewis Roca Rothgerber Christie as a partner from 2019 to 2021. He said his intrigue for Akerman was twofold: the work is on a national platform and the firm has a robust cannabis practice. "It was hard for me to sit on the sidelines knowing there was such a growing industry out there," noted Massaro with regard to cannabis practice. "There's always an excess of law firms and not enough clients and the fact the cannabis industry, especially when I started doing it like 7-8 years ago, were willing to do it."
Massaro represents clients in the cannabis industry providing strategic counseling for numerous areas. "It would be inconsistent with my entrepreneurial nature to sit on the sidelines knowing you have this industry out there and people are just…not engaging in it because there's a concern over its legality," said Massaro. From the intellectual property rights of drying techniques to advocating for trade secret protection, Massaro pushes the envelope in a practice area still looked at with a lot of trepidation. 
"I really enjoy the cannabis industry because of the evolving nature," Massaro explained.
Massaro's other practice areas also experience regulatory shifts. He recently won a case involving natural gas processing in Colorado that lasted for four years. That case dealt with a natural gas facility that faced a judgment in the eight-figure range. However, the court ultimately deemed the opposing side's expert wasn't able to establish Massaro's client would've profited from future multi-million dollar gas plant projects. 
"Adam has consistently demonstrated an exceptional blend of creativeness and professionalism that stands out in the practice of law. He is not only adept at tackling complex legal issues but is also fully committed to achieving his client's goals and objectives," the chief executive officer of this specific client told Law Week via email. "Most importantly, he is an unwavering advocate and truly embodies someone you can count on."
Massaro said the key to his success when working with his clients and tackling cases, is taking care of himself. Whether it's centering his mental and physical space through working out, taking cold plunges or intentional breathing, he is able to maintain longevity and avoid the risk of burnout or fatigue that is often felt by a lot of attorneys. 
But he said it also doesn't hurt that his practice is so interesting.
"Part of what I like the most about my practice is every case is vastly different," said Massaro. "In a given year, I could be litigating a case involving a $300 million gas processing plant to a case involving millions at issue for a cannabis [business]…making complex things simple is more enjoyable and not really being too restrained by subject matter or industry matter."
For Massaro, it's not just about focusing on the challenge of a case, but the challenge of your personal stamina as well. It's about "making sure that you can continue to operate at a high level, but do so in a way that you're not taking too much out of the bank as well." Some cases can be more arduous and strenuous than others, but it's your ability to deal with it in more positive ways, noted Massaro, that will set you up for success. 
This success has earned Massaro recognitions like ColoradoBiz's GenXYZ Most Influential Young Professional, Super Lawyers and Rising Stars 2022, Gary McPherson Outstanding Young Lawyer of the Year Award and more. 
"I think it's a sense of validation for people that ultimately have deep self-doubts because that's what drives you each day as you go forward," said Massaro. "I think you need to doubt yourself because if you don't doubt yourself then you're not going to improve [in] a lot of the ways."
Someone who'd never doubt Massaro is Chicago-based Akerman partner Meg George. George, like many others, has always recognized Massaro's drive and enthusiasm. "We knew he was an excellent attorney, trusted by his clients and colleagues, but I quickly learned he was just as passionate about charity work and volunteerism," George told Law Week via email. "Right away he contributed his time and effort to help make 'Akerman Strong,' our firmwide wellness program, a success."
George serves as the chair of 'Akerman Strong' — a main focal point under the firm's social impact initiatives. George has worked with Massaro closely and holds him in very high esteem. "He has been one of our greatest supporters within the firm for this program, which seeks to help our people focus on their emotional and physical wellness, mindfulness, resiliency, connectedness, and productivity," wrote George. "He is an asset to our firm and to Colorado."
In addition to his work with Akerman, Massaro engages in various pro-bono and community work. "Adam is also a leader in his community. His work with the Denver Children's Foundation is inspiring and impactful," wrote George. In an effort to connect with the nonprofit world, Massaro joined the foundation when he was 25 years old. And now at 38 years old, after serving as president from 2021 to 2022 and presently in an executive role, Massaro continues to fundraise for disadvantaged youth to create opportunity and positive impact that will last forever. 
Massaro is also involved with Denver Polo Classic, slated as the largest charitable polo event in the U.S. An initiative of the Denver Children's Foundation, Massaro has been involved for over a decade. He said he even started playing polo himself as the sport welcomes any age and any skill level. Akerman is considering adding a practice devoted to the horse industry Massaro noted. The practice would deal with large-scale horse properties, commercial development, horse rights and more. 
Along with Akerman's strong development opportunities, Massaro's imagination and creativity grow more and more each day. He said it's important to consistently find new avenues to refine yourself and your work. Massaro continues to be inspired by the innovative, ever-changing evolution of law. 
Even through spending quality time with his children, he's learning new ways to look at the world. "I think children approach the world with so much optimism and it's just a matter of providing that same level of benefits so that everyone can succeed," said Massaro. "You have to be committed to constantly looking to improve."