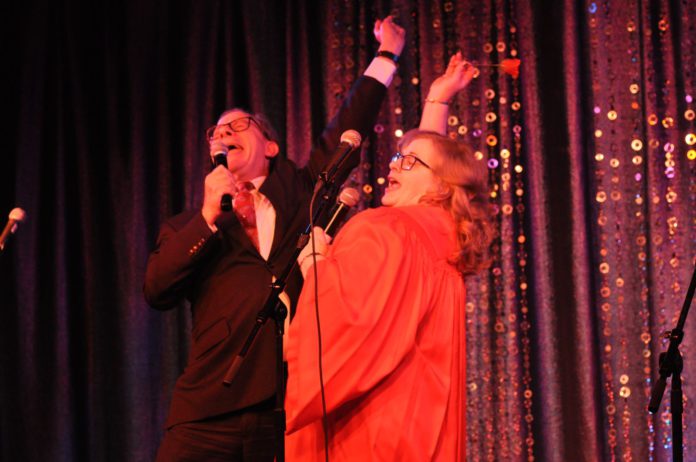 Continuing an annual tradition, local lawyers and other members of the Denver legal community took to the stage Nov. 12 and 13 at Lannie's Clocktower Cabaret, a venue better known for racy burlesque than law-themed musical theater. But while nobody showed too much skin, this year's Ethics Revue didn't shy away from risqué topics.
The annual three-hour show, starring members of The Law Club and co-sponsored by CBA-CLE and the Colorado Bar Ethics Committee, not only aims to entertain, but also lets attendees earn CLE credits, since the musical numbers are interspersed with explanations of the state's legal ethics rules. This year's performance follows three teams of lawyers and judges as they finish the last leg of an Amazing Race game show.
The first team, a group of coddled, suspender-wearing law partners, is tasked with getting from the airport to the Colorado Supreme Court without the help of any assistants, paralegals or associates. After brainstorming some ethically dubious ways to fund a cab ride downtown in numbers such as "COLTAF is Forever" (set to the tune of "Diamonds are Forever"), they settle on public transit. The partners also wrestle with the ethics of retirement and succession planning in the song "When You're Sixty-Five" (borrowing from "When I'm Sixty-Four" by The Beatles) and learn about a recent rule change that upped the age limit for CLE requirements to 72.
The challenge given to the second team, a bunch of starry-eyed associates, is to escape their office full of demanding partners, who always have more work for them, so they can make it to the courthouse. While trying to create a diversion, the newbie lawyers navigate the perils of sex with clients in their own version of Britney Spears' "Oops! … I Did It Again" and sang about the responsibilities of third-party neutrals in "I Won't Advise," a take on Gloria Gaynor's "I Will Survive."
The final team, a group of judges, has to work their way through a stack of motions before they can be released from their chambers and reach the finish line – a job they must finish without delegating the work to their clerks. In Aretha Franklin fashion, they demand more "Respect" in their courtrooms while also asking for candor (to the tune of "I Want Candy"). Not immune to inappropriate romance, the judges grapple with what happens when judges and attorneys get too close. 
On hand to give background about the rules were Colorado Supreme Court Attorney Regulation Counsel Jessica Yates, Overturf McGath & Hull partner Kate Strauss and Nemirow Perez shareholder Ron Nemirow. Charles Luce, of Moye White, served as moderator during the show.
The songs, jokes and explanations give an overview of the ethical rules attorneys must follow under the Colorado Rules of Professional Conduct. Rule 8.4(i), adopted in September, had a moment in the spotlight when Yates explained the new rule to address sexual harassment in the legal profession. She and the other panelists also highlighted resources, such as the Colorado Attorney Mentoring Program, the Colorado Lawyer Assistance Program and the Ethics Committee Hotline, to help attorneys comply with the rules and deal with professional pressures.
"It's an innovative way to get people to learn legal ethics," said Patrick Withers, co-director of this year's show. 
Withers, an attorney with the Colorado Attorney General's Office, said in addition to offering fun and entertainment, the show's "Ethics 101" approach meets a demand for a broad brush-up on legal ethics, as many ethics CLEs focus on a single topic. He said his friends have also complained that ethics CLEs aren't always the most engaging.
About 40 people participated in this year's performance as actors, singers, band members and behind the scenes, according to Withers, who directed alongside Law Club president Julie Nichols. He said the club starts preparing for the show in summer by recruiting talent and soliciting song and script ideas from members. They aim for a mix of musical styles, a goal Withers said isn't too difficult to meet since members range in age and taste. One perk of being part of the show for the past seven years has been getting introduced to new musical genres, he said, adding, "I never knew I liked doo-wop until we did a doo-woppy song a few years ago."
Another highlight has been seeing judges and young attorneys come together in an informal setting, Withers said. "It's really great having our judicial members join us, both in the band and in the cast," he said. "It's very difficult to get to know members of the judiciary in a way that's authentic."
"The fact that they're willing to do that and kind of get to know us as people is just really cool," Withers said.
While the Ethics Revue is in its 14th year, The Law Club's musical traditions stretch back much longer. The club was founded in 1914 by young attorneys to discuss legal and professional topics. After a while, the club started asking members to perform songs during meeting breaks, which grew into skits and other performances at bar association meetings. When the CBA stopped hosting annual conventions, the club was looking for a new opportunity to showcase its talent, so it teamed up with CBA-CLE and the Ethics Committee to launch the Ethics Revue. 
The Law Club performs at other events throughout the year, including a Boulder showing of the Ethics Revue, which will be held Dec. 5 at The Nomad Playhouse. But the club isn't just for former theater kids. Total membership is around 120, and the group holds CLEs, professional development and social events.
— Jessica Folker