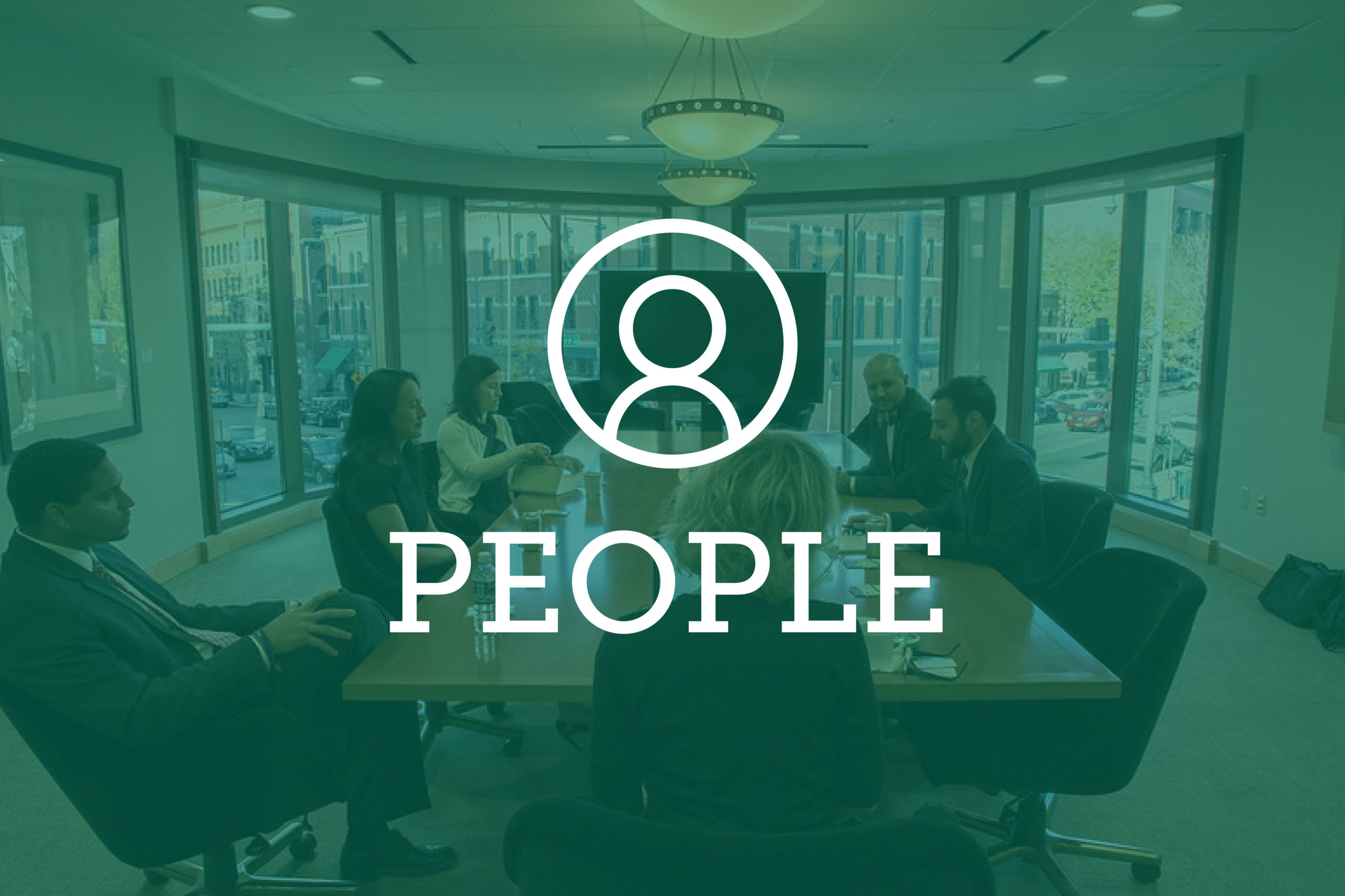 The joint management committee of the Colorado and Denver Bar Associations announced Nov. 18 it has appointed Amy Larson as interim executive director. 
Patrick Flaherty is resigning, effective Jan. 2. 
Larson served as chief operating officer and deputy executive director under Flaherty and will oversee staff operations while the committee begins a nationwide search for a permanent executive director.
The Colorado and Denver bar associations are member-driven organizations serving the Colorado legal community. The associations co-fund a staff that supports business, financial and insurance and other professional services provided to its members.
Lateral Watch
Ireland Stapleton Pryor & Pascoe announced Nov. 18 that James Benjamin joined the firm in its real estate law practice. 
Benjamin's practice focuses on commercial real estate transactional work, including acquisitions, sales, commercial leasing, financing, condominium development, land development and condominium conversions. He is frequently retained by out-of-state counsel to act as local counsel on Colorado transactions including provision of local opinions of counsel. He is also is a frequent lecturer at continuing legal education courses on real estate law and ethics for transactional lawyers. 
Benjamin is a past president of the Denver Bar Association and acts as a supervising lawyer for the Tribal Wills Project of the University of Denver Sturm School of Law and as a guide for Healing Waters.
Associate Watch
Davis Graham & Stubbs announced Thursday that Taylor Claassen joined the firm's real estate group as an associate. 
Claassen is admitted to practice law in Colorado and has experience in representing developers, purchasers, sellers, owners and investors in a variety of real estate transactions, including development, acquisitions, dispositions, financing and leasing.
Claassen's practice will continue to focus on real estate law and corporate and commercial lending. He previously worked at another Denver area law firm and, prior to that, clerked at a large law firm in Kansas. 
Claassen received a law degree from the University of Kansas School of Law and a bachelor's degree from the University of Kansas. 
Judicial
Announcements
The Supreme Court Nominating Commission has nominated nine candidates for three vacancies on the Colorado Court of Appeals. The vacancies were created by the retirements of Judges Robert Hawthorne, effective Feb. 13; Daniel Taubman, effective Feb. 25; and John Webb, effective
Feb. 29.
The nominees were selected during a Nov. 20 meeting. They are Christina Gomez, Sueanna Johnson, Marcelo Kopcow, Marsha Piccone, Susan Prose, Timothy Schutz, Sarah Wallace, Marie Williams and David Yun.
Under the Colorado Constitution, the governor has 15 days from Nov. 21 to appoint three of the nominees as judges on the Colorado Court of Appeals.
Comments regarding any of the nominees may be sent via e-mail to the governor at [email protected]
The 8th Judicial District Nominating Commission will meet Jan. 7 at the Larimer County Justice Center to interview and select nominees for appointment to a Larimer County judgeship. The vacancy will be created Feb. 27 by the retirement of Judge Peter Schoon Jr.
Application forms are available from the office of the ex officio chair of the nominating commission, Justice Carlos Samour, 2 E. 14th Ave. in Denver, and the office of the court executive, Janelle Brunin, 201 La Porte Ave. in Fort Collins. Applications also are available on the court's home page at http://www.courts.state.co.us/Careers/Judge.cfm Applications must be submitted by 4 p.m. Dec. 13. Any person wishing to suggest a candidate may do so by 4 p.m. Dec. 6.
The members of the nominating commission for the 8th Judicial District are: Richard Gast, Tracy Oldemeyer, Kathleen Smith and Robert Bacon, all of Fort Collins; Stephen Tool of Windsor; Dawn Grimes of Loveland; and Jill Honnecke of Coalmont.
Gov. Jared Polis on Tuesday announced the appointment of Harold Hurst as 18th District Judge to fill a judgeship created pursuant to Senate Bill 19-043. 
Hurst is an 18th District magistrate, a position he has held since 2013. His docket consists of probate, mental health and juvenile matters. Previously, he was mayor and mayor pro tem of the Town of Elizabeth, owner of H. Clay Hurst & Associates and city attorney for the Town of Kiowa. Hurst received a bachelor's degree from Metropolitan State College and a law degree from the University of Denver Sturm College of Law.
Hurst's appointment is effective Jan. 1.
Gov. Jared Polis on Nov. 13 appointed Lisa Arnolds and Nikea Bland as 2nd District judges to fill judgeships created by Senate Bill 19-043. 
Arnolds is a supervising attorney with the Colorado State Public Defender in Denver, a position she has held since 2018. Previously, she was a solo practitioner and contractor with Alternate Defense Counsel and a deputy state public defender. Arnolds received a bachelor's degree from Seattle University and a law degree from Loyola University School of Law.
Bland is a senior associate at O'Malley and Sawyer. Her practice consists of criminal defense, as well as dependency and neglect matters as respondent parent counsel. 
Previously, she was an associate attorney with Elkus and Sisson, associate general counsel with United Food and Commercial Workers Union, Local 7 and deputy state public defender. Bland received a bachelor's degree from the University of Richmond and a law degree from the University of Colorado Law School.
Both appointments are effective Jan. 1.