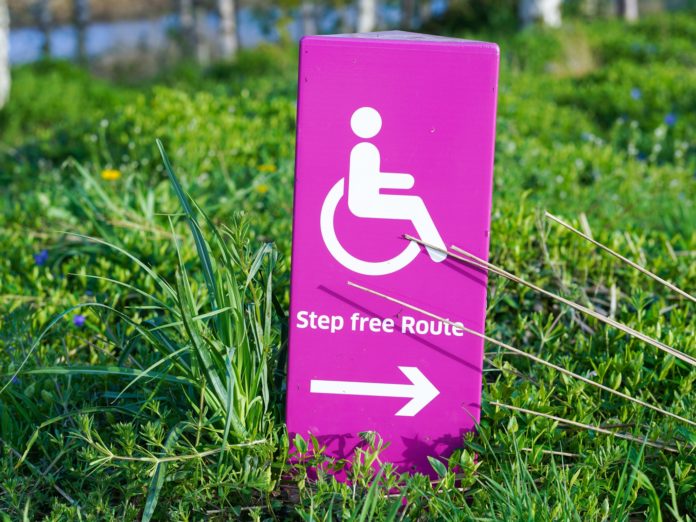 Attorneys face all sorts of challenges during their careers like losing cases or trying to become a partner, but some lawyers face something even more monumental: working with a disability.
The Americans with Disabilities Act, enacted in 1990, helps those with disabilities navigate the world with fewer challenges. But some of those still remain, including in courtrooms.
"Although the Americans with Disabilities Act (ADA) does not apply to the federal judiciary, federal courts provide reasonable accommodations to persons with certain communications disabilities pursuant to Judicial Conference policy," wrote Nichole Milton, the chief deputy clerk of operations for the U.S. District Court of Colorado.
Milton continued, writing the U.S. District Court has two ADA access coordinators to help those with disabilities. The main entrances and public restrooms are wheelchair accessible and elevators are equipped with braille signage and emergency call features for the visually and hearing impaired. Courtrooms also feature infrared transmission and headsets that help with hearing disabilities.
"It is important that litigants understand the extent to which the court is obligated to provide accommodations," Milton added. "Requests must be made timely and well in advance of a scheduled hearing. It should also be noted that interpreter services for parties to civil proceedings not instituted by the United States are the responsibility of the parties."
The ADA doesn't apply to the 10th Circuit either, but that court also works to make sure those with disabilities have access to the courthouse, along with providing the proper accommodations. On the state level, the courts are required to follow the ADA, including providing accommodations.
But with all these accommodations in place, what's it like to work as an attorney with a disability in Colorado? Law Week caught up with two Denver attorneys to find out. 
Kevin Williams, who is a quadriplegic, is the director of the Civil Rights Legal Program at the Colorado Cross-Disability Coalition. Williams said the vast majority of his work is in federal courts, as he helps enforce civil rights laws for those with disabilities. The CCDC is a non-profit and gets funding from foundations, grants and donations.
"We don't pull any punches," Williams said. "I won't say we don't accept any federal or state grant money … if we have an argument with the state we're going to file a lawsuit … same thing with the federal government."
Williams has been involved in accessibility cases ranging from sports stadiums to suing his own law school, the University of Denver College of Law, over accessibility claims, which he got settled with changes in place. He also helped get larger seating areas for wheelchairs on the light rail trains.
Williams said overall, the Denver community is better than other communities he's lived in when it comes to having a disability. He continued that, although he faces challenges, judges are always willing to help him out.
"I will say this, I've never had a judge — I've had a lot of people refuse me on a lot of stuff in a lot of places, just like all of my clients — I've never had a judge [not grant me] … a reasonable accommodation," Williams said.
For example, he's asked to argue from the table instead of the lectern and judges have always been accommodating, adding that they do have lecterns that move up and down, but that is too difficult for Williams.
"So the courts are pretty familiar with the concept of reasonable accommodation," Williams said, adding there are accessibility challenges at courthouses and to get around it, he has to plan ahead. "I try to arrive at the courthouse … an hour before the scheduled time."
Williams said the Lindsey-Flanigan Courthouse, which has the Denver County Court, is much more accessible than other buildings and in some cases, if he's in a building that's not very accessible, he can ask for a change of venue.
Spencer Kontnik, a partner at Denver-based firm Kontnik Cohen, practices law and is deaf in his left ear and hard of hearing in his right. He also works with a lot of clients who are disabled.
He said some issues come up during COVID which were challenging.
"I think part of it is trying to utilize and keep up with the technology that's available, especially with COVID," Kontnik, who reads lips, said. "That was a very difficult challenge because not only do you have the challenge of trying to accommodate someone with a disability, but for me personally, everybody is wearing masks … it's just a whole host of issues that people don't even think about." 
He continued, adding that his disability usually works out fine when working in court. 
"Generally speaking, no," Kontnik said. "I've had occasions where an interpreter hasn't shown up, that's a problem, because if I don't have a court interpreter, we're not going to be able to proceed, but generally speaking no, it hasn't been an impediment. Those are just kind of one-off examples where there was a scheduling error or something along those lines."
According to a report from the National Association for Law Placement on diversity at U.S. law firms, 1.07% of partners self-reported having a disability in 2021; that figure was up from .69% in 2020. The number of associates with a disability also rose from .99% in 2020 to 1.25% in 2021. In total, 1.22% of attorneys reported having a disability in the report.
In a 2021 report from the Office of Attorney Regulation Counsel in Colorado, 3.7% of both millennials and those older than millennial attorneys identified as having a disability that affects a major life activity.