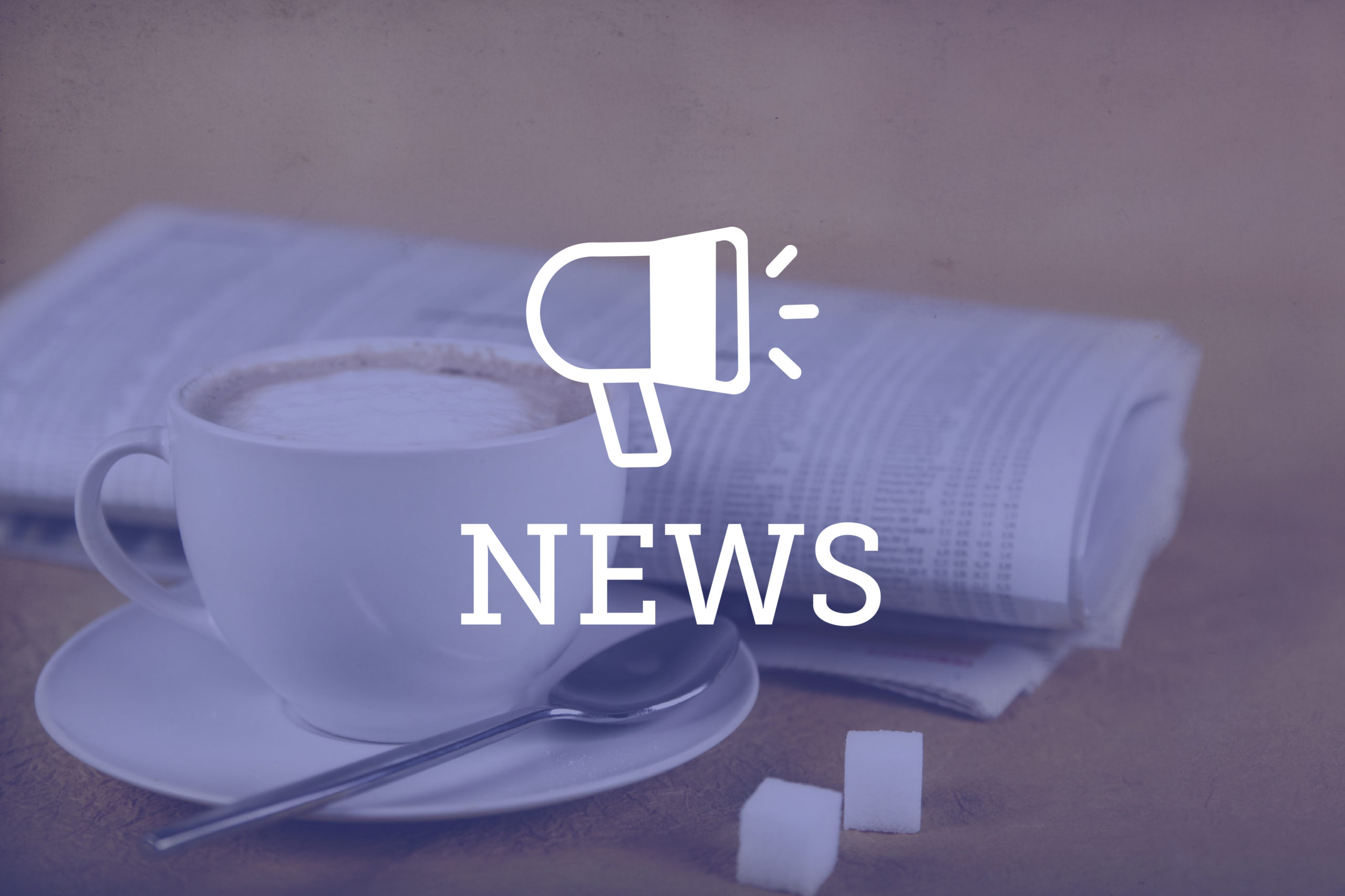 In recent years, Colorado county sheriffs have largely declined to hold prisoners for federal immigration agencies. But the American Civil Liberties Union has been going after sheriffs who it says have been unlawfully cooperating with Immigration and Customs Enforcement.
ACLU Colorado is suing Teller County Sheriff Jason Mikesell, claiming he is violating the law by keeping in jail a person who is otherwise eligible for release so ICE can take him into custody. The sheriff said he is fighting the lawsuit, saying the federal agency gives him the authority to keep the suspected undocumented immigrant detained. The dispute is the latest flare-up in Colorado courts between the ACLU and local law enforcement agencies on the subject of so-called "ICE holds."
To apprehend people suspected of being undocumented immigrants, ICE has been seeking cooperation from jailors nationwide, including those in Colorado. When ICE believes that a prisoner may have violated federal immigration law, the agency sends a detainer and an administrative warrant to the jail holding him or her. Some counties have continued to honor ICE detainer requests despite mounting legal pressure to let the prisoners go once they are eligible for release.
Leonardo Canseco Salinas, 44, was arrested for misdemeanors at a Cripple Creek casino after he'd gambled and spent $8.25 of someone else's money deposited in a slot machine. Canseco is eligible for bail but was told by Teller County authorities that as soon as he posts his $800, they will continue to hold him for another 48 hours for ICE to pick him up. Canseco has lived in Colorado for 13 years, according to the ACLU's complaint.
The lawsuit follows a class action the ACLU filed earlier this year against El Paso County Sheriff Bill Elder in February. The ACLU claimed the office placed nearly 200 prisoners on "ICE holds" in 2017. A state judge would grant a preliminary injunction forbidding Elder from honoring ICE detainers and ordered two named plaintiffs be released on bail.
Mikesell announced his intention to fight the ACLU's lawsuit in a July 27 press conference. He decried the "inflammatory rhetoric" of the ACLU and maintained he had the authority to comply with ICE detainers. "I will not allow a third party, such as the ACLU, to intervene in the protection of those that I love and the community I care about," Mikesell said.
While Mikesell has joined Elder in insisting on placing prisoners in ICE holds, Colorado's local law enforcement agencies have largely ignored the ICE requests since ACLU of Colorado started taking legal action against the practices years ago.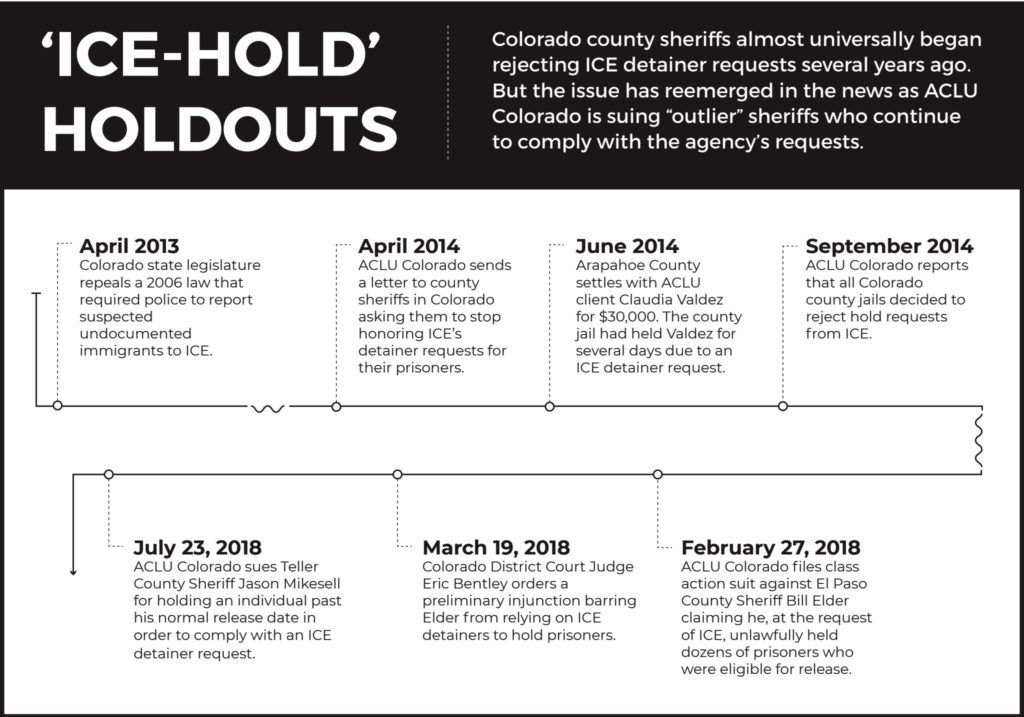 The ACLU issued a letter to all county sheriffs in Colorado in April 2014 telling them that the ICE hold detainers were "a mere request, not a command." It also carried a warning: "When Colorado sheriffs rely on an immigration detainer to deprive a person of liberty, they act without lawful authority." Complying with an ICE hold was tantamount to making another arrest on the prisoner, except without the authority to do so, the ACLU argued. The letter categorized such a hold as an unreasonable seizure in violation of Article II, section 7 of the U.S. Constitution.
"ICE would send over a form request, and sheriffs were treating that as a formal requirement," said ACLU Colorado spokesman John Krieger. "But what we had determined was not only was it not a requirement, it was a violation of state law."
The ACLU acted on its warning. On June 19, 2014, Arapahoe County agreed to pay an ACLU client $30,000 after the county jail held her for three extra days to comply with an ICE detainer request. Claudia Valdez had called the police in June 2012 over a domestic dispute with her husband. The police took Valdez to jail but kept her after a judge ordered her release, and she faced subsequent deportation proceedings.
By September 2014, the ACLU was reporting that all Colorado county jailors said they would no longer comply with ICE's hold requests. After the Valdez settlement, Krieger said, "all of these other sheriffs realized they had tons of legal liability."
The County Sheriffs of Colorado released a statement saying that while the state's sheriffs will continue to cooperate with federal immigration officials, courts have found it to be a Fourth Amendment violation to hold "arrestees on administrative holds that have not been reviewed and approved by federal judges or magistrates."
Despite the consensus on the record, it would turn out that the El Paso County Sheriff's Office was still honoring ICE detainers. ACLU Colorado filed a class action against Sheriff Bill Elder Feb. 27 claiming he held prisoners for months after their state-mandated release. Saul Cisneros and Rut Chavez, jailed in November, were not released after they each had their bail posted due to an ICE hold. The office had 180 prisoners listed as ICE holds during 2017, according to the lawsuit.
On March 20, 4th Judicial District Judge Eric Bentley ordered Cisneros and Chavez be released, granting a preliminary injunction barring Elder from complying with ICE detainers. The Colorado Supreme Court would decline to hear El Paso County's appeal.
While the Teller County and El Paso County sheriffs have insisted on honoring ICE holds, "it's clear that they are the outliers" in the state, Krieger said. He didn't rule out that there could be other Colorado sheriffs doing the same.
"We're being vigilant and making sure that all sheriffs across the state are following Colorado law," Krieger said, adding that the ACLU will continue to pursue cases where they find out sheriffs are still honoring ICE detainers.
Canseco's case against Mikesell has a hearing scheduled for Aug. 15.
ICE Field Office Director Jeffrey Lynch of the Denver office issued a statement July 27 in support of Mikesell's stance, saying that cooperation between his agency and local law enforcement "is vital to keeping these communities safe from criminal aliens." Lynch cited examples of crimes he said were committed by suspects after they were released by Denver authorities despite ICE's detainer requests.
"ICE is hopeful that the county is ultimately successful in its defense against the ACLU lawsuit. The overall safety of our local Colorado communities depends on it."
— Doug Chartier