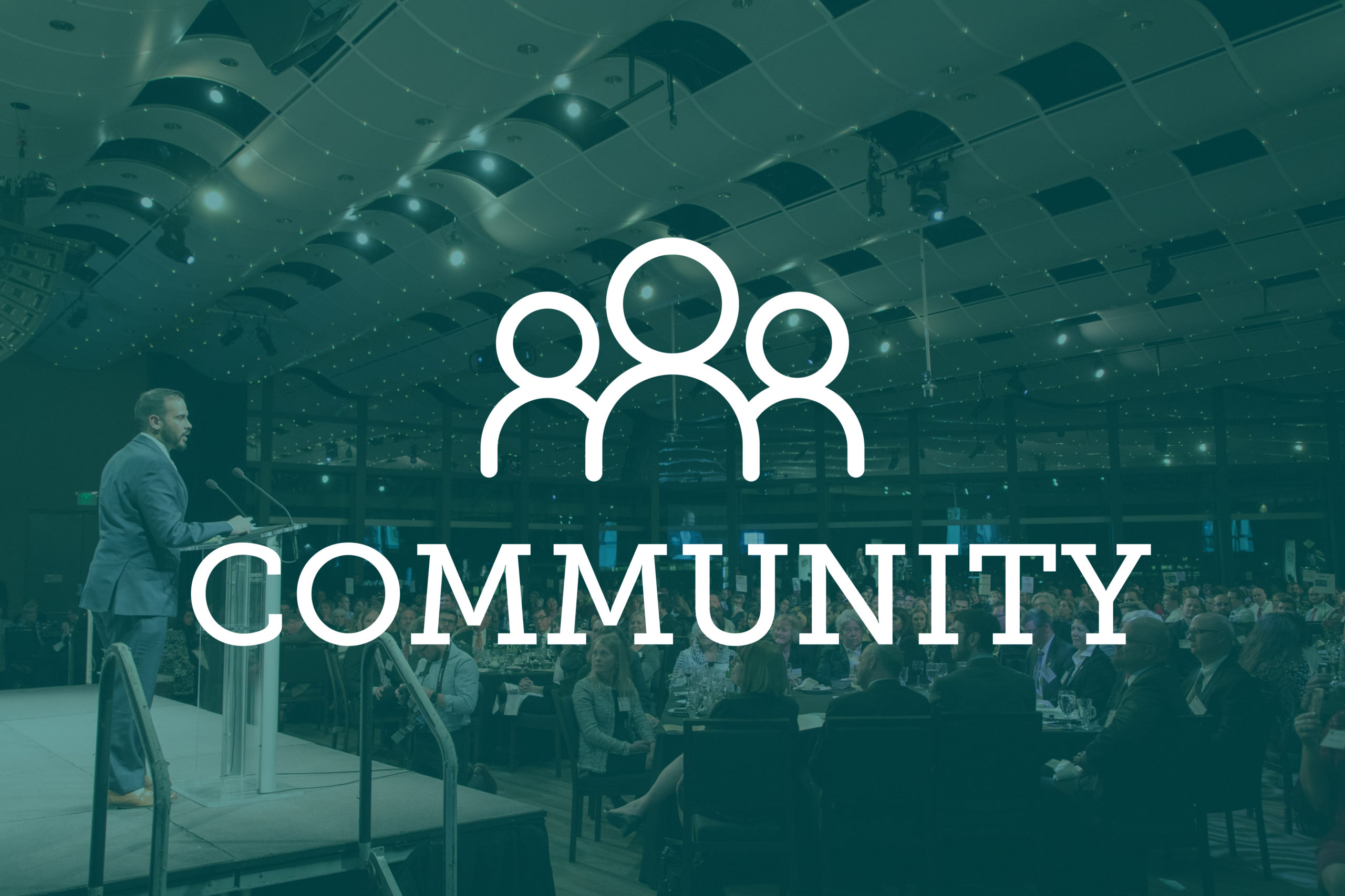 Attorneys who achieved a significant ADA victory took home the coveted Case of the Year Award from the Colorado Trial Lawyers Association Thursday night at the organization's spring awards banquet. 
Paul Maxon, Sarah Parady and Amy Trenary won for their work representing John Hayes against SkyWest Airlines, a man who worked for the airline for several years but was involuntarily put on leave and had his health insurance terminated after he developed kidney disease. He had also applied for several other positions within the company but was not hired for any of them. After a trial, Hayes' attorneys obtained a $2.45 million award, $2 million of which was punitive damages against SkyWest.
"There are no great cases without clients, and John Hayes was a phenomenal client," Maxon said when he accepted the award. "He never wavered in his courage and his willingness to pursue justice despite enormous personal odds." He recognized the achievements of the other nominees, Jack Robinson and attorneys at Rathod Mohamedbhai, saying it was an honor to be considered for the award along with them.
Other honorees at Thursday's dinner included Sarah Parady for the New Trial Lawyer of the Year Award and Bachus & Schanker for Outstanding Service to CTLA.
A Career of Dedication
Christina Habas received the Kenneth Norman Kripke Lifetime Achievement Award for her career spanning three pillars of the legal profession: first as a defense and now a plaintiff's attorney, and as a Denver District Court judge. She isn't convinced she's earned the award, though, and said there are other plaintiff's lawyers who have done that type of work for much longer than she has, and she believes they're more deserving of the award.
But those who have worked with Habas over the course of her career talk about her with the descriptors that the award exemplifies: Ethical. Professional. Committed to advancing the legal system.
"That would be Tina," said Bob Hyatt, who retired as chief judge of the Denver District Court in 2014, of Habas' humility in accepting the lifetime achievement award. He has gotten to know Habas as a friend and described her as fair, direct and honest, both personally and professionally.
Hyatt said even as a young lawyer, Habas showed maturity and treated the profession with respect. As a judge, she understood the need for the judiciary to be fair because it's the last recourse for people. "If everyone practiced law the way Tina Habas practices law, [the profession] would have a lot better reputation," Hyatt said.
Habas started her legal career at Watson Nathan & Bremer (now Nathan Dumm & Mayer), first working as a typist while she went to school at the University of Denver College of Law. 
Partner Andy Nathan said the firm's legal secretary at the time told him Habas was in law school, and he recalled his initial response: "Who's Tina?"
But Nathan hired her as a law clerk after she wrote a memo about a case examining whether a Denver school district had liability for a student injured by bullies after she got off the school bus. Nathan and Habas each recalled her telling him she'd only spent a few dozen hours researching and writing it, while she estimated in reality she spent hundreds, and Nathan warned her to be truthful about her time so he could help her be efficient. 
Nathan and firm partner Pete Watson each mentored her differently, and where Habas has landed in her career has always been guided by what she's been able to learn from people around her. 
Watson could cross-examine witnesses based just on what he had heard in their testimony right then, and jurors loved him. From him, Habas learned charisma. Nathan was meticulous and would over-prepare. From him, Habas learned strategy.
"I also learned how to practice law without making enemies of everyone around you," she said. "And that was probably the best lesson I learned from that firm. … You could take to the bank what they said to you. They didn't pull any punches, but they also didn't pull any fast ones."
Her childhood ambition to be a judge sparked when her mother, a teacher, took her to the Denver District Court to watch Judge Zita Weinshienk in action. Habas called the experience "a lightning bolt to the head."
"I could not take my eyes off her," Habas said, remembering her awe at Weinshienk's wisdom.
That and an experience her father had as a jury member in a murder trial convinced Habas of the importance of participating in the justice system. 
Habas believes judges must get comfortable with making mistakes and not let the possibility make them indecisive, because they never have all the necessary information they'd like and can't consult with a lot of other people before making decisions. Getting her rulings overturned wasn't ever fun, she said, but all the best judges can do is hope their mistakes aren't irreversible. 
Despite that, Habas doesn't believe judges can't ever be sure about their decisions. She spoke about a man she sentenced to jail after the trail of his crime had gone cold for many years, and by the time he was caught, he had changed his life: He had started a family and gotten off drugs. She knew he was no longer the same person who committed the crime she sentenced him for.
"But the reason I was sure about it is because 12 jurors told me he was the man who did the deed, and I was punishing the act, not the human," she said. "That being said, there was a lot of uncertainty for me. I didn't sleep well for nine years. … You've got to make the decision and move on."
She stayed on the bench from her appointment in 2003 until 2012, sensing when it was time to step down because she could feel her stamina for challenging defendants and incompetent lawyers waning. "I wanted to get out while people still thought I was capable of doing the job," she said. 
"It was weird, because it was the only job I ever really wanted, being a judge," Habas said. "But sometimes you need to recognize that circumstances demand that you get out."
Although she'd practiced on the defense side before her years as a judge, Habas chose to go into plaintiffs' work after she left the court, at Keating Wagner Polidori Free in serious personal injury and wrongful death cases. 
She described the decision with two words: "Bill Keating." He contacted her when he found out she was ready to move on from the judiciary and asked Habas what it would take for her to join the firm.
She called Nathan the "best lawyer [she'd] ever seen." She had developed a friendship with him over several years, and when she had a lull in her schedule on the bench, she would watch him in court.
"He was schooling me every single time, because he had probably forgotten more than I ever learned," she said.
Those who know Habas say she has dedicated herself to mentoring other lawyers. Keating Wagner partner Mike Keating met her when he took a trial advocacy class in law school at the University of Denver, and he said in the office she has also become someone that other lawyers go to for mentorship. 
Keating called it inspiring and invigorating to see someone practice law as long as Habas has and still remain energized about it.
"That's pretty rarefied air," he said of Habas receiving the Lifetime Achievement Award. Keating is the CTLA's current president, and compared Habas' career to that of a Hall of Fame athlete: There are plenty of excellent athletes, but they need the right skill set at the right time to make it into the Hall of Fame. He echoed Hyatt's sentiment that Habas is dedicated to always "trying to make the system better."
Habas has taught at the National Institute of Trial Advocacy since 1991, something she credits with "sav[ing] her law career." At the time she got into it, she had sunk into a rut with her defense work, a kind of practice she called "antiseptic" if there's not an effort to make it about the people. She doubted in the beginning that she belonged at the institute because of her young age, but attorney Chris Miranda, whom Habas admired for his intelligence and kindness, convinced her she could be a role model for the women she was teaching.
"It reinvigorated my career in a way that I didn't have before, and coincidentally, made me a ton better lawyer," she said, adding that having to teach a skill makes a person inevitably better at it themselves. She came to realize that each time she spoke at NITA, she would schedule a trial to start soon after because it made her enthusiastic about the work again.
Habas loves trial work because of how much she can learn about different topics and industries in the process. But she has the same philosophy that the career also has a shelf life for her, especially because litigation is hard and fast mileage. "The adrenaline is like nothing you've ever had. Jumping out of an airplane is nothing compared to trying a big case. When you know you've done a good job and the jurors come back and they say 'yes, go team,' that is a higher high than you could ever imagine. And some people get addicted to that, and don't know when to walk away."
But she "cannot wait to see what the younger lawyers do with the legal profession. It's a wide-open challenge, and that's, I think, more important than me staying in." 
— Julia Cardi