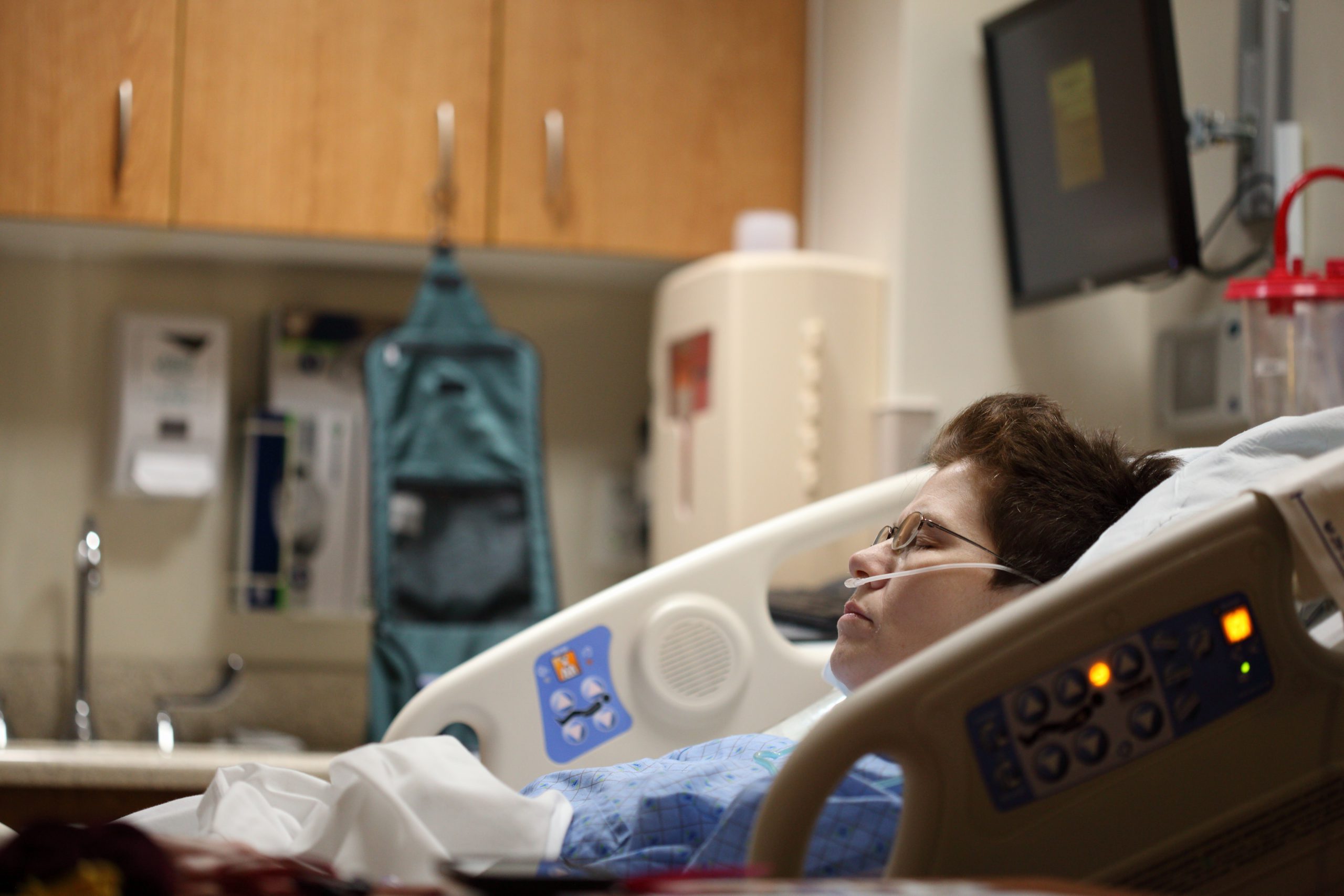 A lawsuit over a doctor's right to prescribe aid-in-dying medication to a terminally ill patient was kicked back to state court Oct. 4 after a judge decided the religious rights arguments by the doctor's former employer did not need to be heard in federal court.
Attorneys for Dr. Barbara Morris on Oct. 7 filed an amended complaint with new claims for damages in response to her August firing from Centura Health, a Christian-affiliated system of hospitals and health providers. The case could be the first to clarify whether a health care provider can force a doctor to abide by its religious views on medical aid in dying, which has been legal in Colorado since 2016.
Neil Mahoney, a patient diagnosed with stage IV cancer, was told in July his condition was terminal and he only had months to live. Hoping to avoid a prolonged and painful death, Mahoney decided to seek aid-in-dying medication under Colorado's End of Life Options Act and was referred to Morris for treatment. Morris informed Mahoney she couldn't prescribe aid-in-dying medication due to a Centura policy, though state law allowed doctors to prescribe the medication to terminally ill patients with a prognosis of six months or less. 
SAME VENUE, NEW CLAIMS
Mahoney and Morris on Aug. 21 filed a lawsuit against Centura seeking declaratory judgment to clarify whether the company's policy could lawfully prevent Morris from prescribing the drugs. Centura fired Morris days later.
Mahoney and Morris filed their complaint in district court in Arapahoe County, but Centura sought to move the case to federal court because, it argued, the lawsuit deals with federal questions involving the First Amendment, the Civil Rights Act and Supreme Court precedent on religious rights. 
On Oct. 4, Judge Lewis Babcock of the U.S. District Court for the District of Colorado remanded the lawsuit to state court, saying the complaint doesn't meet the criteria for federal court jurisdiction.
"We obviously thought that state court was the proper place to litigate the claims," said Jason Spitalnick of Foster Graham Milstein & Calisher, representing Morris. He said he doesn't expect the decision to affect either side's arguments, adding that both state and federal courts can analyze and interpret the First Amendment.
Attorneys for Morris filed an amended complaint Oct. 7 in Arapahoe County with significant changes from the one filed in August. The original complaint, filed while Morris was still employed at Centura, sought a judicial declaration to allow Morris to prescribe Mahoney the life-ending drugs without reprisal. 
However, when Centura fired Morris on Aug. 26, five days after the first complaint was filed, "the playing field changed," Spitalnick said. The case now centers around Morris's employment at Centura, with new claims for wrongful termination, breach of contract and retaliation added in the amended complaint. In addition to declaratory and injunctive relief, the amended lawsuit seeks economic and compensatory damages on behalf of the doctor.
"They fired her because she filed a lawsuit. That's very clear, and there can't really be any dispute about that," said Spitalnick. "So that was a wrongful firing."
Attorneys for Centura did not respond to requests for comment on the case. In interviews with other media, Centura Health CEO Peter Banko has said that Morris wasn't fired for filing the lawsuit, but because she breached her employment agreement by expressing her disagreement with and intent to violate Centura's ethical and religious directives.
The amended complaint also differs from the one filed two months ago in that Morris stands alone as the sole plaintiff, a choice Mahoney and his counsel decided was best for him, the case and Morris, according to Spitalnick.
STATE LAW VS. CENTURA POLICY
"To my knowledge, it's the first case squarely related to the Colorado End of Life Options Act, which is the aid-in-dying statute in Colorado," Spitalnick said. 
The End of Life Options Act went into effect Dec. 16, 2016 after 65% of voters approved it at the ballot box in November of that year. Seven other states and Washington, D.C., have adopted aid-in-dying laws, and there have been lawsuits related to statutes in other states. 
Many aid-in-dying laws contain opt-out clauses allowing health care providers to prohibit doctors from providing aid-in-dying drugs under certain circumstances. Spitalnick said most of the other states have opt-out language that is broader than Colorado's. The Colorado statute only allows health care facilities to prohibit employees from prescribing aid-in-dying drugs to a patient who intends to take the medication on the facility's premises. 
But Centura adopted its own, much broader policy prohibiting doctors from engaging "in any stage of qualifying a patient for use of Medical Aid in Dying Medication," even for patients who, like Mahoney, planned to take the drugs elsewhere. Morris had raised concerns internally about the breadth of the provider's policy in 2018, and an associate general counsel for Centura Health stated in an e-mail that the policy conflicted with Colorado law, according to the lawsuit.
While Morris is no longer employed at Centura, the lawsuit could still provide clarity about whether the state's largeoup, or other religiously affiliated employers, may enforce policies that interfere with a physician's practice of medicine. 
"I think it's important to say that this is not a case on behalf of the aid-in-dying movement," Spitalnick said. "This is not an issue case. This is a case about a doctor, a patient and the doctor-patient relationship between them."
According to Colorado statute, "[c]orporations shall not practice medicine," the amended complaint says. The complaint goes on to say that Colorado law does not allow health care entities or corporations control over the medical judgment of doctors.
"That's Centura's argument in every single malpractice case that gets filed against it, and it cites this very statute.  It uses it — in other words — as a shield," Spitalnick said. "Now Centura is essentially denying that position." 
— Jessica Folker