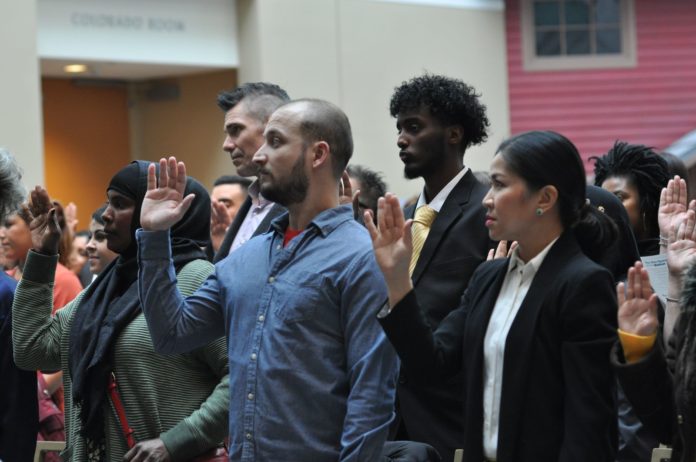 Earlier this month, the American Immigration Lawyers Association and nonprofit lender Capital Good Fund announced a partnership to help immigrants pay for legal costs. Under the new program, Capital Good Fund became AILA's preferred immigration loan partner for funding immigration legal services.
Capital Good Fund currently offers small personal loans in nine states to help low-income families get through financial emergencies, pay for immigration costs and make their homes safer and more energy efficient. Since its inception in 2009, the Rhode Island-based nonprofit has provided more than $2 million in immigration loans. The loans can be used to cover attorney fees, immigration detention bonds and U.S. Citizenship and Immigration Services filing fees, which can exceed $1,000 for a single form.
Clients may borrow up to $20,000, but the average immigration loan is about $5,500, according to Capital Good Fund founder and CEO Andy Posner. Loan terms range from 12 to 48 months, depending on the amount, and the APR in Colorado is 7.5%. That's much lower than other financing options people use to pay for immigration costs, such as auto title loans, which can have a yearly interest rate of 125% or more, Posner said, or payday loans, which in Colorado are capped at 36% APR but in places like Texas can exceed 500% APR.
There are other advantages beyond the low interest rate. Capital Good Fund doesn't take collateral, so borrowers don't risk losing assets like a car, and the organization reports to the three major credit bureaus, so clients can build their credit. "And then, just by virtue of being nonprofit, in the event that somebody runs into difficulty, we're going to work with them," Posner said. "For example, when COVID hit, we reached out to all the borrowers and offered them deferments or restructures. About 15% of borrowers took us up on some form of that."
"Just being mission-driven and nonprofit allows us to be much more equitable and ethical in our servicing practices," Posner added.
The nonprofit has been met with skepticism from some immigration attorneys. Kelly Ryan of Ryan Immigration Group in Aurora said most attorneys she has mentioned Capital Good Fund to are "very suspicious." "And rightfully so, especially in immigration, because our clients are just constantly getting taken advantage of by everybody under the sun," she said.
Ryan found out about Capital Good Fund while researching payment and financing options for clients. She had gotten feedback from a client who was happy with her firm's legal services but didn't like its payment plans. "They're only like four months long, and sometimes cases are $12,000 [or] $15,000," said Ryan, who represents victims of crime and domestic violence, single parents, non-English speakers and other marginalized groups. "For people who are making minimum wage or even below minimum wage, that is just not doable. So we were kind of shooting ourselves in the foot as a firm in achieving our goals because we couldn't handle the financial aspect of it."
Ryan went searching for creative solutions. She found a half dozen organizations — a mix of nonprofits, credit unions and private companies — and reached out to ask about the services they could offer her clients. "Capital Good Fund was just clearly the best option and, quite frankly, unique," Ryan said. "I found them as a solution to this valid complaint that people had about our firm and our way of doing business." Ryan contacted Capital Good Fund about a year ago to see if the organization would consider lending in Colorado. In May 2021, the nonprofit made its first loan in Colorado.
Posner started Capital Good Fund while he was studying for a master's degree at Brown University and researching the financial needs of low-income communities in Providence, particularly Latino immigrants. Focus group participants talked about how they needed to apply for citizenship or a green card, but they couldn't come up with the money. "Then I started to research and found that there really wasn't anybody providing financing for those types of cases," Posner said. While a few people might qualify for fee waivers, he said, those don't cover attorney fees.
Capital Good Fund made its first loan in April 2009 for $875 to cover U.S. citizenship filing costs. It has since expanded beyond Rhode Island to offer loans and financial coaching in Florida, Massachusetts, Delaware, Illinois, Texas, Colorado and, most recently, New Jersey and Connecticut. Posner said that the organization is looking to expand into several additional states through its partnership with AILA.
"We've pretty much always worked with AILA member attorneys and some local AILA chapters, but we've never had a relationship with the national AILA [before]," Posner said. "The challenge for us is getting in the door with law practices so that they make referrals to us. And absent the AILA partnership, it's really cold calling — and you can see an attorney kind of being skeptical." He added that AILA will be sharing information with members about the lending program, the ethics of it, as well as the benefits to attorneys.
One of the biggest benefits for attorneys is that it gets them out of the debt collection business. "If they're putting people on payment plans, they're now effectively a lender. And that means they're now both serving as an attorney and as a collection agent," Posner said. If clients make payments by credit card, attorneys are hit with a credit card processing fee. Attorneys also have to factor in that they might not be able to collect 100% of what they're owed. "Working with a lender means that you get completely taken out of that part of it," Posner said. "You just get paid 100% of your fees up front, and you can just focus on your case."
"We're not a collection firm. We don't want to be a collection firm," Ryan said. "And it eats up a lot of time and, quite frankly, ruins relationships with our clients. We need our clients to trust us 100%. And we found that there's this inherent conflict of interest when you extend payment plans for a very long time. It just doesn't serve anybody's needs."
Beyond eliminating the need to collect money, the loan program decreases admin time in other ways, Ryan said. "Printing bills, mailing bills, emailing bills, answering questions about bills, updating addresses when they move in your billing system — it's like death by a billion cuts when you go into the admin side of billing," Ryan said.
Ryan estimated she has had about a dozen clients use Capital Good Fund so far. Initially, she had to learn how to explain the service to clients, answer their questions and set expectations. Ryan said that after a client applies, Capital Good Fund will verify that she is a real attorney and not a "notario" — a type of unlicensed immigration law consultant known for scamming people. Capital Good Fund also verifies the amount clients need for fees and attorney costs.
According to Posner, Capital Good Fund operates with a mix of borrowed funds from banks and credit unions, investments from family and community foundations, donations from individuals and organizations and interest from its loans, which accounts for about 20% of the nonprofit's revenue.