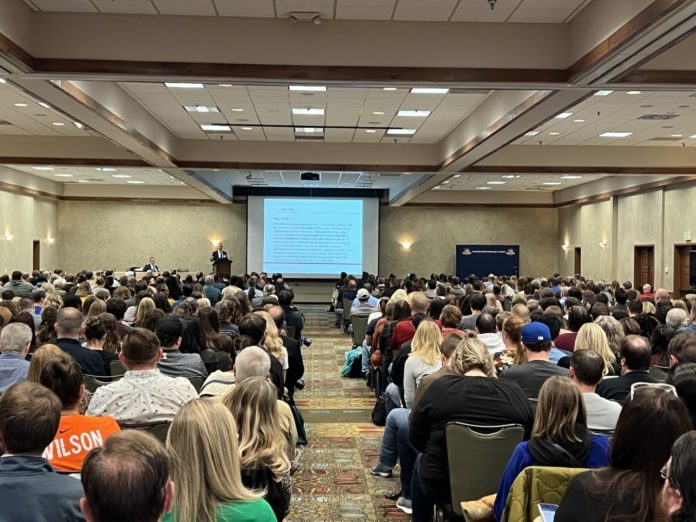 Nearly 800 prosecutors and DA investigators across Colorado attended the Colorado District Attorneys' Council Annual Fall Conference to experience classes, training and educational sessions Sept. 12-14 in Breckenridge. 
Former U.S. Attorney Bob Troyer started the conference with a keynote address, reminding prosecutors why they do their jobs, especially when things get difficult. 
According to a press release, district attorneys were able to choose from five tracks of classes focusing on county court, district court, investigators, electives and management. Trainings included classes on jury selection, human trafficking, navigating victim trauma and unconscious bias. Additionally, sessions were held addressing ethical issues and legislative updates. Instructors teaching the classes were experts in their field, both from Colorado and elsewhere. 
"The CDAC team works all year long to put our annual conference together. It's about more than just getting extended learning credits for these prosecutors," said Tom Raynes, the executive director of CDAC, in a press release. "It's about becoming the best they can be for themselves, the victims, and the community. They're passionate about their careers, learning, and a fair criminal justice system for all."
The Colorado Supreme Court Board of Continuing Legal Education accredited this year's fall conference, helping prosecutors get CLE credits needed to keep up with education and state licenses. 
Annual award winners from the conference included Erma Archibeque from the 19th Judicial District for Victim Advocate of the Year; Claris Feuilly from the 22nd Judicial District for the Cindy Nelson Award for Office Manager of the Year; and Brian Domingues from the 1st Judicial District for CDAC Outstanding Faculty of the Year.
Russell Bohner from the 1st Judicial District won the Mike Bell Award for Investigator of the Year; Tony Marzavas from the 10th Judicial District won the Sean May Award for Sustained Excellence; and Michelle Sudano from the 20th Judicial District won the Robert R. Gallagher Award for Prosecutor of the Year.
Chris Gallo, Grant Grosgebauer, Matt Hanagan, Cathy Nevill and Colleen Vogel from the 18th Judicial District won the Outstanding Trial Team Achievement award for their work on the People v. Anderson cold case.