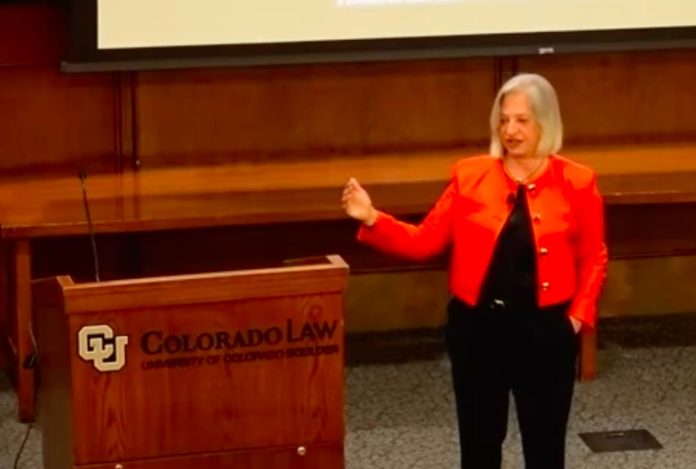 Last week, the University of Colorado Law School held the 14th Annual Schultz Lecture in Energy with Audrey Zibelman, an attorney and the lead for X's moonshot for the electric grid.
X, formerly known as Google X, is a group of inventors and entrepreneurs that look to develop "moonshot" technology and improve the lives of people around the world. Named after the United States Apollo program which was created in the 1960s with the ambitious goal of landing humans on the moon, X funds the creation of innovative and radical technology, "moonshots," to address global issues, including decarbonizing the electric grid, a project Zibelman is leading. 
Addressing an in-person audience with around 100 people and a virtual audience of several hundred on March 31, Zibelman explained the complicated issues around decarbonizing the electric grid, its importance and how X's moonshot hopes to make that transition possible for energy systems around the world. 
The Schultz Lecture in Energy has been held at CU Law every year since 2007 through the  Getches-Wilkinson Center for Natural Resources, Energy and the Environment. It brings speakers from across the country to explain emerging issues and challenges in the oil, gas, energy and natural resources fields with a goal of educating policymakers, practitioners and students. 
During the lecture, Zibelman highlighted the ambitious decarbonization goals that many countries have announced. In 2020, the United Nations set out the goal of a carbon-neutral world by 2050, noting that many countries have agreed to take part in the action. To do this, Zibelman explained, countries will need to increase the production of renewable energy but also redesign and rethink energy grids that were built around hydro-carbon sources. 
"The challenge is we've got a 20th century grid that's built around large central station power plants which were highly dependable – coal and gas and nuclear also and hydro  – and now we're transforming to a power system that is based on renewables – wind, solar and batteries – and a huge amount of distributed resources," said Zibelman. That's where her moonshot comes in. 
Future electric grids will face complex and novel challenges to supply electricity, she explained. When a community's energy is dependent on weather, addressing demand changes is more complicated than simply increasing energy production. At X, Zibelman and her team hope to use technologies like artificial intelligence, machine learning and automation to help carbon-neutral energy grids adjust to supply and demand needs of consumers. "My dream for the past 10 to 15 years has been how do I help this very old structured, conservative industry deal with a very uncertain and complex future," she explained. 
Decarbonization of electric grids will involve systematic changes, Zibelman added, explaining that grids are "a system of systems" made up of technology, users, politics, money and community. X hopes that developing technology that facilitates certainty around energy supply and systems will in turn prompt other systems to move towards decarbonization. 
For users, that might mean incentivizing power use at different times of the day when energy supply is greater, said Zibelman, like in the late afternoon when solar panels are exposed to the most sunlight. 
For politics, she explained, that will likely mean thinking about energy infrastructure differently. For carbon-neutral grids that are geographically dispersed, rather than built around central electric plants, regulations can't be community-based and will require collaboration across state lines and other borders like highway systems. "There's no real regulatory construct for that to work well," she added.  
For money, governments need certainty about new systems before they can justify funding expensive infrastructure overhauls. 
Zibelman outlined three projects that X has worked on to help communities move toward a carbon-neutral energy grid. X has developed digital grids, similar to road navigation software, to allow utilities to understand what their infrastructure looks like geographically, which can help them make better informed decisions for energy distribution. X is also developing planning simulations to predict what extreme weather, changes in weather or other scenarios would mean for production of energy, cost and logistics. These simulations would introduce more certainty into carbon-neutral grids and allow governments and utilities to plan more efficiently and cost effectively. Finally, Zibelman explained, X is looking to increase collaboration across the world by sharing what countries and communities have learned during the decarbonization process to better inform other systems. 
Zibelman added that decarbonization needs to be a global effort and doesn't want it to be something only wealthy countries or communities can access. 
Decarbonizing the electric grid is a dynamic challenge, she said, comparing it to changing out the engines while a plane is mid-air. But X hopes to use technological innovation to make system and worldwide change possible. 
Zibelman got into the energy sector through her work as an attorney, but her interest in complex power systems started years earlier when she lived in Chad, where many did not have access to electricity, she explained. While in Chad, she developed an understanding of how much energy impacts the everyday lives of people and how a lack of energy severely impacts billions of people worldwide. 
She graduated from the Mitchell Hamline School of Law in Saint Paul, Minnesota and went on to work for the Minnesota attorney general. While representing the state in utility matters, Zibelman's interest in the energy grid deepened. "There's so few things in the world where … if the energy grid is working well, nobody pays attention to it," she said, "but when it doesn't work well, it's catastrophic." The complex nature of the energy grid, its enormous public impact and crucial success were what she found compelling, Zibelman explained. 
Zibelman worked as general counsel for the New Hampshire Public Utilities Commission before pursuing her career in energy operations. She went on to hold leadership positions at Xcel Energy, PJM, the New York Department of Public Service, the Australian Energy Market Operator and founded Viridity Energy, Inc. Now, at X, Zibelman helps lead a project with the goal of helping electric grids transition away from hydrocarbons. 
"I like saying I'm a lawyer who's played an engineer most of my career," she said. Zibelman told students that while she hasn't pursued a traditional career in the law, she still uses the skills she developed during law school and as an attorney. "Legal careers are incredible careers because you can do an awful lot of things about them, it gives you an opportunity to do strategic thinking, excellent communication, all sorts of things you need in other parts of business," she explained. She encouraged students to pursue experiences and opportunities that look fun, even if they aren't directly related to a career path, because they can learn from any experience.