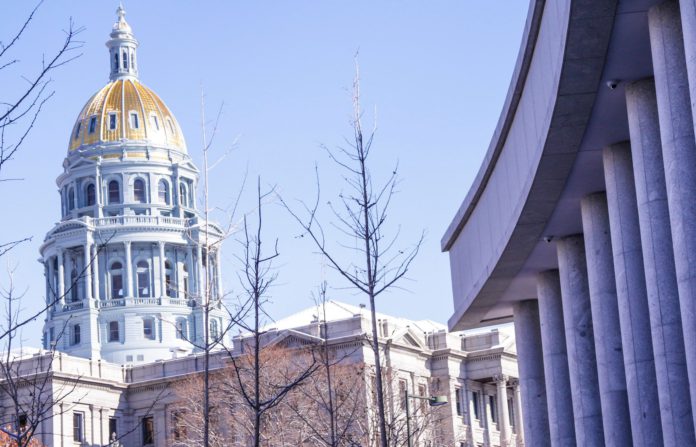 A bipartisan group of lawmakers will make another attempt to reform pretrial release this legislative session. The new bill, to be introduced in the Senate, is intended to reduce the state's reliance on cash bail by guiding the development of local programs for determining conditions of pretrial release and supervision.
Sponsor Sen. Pete Lee, a Democrat from El Paso County, said the bill doesn't eliminate the option for cash bail if a person has the financial resources to pay or poses a true risk of fleeing. But proponents of reducing reliance on cash bail say people should not sit in jail before they've been convicted of any crimes just because they can't afford to bond out. 
Lee believes that principle is supported by the Constitution's equal protection guarantee. In 2019, Harris County in Texas settled a class action lawsuit that argued the county's bail system violated constitutional protections because a person's pretrial release depended on whether they could afford cash bail. A federal judge ruled the county's bail system unconstitutional in 2017. The settlement applied to misdemeanors. 
"We want to have a bail system that is constitutionally grounded in recognizing equal protection," Lee said.
Last year, one successful bill in Colorado eliminated cash bail for some low-level offenses. But a companion bill requiring counties to develop pretrial release programs, HB19-1226, stalled out in last session's final days after its introduction in the Senate. 
Rep. Matt Soper, a Republican from Delta, previously told Law Week the mandate came with too little state funding to make it financially feasible for smaller counties to develop pretrial release programs. That bill would have cost the judicial department and the Department of Public Safety about 3.5 million over two years.
This year, the bill will come with about $11.5 million of available funds. It includes a $6.5 million budget request from Attorney General Phil Weiser dedicated to bail reform and a $5 million request from Gov. Jared Polis for criminal justice reform generally. Soper said Polis' request would also fund an upcoming bill requiring bail hearings within 48 hours of arrest.
Lee said he had conversations with Stan Hilkey, who chairs the Commission on Criminal and Juvenile Justice, to promise Lee would introduce this year's bill in the Senate because he regretted that the 2019 bill didn't get through the chamber before the session's end.
"I wanted to assure them that I was still committed to the principles and committed to the bill," he said. 
Soper said this year's bill fully funds pretrial release for the smallest counties with state money. The budgeted money also allocates funds for two to three full-time program staff for each county.
Some of Colorado's counties, including Boulder and Denver, have existing pretrial release programs, and Soper said those counties can choose to use the state funds elsewhere, such as for hiring more law enforcement or making contributions to district attorney offices, if their pretrial release programs meet the bill's requirements. Soper's district includes Mesa County, which already has pretrial services, and Delta County, a rural area in need of funding for a program.
The bill includes the ability for counties to use grant money to purchase audiovisual equipment for remote bail hearings when needed. Soper acknowledged Mesa County tested remote hearings but has preferred human interactions. And for areas without broadband access, remote hearings won't be possible.
"It's not a perfect system, but it is a solution when we're so sparse," Soper said. "It definitely ensures that … you're not denied justice based on where you live." 
The Commission on Criminal and Juvenile Justice, which Soper also is a member of, approved a set of recommendations for pretrial release on Jan. 10 by a supermajority vote. Hilkey, who is also executive director of the Department of Public Safety, said the CCJJ brought in additional stakeholders during the last year, and he believes the extra input has strengthened the latest recommendations and hopefully will clear an easier path through the legislature for the upcoming bill.
He said the American Civil Liberties Union has raised concerns about the use of risk assessment tools to determine a person's likelihood to reoffend in setting bail conditions, because they carry the possibility of built-in racial and gender bias. 
One of the CCJJ's recommendations for pretrial release, also part of the latest bill, requires the Division of Criminal Justice to evaluate any approved risk assessment tool for accuracy and bias every three years. Hilkey said the requirement for ongoing evaluation is a compromise to address the ACLU's concerns. 
"The ACLU helped us get to a place of agreement with them and sell it to their constituents," he said. Sources said the bill will likely meet opposition from interest groups like the bail lobby, which opposes reductions in the use of cash bail around the U.S., since the practice is central to their businesses.
Minimizing bias is also important to Soper. He said the bill requires a judge to make a final decision about a person's pretrial release conditions rather than relying entirely on a risk assessment algorithm. 
"The bill specifically says, unlike last year's version, that this is only a tool to assist a judge in making a decision. It's not anything more that," Soper said. "At the end of the day, a human judge has to make a decision on the merits based on all known information."
The CCJJ's recommendations also include statutory language for pretrial release practices, created by a commission subcommittee. Hilkey said the CCJJ doesn't always include that in its recommendations, but it put together language because pretrial release is a complicated legal topic. 
The commission's members include people with a range of different backgrounds, from state legislators to district attorney representatives to criminal defense lawyers. Hilkey said the recommendations are a hard-fought instance of the different stakeholders working together to come up with compromises and acknowledge their own biases.
"This is difficult work on a naturally adversarial topic," Hilkey said. "You have to give people the time to argue the transgressions they've made on each other for decades," and then work things out. 
—Julia Cardi