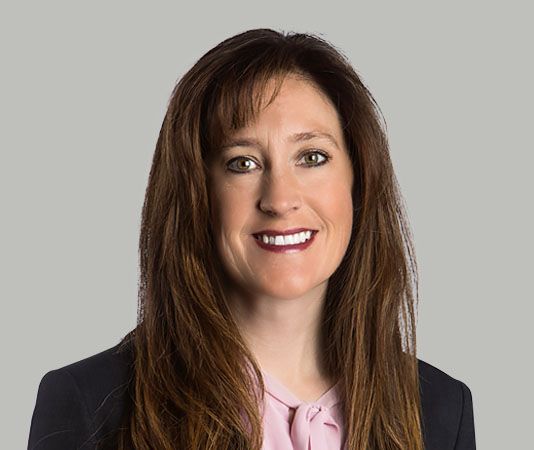 Aubyn Krulish, Denver office managing partner of Armstrong Teasdale stepped into her role in 2019. As one part of the management team in a large firm, Krulish works alongside practice group leaders, managing partners of other offices and a leadership team to carry out the firm's strategic mission. And while firms have tightened their belts through the pandemic, Armstrong Teasdale expanded in many parts of the country. She discussed her firm's strategy and experiences with Law Week.
LAW WEEK: Can you give me the run-through of what you've seen at Armstrong Teasdale. I know everyone's world is a little bit different, so how have things changed for you?
KRULISH: I always tease my team that every day is a great day to be a part of AT. And fortunately, I can still say that. I think that's been our most consistent theme, is that we've weathered this fairly well. 
There have been some changes, but I think the big point, and the part that we are really lucky for, is we came in really strong in the very beginning of this year. We have been able to maintain and be consistent in our services that we provide to clients and meeting our values and our mission statement. 
One thing I've been really excited about is our leadership and management has shown great empathy. I think that that's just been a really neat thing to watch at every level. Definitely in our management and leadership positions, there is this real understanding of what people are going through. 
It's been up and down for our clients. For some of them, this has been actually a time of tremendous growth, for others, it has been tremendous hardship, and we've been in in the trenches with them throughout. That glimpse into their lives has really given us empathy. 
And then on our people's side, I think it's also really given an opportunity to see what people are doing day-to-day. But also, keeping in check, the importance of family, and the importance of staying healthy, the importance of the individual person and how valuable each one is to our organization.  
LAW WEEK: You alluded to this with the empathy aspect, but are there any changes in  client service that you've seen? 
KRULISH: I do think we've done a really good job of maintaining the open lines of communication. Everybody had that moment of, I think, panic and in that first little bit they were like, "we have no idea what's going to happen." And what we were able to do is say, "O.K., we got it. We don't either, but tell us what you need. What do you need to know? How can we best figure that out?" We maintain those open lines of communication, and in a lot of cases, I think we've really become better friends with our clients in a lot of instances, because we've seen them and we talked to them in a much different format. 
Previously, there were clients that I had never actually seen. Everything was done by phone, we were across the country from each other. And now, on Zoom, we're seeing each other, and it's been a really fun aspect to this type of remote working. 
LAW WEEK: Have there been any challenges or successes that you would want to highlight from the past few months?
KRULISH: During this time, we did 70 client advisories as a firm, and they ranged from all different types of answers and advice and counsel based on what we were hearing from our clients. We ended up giving regulatory counsel to some of our clients who went into the hand sanitizer business very quickly. It was across the board what to do, how to manage the PPP loans, what do we do for employees? Both small companies and large companies. And we noticed that we were putting on webinars to assist our clients, and we noticed that we had really high numbers of attendees, and that the engagement was really more connected than we usually see at webinars. And so those are some signs that what we were doing was helpful to the clients. We had a lot of positive feedback on those pieces. 
And then we're standing next to them. For a lot of a lot of our clients, it's been crazy busy, and they've picked up, and we've picked up right with them to make sure we're meeting those needs. And for others, you know, there's a lot of conversation about how do we navigate this, what should we do next when it's been tougher and there are more difficult decisions. We've been there for those as well.  
LAW WEEK: You mentioned a few culture changes that are happening in a lot of places right now. Is there anything that you think might be sticking around long-term when things are kind of "normal"?
KRULISH: I do think we're going to have some shifts. I think that touching base face to face, whether it be by Zoom or in person, is going to be more common, because I think people are getting more accustomed to seeing each other, and there's all those pieces you get from seeing someone that you don't necessarily get just by phone. I think that might be more widely adopted, but we'll have to see.
The other thing is just the remote working environment and the flexibility it provides a lot of people. I think through this process, there's been a realization in many companies that if you have the right team members, they are highly effective even in a remote setting. So I think, yes, we would like to be able to see each other and work together in person at some point, but I don't know that we will have to do that all the time. And I think that we really will be open to looking at ways we can make remote working feasible for those people who are interested in retaining that.
I hope also that we keep the empathy. And I think that's something that we've all become more and more aware of, and the individual nature of people's lives and how they are experiencing things differently from you. And I really think we will, because I think it gave people a good opportunity to get to know each other and build deeper relationships than maybe were there before.
And actually, what's  been really great about this, if you can see the silver lining, so to speak, is our cross-office work has really been better and more effective. Coming from a firm that had that feeling of a headquarters in St. Louis, previously, and our growth has been significant, both out West and in the Northeast, this gave us an opportunity to really work across offices. Nobody's down the hall right this minute, and everybody is a Zoom call away. 
LAW WEEK: How have you been engaging attorneys and staff, and has there been anything that you think indicates bigger long-term changes? 
KRULISH: That's been a real focus for us on how do we keep everybody in the loop and also maintain the fun part of working together.
We've tried so many different kinds of things — I know a lot of companies have. We've definitely done Zoom happy hours, which have been hysterical. We've done trivia, we've done a book club, we've done game nights. I think that some of the associates may have even decided to watch a movie simultaneously. I mean, we've just really tried to navigate it so that people are connected. There was definitely some poker happening. 
Also, we've had quite a bit of growth during this time, which is bizarre but awesome. We've actually added 85 attorneys and staff this year, most of which I would say were during the remote time. So we've really done a lot of: hey, make sure you're integrating. make sure you're talking to people. 
For my team. I say to them, "have you reached out to somebody new today?" That's part of our culture. With all these new people coming in, we need to make sure they have an opportunity to get to know all the great people that are already here. So that's been a piece of it as well.
LAW WEEK: Do you have any specific plans for the months ahead, or are there any issues that are on the horizon that you're keeping an eye on? 
KRULISH: One of the things that I think we did well was we were pretty flexible. We were pretty nimble when we needed to be. And I feel like we have to continue to do that. We can't get set, and say now we're going to work like this. We have to continue to be nimble and flexible as we meet these next challenges when we're looking ahead. 
Our strategic goals have really remained consistent throughout this, which is kind of great. It means you are focused on the right things, if you can focus on them even when things are really difficult. 
So, putting people first — both the clients and our team — remains a focus for us, as the kids are going back to school, either remote or some hybrid or some in person. We're really making sure that we've talked to our team about how they're navigating that. It's super hard to do two parents working and two kids in remote learning that are little and still trying to figure out how to log in. So, we're trying to be really sensitive and thoughtful about that, and we'll continue to do that. 
And then we also are really trying to grow strategically and thoughtfully, because our firm has done well, thus far. I think we have an opportunity to attract some very talented folks. So that door is absolutely open and still really on the forefront of our radar. How do we continue to grow thoughtfully? And then just making sure that we're doing the things that have been good for us in the past and will continue to be good for us in the future, which is to build good relationships internally and externally for Armstrong.