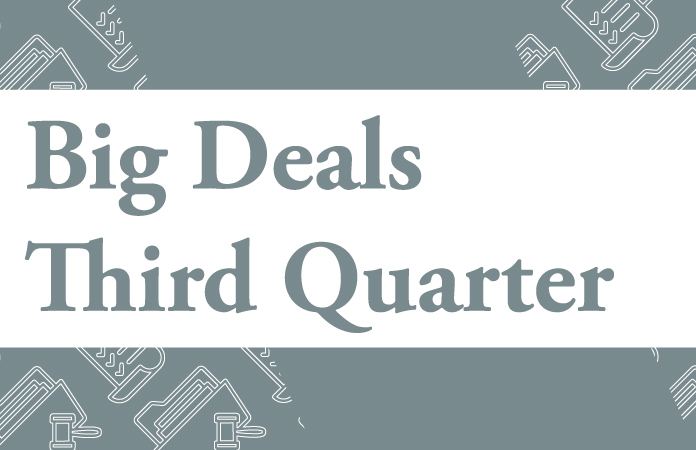 By Patrick Shelby
LAW WEEK COLORADO
Attorneys from Arnold & Porter in Denver represented Slang Worldwide Incorporated in a deal valued between $17.25 million and $25 million. Slang acquired High Fidelity, Inc., one of Vermont's largest medical cannabis companies, on Aug. 12.
Slang will pay $12 million in shares and $3 million in cash up front, followed by an additional $2 million cash and $250,000 in shares 18 months from the deal's close date, according to the company's media release. Payouts of additional Slang shares worth as much as $8 million may be issued based on unspecified performance milestones, bringing the potential price tag to more than $25 million.
Vermont Market Grows Slang's Business Assets Portfolio
"The integration of Hi-Fi [High Fidelity, Inc.]  into our nationwide platform will allow us to expand our operational footprint and add Vermont to our existing core markets of Colorado and Oregon," said former Slang Chief Executive Officer Chris Driessen in an Aug. 12 statement. "Hi-Fi's vertically integrated business model enhances our capacity and operational capabilities through its cultivation, production and retail, including home delivery services, adding significant value to our full portfolio of assets.
Slang, a global cannabis consumer packaged goods company with a diversified portfolio of brands, is headquartered in Toronto. Slang's 2,200-outlet retail pipeline provides immediate opportunity for the Vermont products to a larger U.S. market.
Hi-Fi owns two of the only five medical cannabis licenses in Vermont, Champlain Valley Dispensary and Southern Vermont Wellness, and services around 70% of medical marijuana patients in the state.
Retail sales in Vermont for adult-use, recreational cannabis products are expected to begin in the fall of 2022, with sales projected to reach up to $230 million in 2023, according to Slang officials.
The Vermont transaction extends Slang's operational footprint, which includes a 28,000-square-foot cultivation, production, lab and retail distribution facility, with a 50,000-square-foot expansion expected in 2022.
In addition to the two medical dispensaries, Hi-Fi also owns Ceres Natural Remedies,  Vermont's original CBD store. Since 2016, Ceres has grown to include three retail stores and a portfolio of Ceres branded products with distribution in over 1,200 retail locations, expanding the Slang network to over 3,400 total points of retail distribution. 
"Since our inception, we have led the Vermont cannabis industry with a 'people first' philosophy and a focus on expanding patient access and consumer education. With this transaction, we will be able to share experience and resources to help build new regional brands and create a new business model in the industry. As part of Slang, we can continue to expand our offerings, create more jobs in our communities and remain true to our Vermont heritage, which the Slang team values tremendously," said Hi-Fi President Shayne Lynn, who will join Slang's leadership team and is expected to join the company's board of directors.
New $17.3 Million Loan and Interim CEO Appointment
Newly appointed Slang Worldwide Interim Chief Executive Officer Drew McManigle announced the company's $17.3 million loan from Trulieve Cannabis Corporation, Pura Vida Investments and Seventh Avenue Investments, and an executive leadership transition during a phone interview on November 16. 
Denver-based attorneys for Arnold & Porter Kaye Scholer represented Toronto-based Slang during its recent financial transaction. At least 50% of the loan proceeds will be earmarked to further develop its established cannabis operating platform in Vermont to achieve long-term profitability and further execute strategic growth objectives.
Under the terms and conditions of the loan transaction, Trulieve, Pura Vida, Seventh Avenue and other investors will provide Slang a loan of $17.3 million, which is subject to an original issue discount of 3% and will have a three-year term and a PIK interest rate of 9.75%, compounded quarterly, with the entire outstanding balance, including interest, becoming due and payable on the third anniversary of the loan transaction.
Additionally, Slang will pay the lenders an aggregate total amount equal to $3.6 million on the earlier of the maturity date or any date of prepayment of the initial loan amount.
Focus on Operations Efficiency and Profitable Growth Opportunities
The company's board of directors named Drew McManigle as interim chief executive officer and chairman of the board effective November 15. McManigle succeeded Chris Driessen as CEO, and also replaced Peter Miller as chairman, while Miller remains a director at the company, according to a press release.
McManigle is the founder and CEO of MACCO Restructuring Group in Houston, Texas. The company provides counsel and services to middle-market clients with annual revenues between $25 million and $1 billion that find themselves facing operational or financial risk.
"My focus is on assuring Slang is both operating efficiently and profitably capitalizing on new growth opportunities," McManigle said. "Our top priority is the evolution of Slang and its strategic positioning. The concurrent financing round represents a vote of confidence from a leading industry partner, Trulieve, and two of our largest shareholders, Pura Vida and Seventh Avenue."
The Texan native also pointed out the commitments made by partnering organizations contribute to the creation of a "win-win" business solution that ultimately benefits shareholders in terms of realizing long term value. McManigle said, "It's an exciting time around Slang in terms of opportunities, growth and capitalizing on what's happened in the past, so it's certainly busy … and as a recently installed CEO and chairman of the board, I've got my hands pretty well full."
"The cannabis industry is still relatively new, it's a dynamic industry and there's a lot of people who want to be in it. We're very fortunate that we have such a dominant place and great strategic partners," McManigle said. "We feel very blessed and are looking forward to future opportunities to expand our footprint much like we're beginning to in Vermont, subsequent to the High Fidelity acquisition [Aug. 12]."
Solutions-driven Leadership Style and Company Restructuring Experience
McManigle brings more than 30 years of wide-ranging experience, acquired from a variety of industries, as well as a solutions-driven leadership style that has led to successful outcomes in numerous complex situations. He's led many companies through both in and out-of-court restructurings.
As interim CEO and Chairman, McManigle will have oversight over key strategic, operational and financial functions. In addition to existing Slang management, McManigle will also have the added support of members of MACCO. They will provide senior level operating and financial expertise to enable rapid strategic reviews and business plan implementation.
Prior to MACCO, McManigle was a principal of his own firm for 22 years. He was previously employed by a Fortune 500 healthcare services company and established the Houston office for a California-based advisory firm. He attended Texas Tech University and received his bachelor's degree from the University of Houston.
"We're in the process of implementing a plan which includes elements such as consolidation of operations to be more efficient. We're looking at our products to determine which ones are doing really well," McManigle said. "If some of our products are not doing as expected, what can we do to improve their visibility or consumer interest in those products. So, we're really doing a bottom-to-top and top-to-bottom review."
McManigle described himself as "very decisional-driven" and once he and his team have examined the metrics and information, it's not difficult for him to make a decision in the short term of how to proceed.
Capital Enables Slang to Make Infrastructure Changes Quickly
One of the key attributes McManigle said he has learned over the past year or so is that businesses seem to be moving even faster than they did pre-pandemic. "And I think that's just driven by both necessity and opportunity," McManigle stated.
Financial terms of the $17.3 loan agreement will provide Slang with additional operating capital, which will allow the company to move more quickly, McManigle said. He also pointed out the company has decided to reduce its Oregon operations and will consolidate production to its Colorado facility.  
Slang is pivoting its strategic agenda and focusing on its key markets of Colorado and Vermont, McManigle said. In the near term, McManigle will lead the company by leveraging Slang's core platform to drive profitability goals forward and guide the company's long-term strategy in connection with his far-reaching vision.
McManigle said he believes the cannabis industry is extremely dynamic and recognizes the polarizing issue of marijuana legalization as it continues to be debated across the country. He also referred to U.S. Rep. Nancy Mace of South Carolina, who introduced legislation to remove marijuana from the federal Controlled Substances list on the same day he was appointed interim CEO and chairman.
"What I'm trying to do and what I want to do under my tenure is to position Slang as such that we'll be in position both operationally, financially and from a product standpoint to take advantage of what I believe is a multitude of opportunities for growth and partnership," McManigle said.
McManigle used the near term profitability example of building an additional kitchen facility to make gummies for two distinct product lines in Colorado, where the company's production operations are based. Once completed, the resulting infrastructure improvements could be efficiently integrated with distribution resources already in place, he said. 
"Business is all about profitability," McManigle said. "What we're looking at is how can we make ourselves more efficient and more profitable while improving our operations."