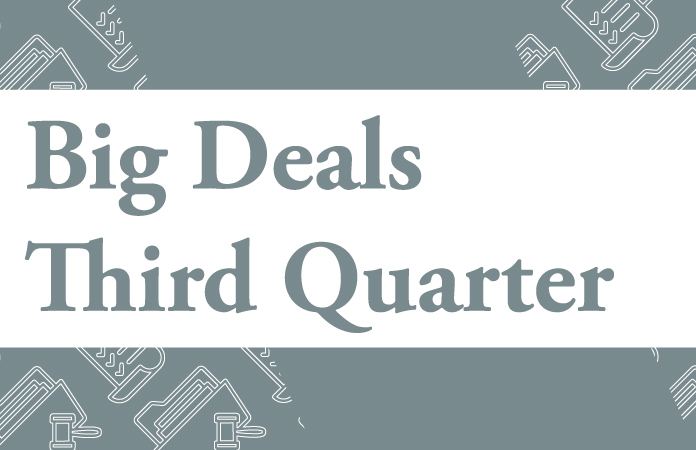 The Q3 Big Deals list features eight transactions involving gold and silver mining companies. Denver-based attorneys from Dorsey & Whitney played a role in each of the deals, which included acquisitions, public offerings, private placements and reorganizations.
Dorsey partner Kenneth Sam said the number is typical for the firm's Denver office, which closes about 6 to 12 natural resource-related deals per quarter. While the number of deals is fairly consistent, the size of the transactions fluctuates based on market trends. And inflation trends could drive higher valuations for gold and silver miners.
"Notwithstanding the fact that people are calling it 'transitory inflation,' I think investors recognize that inflation is probably here to stay," Sam said. "And a natural hedge against inflation, of course, are commodities such as precious metals … So I think you're seeing some of that play out in the capital markets."
Sam was part of a team of Dorsey attorneys who represented New York private equity firm Cartesian Capital Group and its Singapore subsidiary, CRH Funding II Pte. Ltd., in the $30-million sale of its interests in gold mining company Alaska Gold Torrent. The buyer was Contango ORE, a publicly held ore mining company based in Houston.
Sam said the deal, which closed Aug. 24, was an example of how attorneys from the firm's capital markets, natural resources and tax groups work together across offices. Denver-based partner Laura Gunn also worked on the transaction, as did partners Joan Travostino in Anchorage, Wells Parker in Salt Lake City and a team of associates and paralegals in Seattle, Minneapolis and Salt Lake City. 
The firm previously represented Cartesian in its initial investment in and subsequent acquisition of Alaska Gold Torrent, which holds rights to the Lucky Shot mine and related claims in Alaska's Willow Mining District.
Sam also represented Canadian junior mining company Gold X Mining in its sale for more than $255 million in May. As a result of the deal, the Vancouver-based company became a wholly owned subsidiary of another Canadian company, Gran Colombia Gold Corp.
In a news release announcing the deal, former Gold X CEO Paul Matysek said, "We are proud to have appreciably advanced the multimillion-ounce Toroparu project, created significant shareholder-value and delivered a shovel-ready project to our partners Gran Colombia," referring to the Toroparu Gold Project in Guyana, which Gold X has been developing.
"Many of the junior companies have advanced their properties and reported good results in terms of technical reports and reserves and resources, which leads to interest in companies that are looking to put properties into production to take advantage of the current economic and market conditions," Sam said. "So I think there's a natural trend to see many more acquisition transactions."
According to Sam, there will be more nine-figure acquisitions to come in Q4. Dorsey is currently advising junior exploration company Corvus Gold, which South African miner AngloGold Ashanti has offered to acquire for approximately $370 million. Canada-based Corvus owns gold exploration and mining assets in Nevada, including the North Bullfrog Project and the Mother Lode Project.
Dorsey also recently advised U.S.-based gold producer Fiore Gold in its acquisition by Canada-listed Calibre Mining Group. The $133 million transaction was announced in late October. The deal will give Calibre a 100% interest in Fiore's Pan Gold Mine and Gold Rock Project in Nevada.
"There is a pipeline of transactions that are in negotiations," Sam said. "I think there's a lot of money that's sitting on the sidelines, and that money will come to bear. I think you'll continue to see a very strong interest in this particular sector for investors."
Dorsey's other Q3 mining-related transactions include several bought deals involving gold and silver miners. The firm represented Vancouver-based NewCore Gold in a $9.2 million bought deal public offering that closed in August and Cabral Gold, also headquartered in Vancouver, in an $11.5 million bought deal public offering that closed in July. The firm also advised Blackrock Silver and Gold Mountain Mining in bought deal private placements and represented publicly held Contact Gold in its reorganization, which consisted of its redomicile from Nevada to British Columbia.