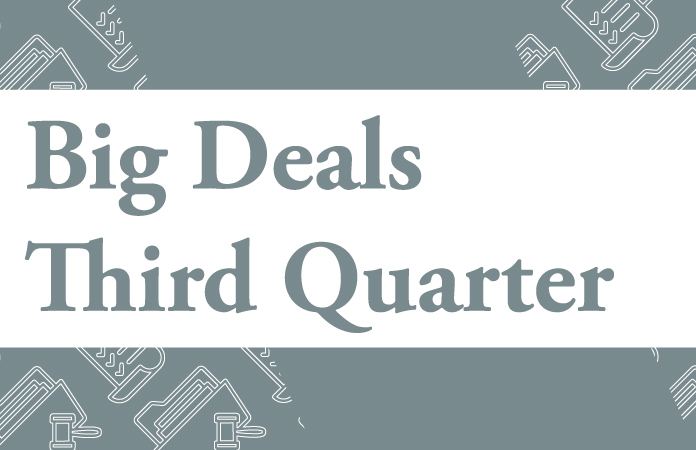 Colorado renewable and transitional energy companies SunShare LLC and Uplight Inc. secured large investments last quarter, with attorneys from Holland & Hart and Arnold & Porter Kaye Scholer LLP guiding the deals. 
Holland & Hart represented SunShare, a Denver-based community solar company, in securing a $30 million equity commitment from private equity platform Ember Infrastructure.
Arnold & Porter represented Fortune 500 global power company AES Corporation in increasing its investment in Uplight, a Boulder-based energy solutions company that focuses on energy efficiency and reducing carbon emissions. After investments from AES and others, Uplight was valued at $1.5 billion in March making it a "unicorn company". 
On Sept. 17, Colorado Holland & Hart partners Billi McCullough, Chris Groll and Adam Cohen closed the sizable equity commitment for SunShare. SunShare, which allows individuals to buy part of a "community solar garden" instead of installing panels on their houses, is a family-owned company with more than 80 "gardens" in Colorado and Minnesota and 13,000 customers. The company plans to expand into new states and markets and is one of the few solar developers to own and operate its projects. Ember Infrastructure was represented in the deal by Wilson Sonsini. 
McCullough, the team lead at Holland & Hart, said it was exciting to represent a local company, "It's super exciting to a smaller community solar developer like SunShare [to] get access to these kinds of funds in order to really take themselves to the next level." 
While the equity commitment was pretty straightforward, McCullough said there were some unique legal considerations on the deal. She explained that Ember Infrastructure is a relatively new fund, so "they were not in a condition where they were just spitting out forms the way that a lot of private equity investors do." McCullough added that working with a family-owned client also meant special considerations when it came to drafting the deal, "there are always aspects of structuring that are different when you're dealing with [a] family-owned business."  
On July 29, attorneys at Arnold & Porter's Colorado offices Ron Levine, Evan Leitch, Carlyn Williams, Therese Fox and a team of other attorneys from offices around the country, closed AES' additional investment in Uplight. 
Levine, a partner at the firm, explained that AES' latest investment came at a time of transition for Uplight. In March, Uplight announced that, on top of its additional investments from AES, it secured investments from multinational electric company Schneider Electric, impact investor Inclusive Capital Partners Spring Fund II, Huck Capital and Coatue Management. Based on the announcement and investments, Uplight was valued at $1.5 billion. 
Arnold & Porter previously represented AES on its control investment in Uplight's predecessor, Simple Energy. Simple Energy later merged with Tendril Networks to form Uplight and Levine explained that AES wanted to continue its investment in the company, leading to the 2021 Q3 deal, "AES had a strong desire to continue its involvement in Uplight and its support of Uplight's growth."
Representing an incumbent investor during the time of transition was interesting, Levine added. "It was significant re-capitalization of the company and change in stockholder base and the nature of the stockholders that, frankly, made it a very interesting transaction." He explained that in the process "there were a lot of things to figure out with respect to how to deal with the existing ownership, and then there was a lot to do to try to accommodate and try to balance all the interests of the new ownership group."
While Levine and his firm regularly work with big players in the legal industry, he said, all parties on the deal were well represented making for a unique negotiation environment. "The fun thing about it, from my perspective, is being involved in this kind of frontier of energy transition, but in the middle of that, having a very complicated, interesting, involved, extremely well-represented transaction," he explained. Schneider was represented by Debevoise & Plimpton, Coatue by Simpson Thacher, Inclusive Capital Partners by Kirkland & Ellis LLP and Uplight and Rubicon by Perkins Coie. 
Levine gave particular kudos to the Uplight team, adding that "there are not classes" for managing a company in the middle of complex ownership transition and negotiations. "When we work on deals like this, sometimes we get caught up in the deal side of it. Well, there's a real people and management side to it that is critical to the continued success of the company," he added.  
With pledges from the government to diversify the energy industry, renewable and transitional energy industries are set to keep growing across the country. The Biden administration has repeatedly named renewable energy a priority, with a pledge to reach 100% carbon pollution-free energy by 2035 and laying out a roadmap to source 40% of U.S. energy from solar power by 2035. Additionally, the national, trillion-dollar infrastructure Build Back Better plan making its way through D.C. is set to carve out a slate of incentives for both individuals looking to use renewable energy and American clean energy industries. 
McCullough said that in the 20-or-so years she has worked with renewable energy clients, the industry has been "growing by leaps and bounds" with no signs of stopping. She explained that one unique consideration when representing renewable energy clients is incorporating tax equity agreements. "You always have to be taking into account either their existing arrangements or any future arrangements that may need to be put in place," she explained.  
"There's only so many giant wind farms and giant solar farms that we can build," said McCullough, "the addition of projects like the projects that SunShare builds which are smaller-scale, closer to the consumer kind of projects, then that's just adding to the mix all the different kinds of projects that we're gonna be building if we're going to start to rely on renewable energy." 
Levine has worked in corporate finance, private equity and merger and acquisition transitions for 30 years in a wide range of industries. The transitional energy world, he said, is unique in that many clients want to be part of something that's "perceived as being positive for the energy industry and society." 
"We as a firm represent other large energy participants," Levine explained, "and the sort of energy transition aspect of it has this opportunity around the frontier of pursuing different kinds of technologies, optimizations and other avenues to maintain the positive impact of energy and try to deploy it more efficiently and in some cases with less carbon footprint."