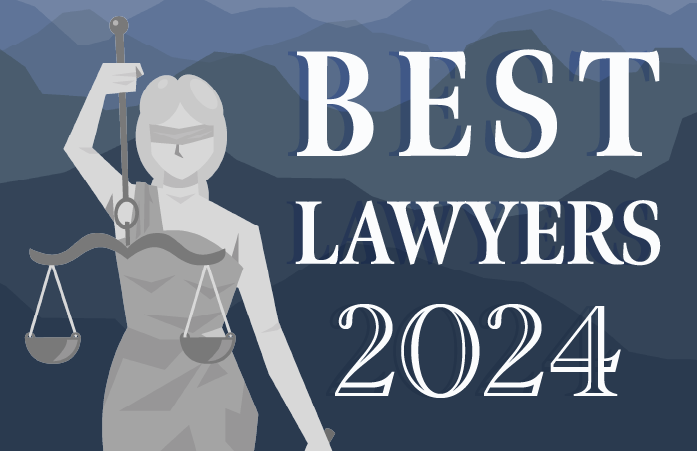 Best Lawyers®, while celebrating long-established and well-known lawyers, also seeks to highlight attorneys early in their careers for "outstanding professional excellence in private practice in America," according to its website. Colorado-practicing lawyers from at least 22 firms were featured in this year's "Ones to Watch" list, specializing in everything from employment to insurance law.
Husch Blackwell
Twelve attorneys at Husch Blackwell LLP's Denver office were "Ones to Watch" honorees this year, including senior associates Shawna Ruetz and Ragini Acharya and partner Stephen Agee. Ruetz, Acharya and Agee told Law Week via email it was an honor to be recognized by their peers in this category.
"I feel the recognition reflects the time and effort invested into becoming a good lawyer," Ruetz, who specializes in healthcare law, wrote. "It[…] also reflects the development of relationships with other lawyers in the courtroom and by participating in the legal community."
Acharya was also recognized in health care law. She focuses her practice primarily on mergers and acquisitions, and looks forward "to continuing to work with healthcare providers in navigating the regulatory complexities of conducting healthcare transactions," she said in a statement to Law Week.
Agee, who practices banking and finance law, added he sees further growth for the firm as a whole in the future.
"We have worked tirelessly to expand our practice on the national level and build cross border teams that can and will support the legal needs of our many clients," Agee wrote.
Levin Sitcoff Waneka
Attorney Susan Minamizono of Levin Sitcoff Waneka PC was also included in this year's edition of "Ones to Watch." The Colorado firm specializes in insurance coverage, personal injury, appellate law, and disability insurance claims and denials. Over the course of her career, she's negotiated multiple six-figure settlements for clients on issues including vehicle injuries and hail damage. 
"With many decades of experience, our firm is committed to protecting the rights of policyholders, regardless of the type of policy they hold," Minamizono stated via email.
She added she views this recognition as a "validation not just for me, but also for our entire team."
"It's gratifying to know that our dedication to our clients and our specific focus on insurance coverage and bad faith litigation are making a difference."
Kilpatrick Townsend & Stockton
Kilpatrick Townsend & Stockton LLP intellectual property litigator Kevin Bell was one of five Denver office attorneys selected for this recognition. He received his law degree from the University of Colorado Law School in 2007, and since then has dedicated his career to serving the Colorado community "both for firm clients and pro bono clients," he stated via email.
Bell's work is focused on patent, trademark and business litigation, and his clients are members of the electronics, software, entertainment, telecommunications and transportation industries. He told Law Week he anticipates that technology advancements, such as AI, will affect his practice in the future.
"We are only now evaluating the risks and values associated with machine learning in the legal profession."
Werge Law Group
Greg Corbin merged his boutique business law firm with Werge Law Group in April 2022, working primarily with small and mid-sized businesses. Shortly over a year after joining the firm as a partner, he told Law Week via e-mail it's an "absolute honor" to be recognized by Best Lawyers. 
Looking ahead, Corbin hopes to continue to grow the services Werge Law Group offers its clients.
"For example, we are beginning to work with alternative structures, like nonprofit organizations and employee-owned cooperatives," he wrote. "I am excited to help these client groups with the unique issues they face."
Woods Aitken 
Abigail Frame came to Colorado to attend law school at University of Colorado Law School, and "just [hasn't] been able to leave this beautiful state," she told Law Week in an email. Frame previously served as a judicial law clerk for a district court judge and the 20th Judicial District of Colorado bench before joining Woods Aitken LLP in 2021. 
She's one of four Denver-based attorneys with the firm who were named "Ones to Watch," all of whom work in construction law and litigation. In a written statement, she expressed gratitude for the recognition. 
"It means a lot because the process involves getting feedback from our respected peers in the region and practice area."
Davis Graham & Stubbs
Davis Graham & Stubbs LLP was well represented in the latest Best Lawyers issue, with 19 Colorado attorneys featured as "Ones to Watch." Partners Kyler Burgi and Daniel Richards both made the cut for their work within commercial litigation, and each expressed gratitude for the recognition from their fellow attorneys.
"The best trial lawyers represent their client's interests zealously while maintaining high standards of professionalism and demonstrating respect for opposing counsel and other participants in the dispute resolution process," Richards wrote via email to Law Week. "Given that Best Lawyers' rankings are based on surveys of attorneys—including my opposing counsel—the recognition is gratifying."
Burgi told Law Week in a statement, "the biggest honor is being mentioned along with numerous attorneys whom I admire and respect."
Holland & Hart LLP
At Holland & Hart LLP, 43 lawyers were selected as "Ones to Watch," across a wide array of practices in Colorado. 
Thomas Morales has been practicing law for four years and explained he was excited to be recognized by the publication for the first time for his work in construction law litigation
"I have seen so many of my colleagues at Holland & Hart be recognized by Best Lawyers," he wrote. "I'm thrilled to be included among those attorneys now. I think it's a real testament to the talented group I get to work with every day."
His colleagues at the firm, Michelle Seares (gas litigation associate), Nabil Rodriguez (cannabis and psychedelic industry associate), Mark Gibson (commercial litigation and appellate of counsel), Randy Roeser (intellectual property litigation associate) and Juan Obregon (employment and labor of counsel) also all shared with Law Week via email that they were honored to be among those recognized for this accolade. 
The following Colorado law firms announced to Law Week they were also represented on the 2024 "Ones to Watch" list: Coan Payton & Payne; Brownstein Hyatt Farber Schreck; Fortis Law Partners; Sherman & Howard; Otten Johnson Robinson Neff + Ragonetti PC; Ireland Stapleton; Hall and Evans; Foley Hoag; Wells, Anderson & Race; Wheeler Trigg O'Donnell; Robinson Waters & O'Dorisio; Ogborn Mihm; Caplan and Earnest LLC; Ridley McGreevy Winocur; and Higgins, Hopkins, McClain & Roswell.