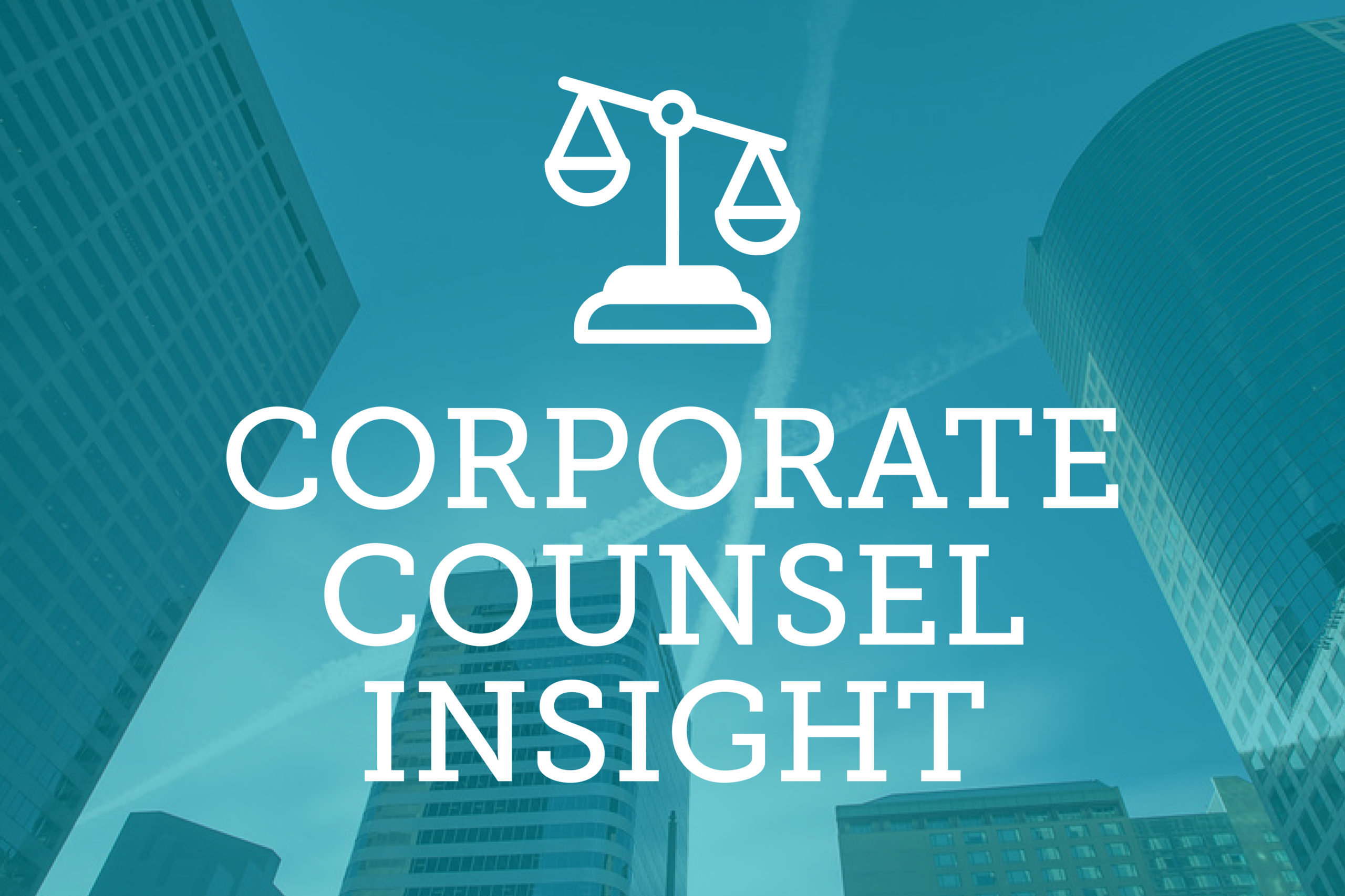 More than a half-century since the federal anti-age discrimination statute was enacted, legal departments continue to see how costly it can be to run afoul of it. But while recent huge awards raise the profile of age discrimination litigation, statistics show that new claims under the Age Discrimination in Employment Act have been declining.
One recent case illustrated the ADEA risk involved when a company tries to foster a hip brand image through hiring younger workers. On May 3, Orlando-based Darden Restaurants agreed to pay $2.85 million to settle the EEOC's claims that one of its chains, Seasons 52, engaged in age-discriminatory hiring practices. The EEOC's original complaint was that Seasons 52 denied employment to a 42-year-old and a 52-year-old man because of their age.
The commission's case expanded, however, with 254 individuals who said they experienced age-based bias from the restaurant chain. Seasons 52 didn't hire a sufficient number of over-40 workers, and a Seasons 52 manager had explicitly said the restaurant didn't hire "old white guys," according to the EEOC.
In addition to the multimillion-dollar payout, Seasons 52 agreed to have its managers undergo new training for age-neutral hiring and age discrimination prevention in the workplace. Seasons 52's hiring practices will also be monitored by an independent attorney for three years.
Age discrimination has been an enforcement priority for the EEOC in recent years. But like any other discrimination-related matters, the commission has shown it will prioritize cases that suggest widespread issues in hiring or firing, said Amy Miletich, who litigates and counsels clients on employment and labor matters through her Denver-based firm, Miletich PC.
"The EEOC is interested in systemic cases of any type of discrimination," Miletich said. This was seen not just in the $3 million settlement with Darden, but also closer to home in a Colorado health care industry case.
In January, Montrose Memorial Hospital settled with the EEOC for $400,000 over claims that the hospital fired 29 employees for "supposed performance deficiencies" or forced them to resign. 
The hospital entered into a consent decree that will be overseen by the court for three years, and it requires Montrose Memorial to institute annual anti-discrimination training and update its anti-discrimination policy.
As in the Darden matter, the EEOC brought to bear ageist comments that it said employees made. Managers at the hospital said the younger nurses could "dance around the older nurses" and that they preferred younger and "fresher" nurses, according to the commission.
Miletich said that preventing ageist attitudes and remarks in the workplace is a matter of pointed anti-age discrimination training. "You need to sensitize your employees to discrimination issues so that comments like that are not made," she said.
Like other discrimination litigation, age discrimination claims can arise from inconsistent disciplinary actions within the organization. But age discrimination can carry with it different characteristics once it goes before a jury.
A federal jury in Colorado awarded two former flight attendants more than $800,000 in their age discrimination case against United Airlines in March. Plaintiffs Jeanne Stroup, who had worked for the airline for 35 years, and Ruben Lee, who worked at United for 40 years, were fired after watching a video on an iPad for 15 minutes and not wearing aprons during a flight. Stroup and Lee argued that the disciplinary actions were pretext for the company to sever their employment due to their ages. 
Following the "letters of charge" against them, United gave Stroup and Lee an ultimatum to either retire or face termination.
Age discrimination claims "can be tricky … because a lot of intangible factors can come in," said Janet Savage, a partner in Davis Graham & Stubbs' employment and labor law group.
In the United case, the plaintiffs violated company rules, but the jury was convinced that they wouldn't have faced termination for those infractions if they were younger, Savage said. For employers, the takeaway from that case is that "the discipline has to be consistent throughout, and it can't vary by supervisor and it can't vary by location," she said.
Savage said that a risk factor that's unique to age discrimination cases, especially if they go to trial, is long tenure. To a jury, a long-tenured employee will be perceived to have demonstrated loyalty to the company, and there's a risk that jurors will see the company as not returning the loyalty when they fire them for controversial reasons.
Savage said that "knowing your numbers is very important" and realizing whether a personnel decision has a disparate impact on a protected group.  In the Seasons 52 and Montrose Memorial cases, she noted, the EEOC stressed the statistics surrounding which age groups were hired or fired.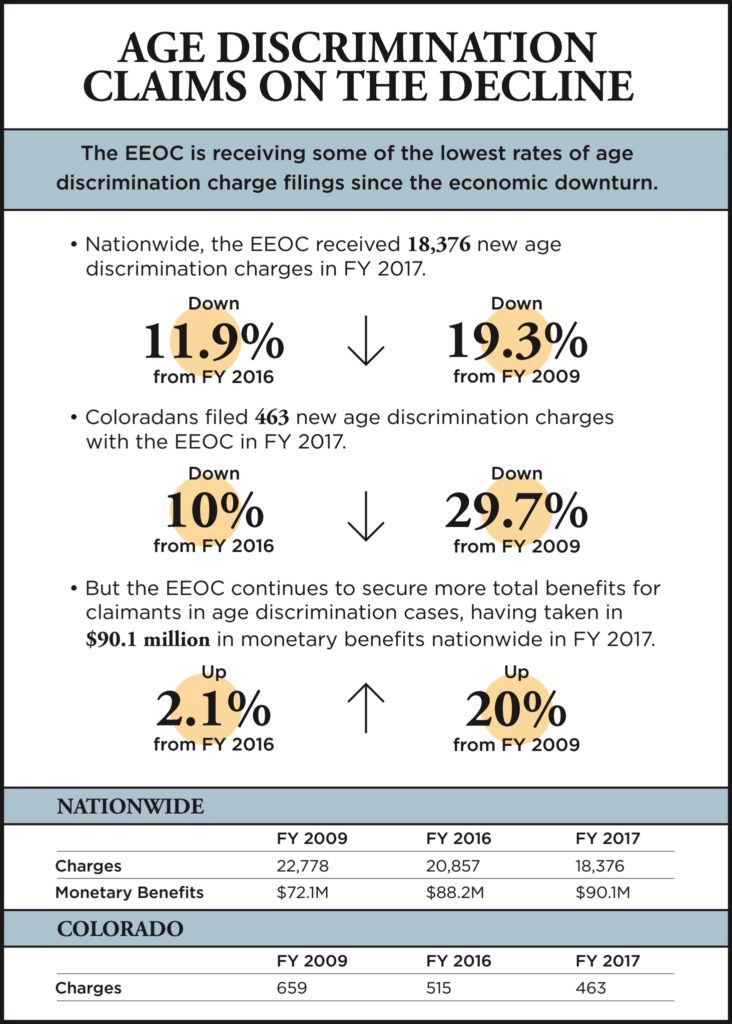 Even if the criteria for the decision are neutral, the employer should check to make sure whether the outcome is disparate, that is, an inordinate number of over-40 workers are laid off or passed over for employment. "I'm not entirely sure that those analyses [always] happen," Savage said.
In fiscal year 2017, the EEOC received 18,376 new charges of age discrimination nationwide, which is about a 12 percent decline from the previous year and a nearly 20 percent drop from FY 2009.
In Colorado, the drop in age discrimination claims has been more pronounced in the long run. Coloradans filed 463 of those charges with the EEOC in FY 2017 — 10 percent fewer than the previous year and roughly 30 percent fewer than filed FY 2009. Both sets of decreases are roughly consistent with the decline in discrimination charges across all statutes the EEOC enforces.
Miletich said that as the economy has improved since the 2008 financial meltdown and more people have gotten re-employed, the lower economic stress might have influenced the continuing downtick in discrimination claims.
With the state having one of the lowest unemployment rates in the U.S., "workers are hard to find today in Colorado," Miletich said, adding that older employers might generally face less bias in Colorado right now than previously. "I think employers, especially in this market, generally view someone with experience as a positive asset."
Another factor is that employers, generally speaking, are becoming wiser to effective policies for policing age discrimination in their hiring and disciplinary practices, Miletich said.
"I think some of it is simply economics. And I believe some of it is employers getting better."
— Doug Chartier