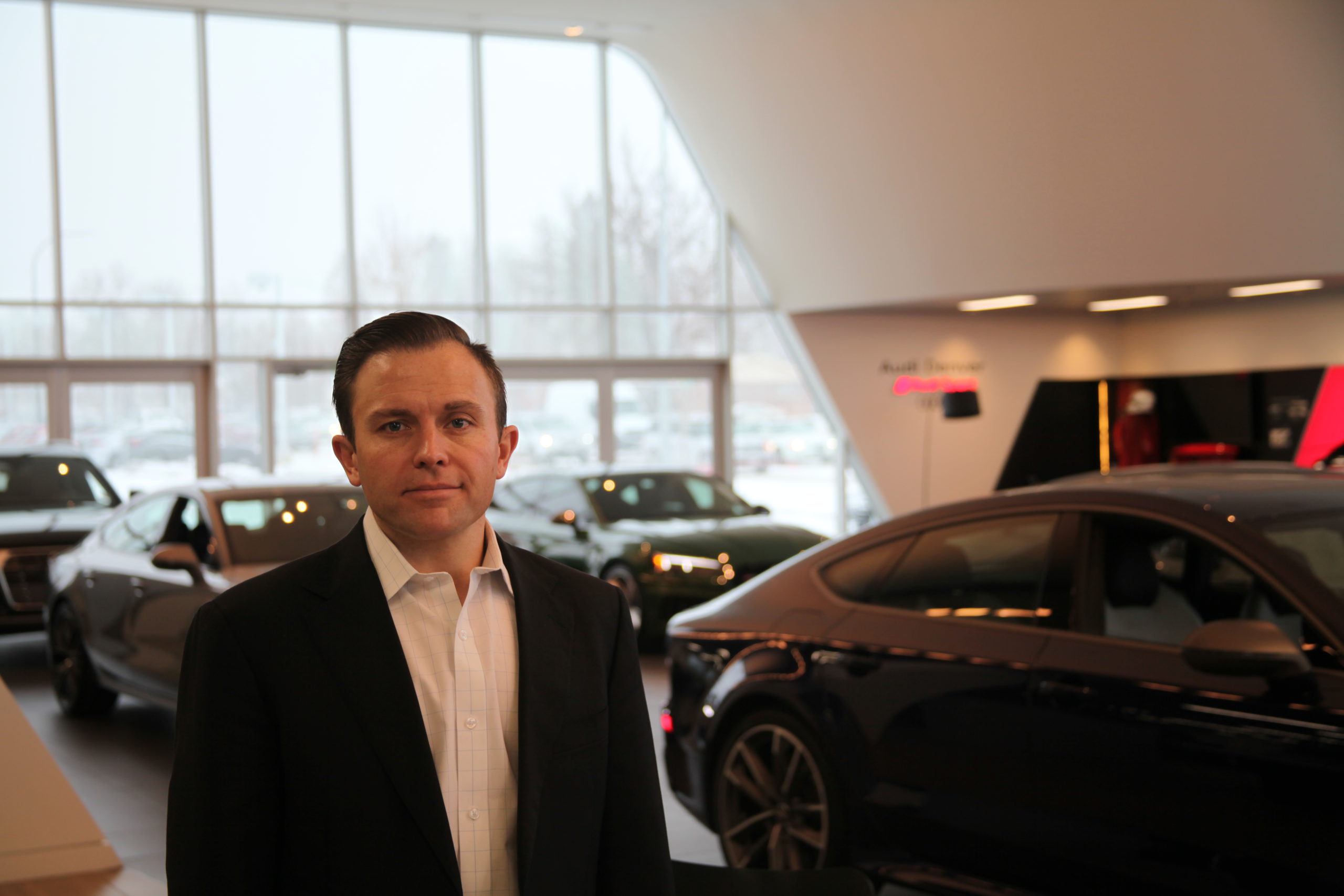 Conventional wisdom says that being general counsel at a smaller business means you have to be a jack-of-all-trades. But that hardly begins to describe the experience of Patrick Hutchinson, the general counsel and CFO of McDonald Automotive Group. 
Hutchinson's C.V. reads like he's three different executives. Aside from having previously been an auto dealership group's corporate counsel and accounting director, he's had a solo legal practice and been an entrepreneur in data analytics, real estate and peer-to-peer networks industries. But it's no paradox that he's also a specialist in law as it affects the automotive industry. 
McDonald runs six car dealerships in the Denver area. In his roles, Hutchinson has a hand in all aspects of the business, from customer concerns, vendor issues, contracts and human resources to running the accounting department and IT team.  
McDonald owns Audi Denver along with Hyundai, Mazda, Volkswagen and Volvo dealerships that line South Broadway in Littleton, and a Mazda dealership in Lakewood. It employs more than 500 people and has been in business for more than 50 years. 
Hutchinson joined McDonald last month. Prior to that, he'd been a sole practitioner focusing on auto dealership clients, and McDonald offered him a job when its then-CFO was retiring. 
But doing legal work in-house at a car dealership is familiar territory for Hutchinson. His first in-house role was with Summit Automotive Partners, which currently owns the Groove brand of dealerships in the Denver area as well as other dealership groups outside Colorado. He originally joined Summit in 2009 as its accounting director, and after earning his law degree from the University of Denver Sturm College of Law two years later, he became its corporate counsel and director of risk management. 
In accounting, all of the work is cyclical. Hutchinson said he pursued law because he thought he would enjoy working on something new and different every day. 
"As an attorney … today can be a complete fire drill, trying to resolve a customer issue, and tomorrow can be managing a new program, or rolling out some kind of new technology for all of our customers and trying to work on the agreement for that." 
Hutchinson left Summit last spring and went solo, forming what was essentially an outside general counsel practice for car dealerships. His firm, Dealer Legal Services, offered on-demand legal services to smaller auto industry clients that can't justify hiring an attorney full-time. 
He saw a gap in the local legal market he could fill. Smaller dealership groups tend not to retain lawyers unless they're making a real estate transaction, he explained. And if they're rural dealerships, they're often using a local business attorney who doesn't know the intricacies of the automotive business. He offered clients fixed-fee packages that made his auto industry expertise more accessible. 
"That niche knowledge felt like it was good opportunity to go serve some of those other businesses that maybe wouldn't otherwise have … sophisticated legal representation," Hutchinson said. 
Being a sole practitioner "had its highs and lows," with some "great clients" along with "some tough cases," he said. He's been in the process of shutting down the solo practice since accepting the McDonald position, he said.
Hutchinson embraces the generalist role that comes with being his client organization's only lawyer. That also means knowing what issues need another set of eyes from outside counsel. For an auto dealer group, that includes niche HR topics and benefits administration as well as advice on corporate structuring and franchising. 
But there's a lot to the auto sales and service industry that puts a different spin on those legal issues. Attorneys in other industries might not immediately grasp certain quirks of the business, like how it's common for dealers to deliberately sell a car at a loss. Oftentimes, that's just the dealer investing in the client relationship, Hutchinson said —it's less about the loss and more about the financing, service, and repeat business a customer will have with the dealer down the road.  
Auto dealers typically must adhere to a variety of different industry regulations, including consumer finance; McDonald counts as a bank, as far as state and federal regulators are concerned, since its dealerships do lending and financing. 
As much as he knows about his industry, Hutchinson has had much left to learn about the ins and outs of his new employer's business. His first month at McDonald has been like "drinking from a fire hose" in terms of absorbing information. 
"I have several notepads now of different notes I've taken at different meetings," Hutchinson said. "And I go home every night and type up my notes and try to figure things out, get organized and think about my day." But he's nearing a turning point, he added, where he knows enough to apply his knowledge and "start making an impact" on the organization. 
Compared to Summit, McDonald is a somewhat smaller dealership group that's "less volume-oriented" in terms of car sales and more focused on "relationship quality" with customers, as Hutchinson describes it. For him, the family-owned McDonald brand has community heft. 
"I'm carrying a name with me. The McDonald family's involved every day, and I want to do right by them. Their name's on the building and they've been in this community for a long time, that means a lot to them. And so when I go out, whatever I'm doing, I represent them, and … that means a lot to me." 
Hutchinson currently drives an Audi Q5, "which has been a lot of fun," he said. He'll have a chance to try out other Audi SUVs to get a feel for them, he added. The SUV also provides decent space for a child seat: Hutchinson and his wife welcomed a baby boy, their first, last year. 
When he needs to recharge, Hutchinson enjoys getting out into nature — sometimes way out. He has summitted three of the highest peaks in the world: Mt. Kilimanjaro, Mt. McKinley and Mt. Elbrus. His mountaineering had the benefit of allowing him to disconnect from phone calls, emails and texts, but it mostly began as a way to push his limits. 
"When I was a kid, I was not physically gifted. And I was thinking, what is something that is extremely challenging? How can I put a goal out there and try to attain it? And it's just trying to … put one step after the next, and then next thing you know you're on top of the mountain."
— Doug Chartier