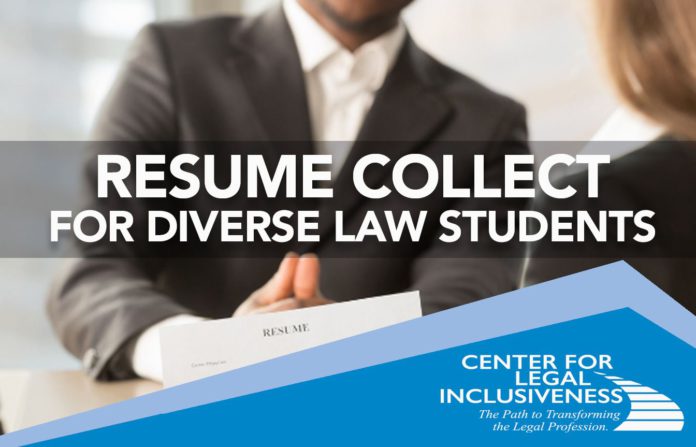 When the Center for Legal Inclusiveness, a Denver-based nonprofit focused on diversity in the legal profession, couldn't hold their annual career fair — it decided to get creative by offering instead a resume collect from across the country for diverse law students seeking a summer associates' program.
What the collect revealed was a wide range of diverse talent ready to head to Colorado and the expanded pool of talent when reaching beyond geographic borders.
The CLI asked diverse 2L students to include their resume, unofficial transcript, writing sample and a personal statement as part of their materials, according to an CLI email about the collect.
The idea behind the resume collect came from pipeline concerns in the legal profession, CLI CEO Sara Scott said. Despite the fact CLI couldn't have their career fair this year, diverse law students were still out there looking for opportunity. So, CLI saw a chance to help support the legal community and law students in getting BIPOC, LGBTQ and Disability-affected student resumes out to CLI members and potential employers.
"There are diverse law students out there who can absolutely do the work in any capacity — if it's government, if it's nonprofit, if it's Big Law — and we wanted to get these resumes together for our members," Scott said.
Scott said that when looking at diverse and ethnic law students, grade point averages can be lower. She said there are several reasons why those numbers happen to be lower, such as being a first-generation law school or college student, lack of guidance on the importance of grades and entering a hierarchical society and coming from a background unlike that.
She added that these same students might be more interested in law clinics as opposed to things such as journals, and unaware of how important those first-year grades can be in their future because they haven't had the insight or been told of their importance.
Especially when it comes to Big Law, Scott said looking at the first year's grades out of a three-year grading rubric for selection is "inequitable."
To address this, a major component of the resume collect was to allow those submitting to attach a personal statement. That option was designed to allow diverse students to cover any of the bases that they wanted to, Scott said. There were no prompts of answering three questions, instead giving the student free reign to speak to their experience or whatever they felt needed to speak. Scott said that it was an opportunity to explain issues such as low GPAs or differences in grades from one year to the next.
"We really want members, we really want the legal force, to look at individuals holistically with a lens for inclusivity, rather than just the five things: GPA, top of class — all the things that they think makes up a person," Scott said. "Because it doesn't."
Scott said that the personal statements were "a huge deal." If a person can explain who they are as a person to potential employers, "that's somewhat revolutionary in the legal world." While many other professions see such options often, it's not very common in the legal field.
"The personal statements were pretty powerful," SJ Snyder, CLI Associate Director, said. 
Approximately 60 diverse resumes were collected by CLI at the time of the interview, which was already above their initial goal of 50, Snyder said. The resume collect ended on Aug. 22.
Because everything with the resume collect was virtual, Snyder said that the collect was open to far beyond the usual law schools in the geographic area around Colorado reaching across states to places like New York. She considers this a decided perk to doing a resume collect as opposed to a career fair, and the fact that many first-round interviews are virtual in 2021 has opened possible candidate selection as well.
The idea was to allow CLI members to have a place to look at diverse talent and to reach out to potential candidates directly, according to Scott.
Snyder said many of the applicants outside Colorado were ready and willing to move to the state for their summer programs, and she mentioned that multiple law students from Colorado at out-of-state universities were willing to return.
CLI spoke with several different law schools and CLI-member firms at the beginning of the collect process to see how they do their recruiting, Snyder said. The ad was first placed on the website Simplicity, a law school recruiting network, to all diverse law school students which use the service. For several schools, CLI reached out to career development offices directly for posting.
Also, CLI created a SurveyMonkey option, which at the time of the interview only had a few applicants, to try to reach out to as many students as possible, Snyder said. 
Whether or not the resume collect will continue in the future really depends upon the career fair, Scott said. She added that CLI is asking itself what used to work in the past, but perhaps will not work in the future. She said that CLI must look at the EDI policies from before 2020, "because everything has changed." 
"The diverse candidates are out there, and I think that having it so virtual and so online made it a little easier to reach them," Snyder said.