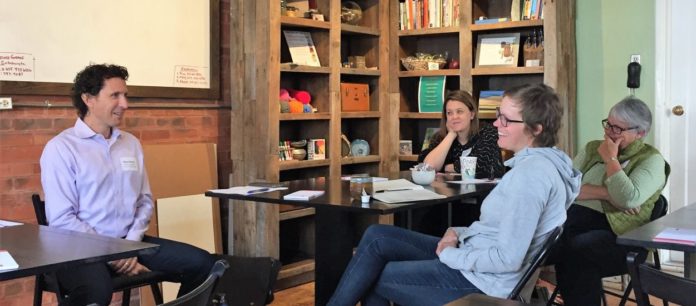 For creatives, artists and musicians, organizations like Colorado Attorneys for the Arts are vital to access legal educational materials and resources. CAFTA volunteers connect them to attorneys for pro bono legal assistance that might otherwise be unaffordable. 
"A volunteer lawyers for the arts association is a model that exists across the country," Dave Ratner, founder and principal attorney at Creative Law Network and co-founder of CAFTA, said. "It's a model that we're following, so we've had some guidance along the way… but [CAFTA] really is unique to Colorado. The way that we do things is unique and Colorado has its own unique benefits and challenges."
Ratner worked in the music and entertainment industries as a tour manager, publicist, band manager and founder of his own management agency before attending law school and, eventually, starting his own law firm. 
"I was working in the creative industries as… what you would call a 'starving artist' and was very aware of how inaccessible legal services are," Ratner said. "I was managing bands, my bands would need a lawyer and legal services for competitive fees were completely out of reach. And that's why I went to law school originally."
In 2013, Ratner met Meredith Badler, now deputy director of the Colorado Business Committee for the Arts, at CBCA's leadership arts program — a nine-month program that prepares participants to increase civic engagement in the arts by building the necessary skills to be effective volunteer leaders.
The CBCA is a 501(c)(3) nonprofit organization with the goal to advance Colorado's creative economy through the intersection of arts and business. According to Badler, Colorado's creative industries add a $14 billion value to the state's economy — and 4% of Colorado's economic value comes from the creative industries. 
"That obviously includes arts and culture and the performing arts, but there's a lot more that's considered in the creative industries — like landscape design, broadcasting and advertising and even some of our tech fields," Badler said. "So it's a really diverse and important workforce sector… that's why it's worth having a service like CAFTA and an organization like the CBCA that is really focused on advancing that [sector] and advancing it with that business lens."
Prior to the emergence of CAFTA, a local organization called Colorado Lawyers for the Arts existed. However, according to Badler, COLA quietly disappeared in the early 2000s. For years, people didn't know if it was still providing services, and artists still needed help. 
During a conversation at the leadership arts program, Badler and Ratner began talking with another attendee about COLA and what happened to the organization. 
"We knew there was a need that [COLA] wasn't providing for Colorado," Badler said. "We knew there were attorneys that wanted to provide pro bono services who care about the arts, who have expertise in those areas. And obviously, we know that there are performers… [who] can't afford market-rate services [and] desperately need that kind of assistance to help them sustain their work."
In 2015, the group launched CAFTA as a program of the CBCA. 
"Instead of being its own standalone organization, [CAFTA] is now under the CBCA's umbrella, and one of the many things we do to connect arts and business," Badler said.
Ratner thinks of CAFTA as a three-legged stool — encompassing pro bono work, legal education for artists and the creative community and continuing legal education for attorneys. 
When artists apply for pro bono assistance, after meeting basic financial eligibility requirements, the case gets sent to a database of attorneys who decide if the matter fits their expertise, practice, time and capacity. Currently, the organization has a database of more than 100 Colorado lawyers who volunteer their time to help out artists and art organizations pro bono. 
More than anything, CAFTA serves as a matchmaking service between artists and attorneys. 
"As a child, I was always a creative kid," Shirin Chahal, recipient of the CBCA's 2021 Volunteer Attorney Impact Award, said in her speech. "I loved to draw, I played a lot of music, I played a lot of instruments. The creative arts were always a good outlet for me. I always knew I wanted a career that continued to support the creative arts… [CAFTA] directly connects those who need legal help with those willing to provide it. A lot of those who are in the creative industry may not have the resources to hire an attorney through the traditional channels, so CAFTA cuts down that barrier."
There's no fee to submit an initial application. If an artist's case is eligible for CAFTA's matchmaking services and they've been approved, there's a minimal administration fee, but all legal representation comes at no cost to the artist. 
"We're always welcoming new attorneys," Badler said. "It really is vital to the success of the organization that we continue to get new attorneys signing up… It's a constant call for action, not because we don't have enough attorneys, but because we can always use more… Even if they think 'Oh, maybe I'll take up one matter a year.' Fantastic. We'd love to have you. Or maybe they just want to do some presentations to help educate creative communities. Fantastic. We'd love to have you work with us."
According to both Badler and Ratner, the education component of CAFTA is just as essential as their ability to match clients with representation. 
"We know that not every artist is ready to sit down with an attorney," Badler said. "Sometimes they just need to know the terminology or general [legal information]. We've done presentations on the anatomy of a contract or putting creative content online. Protecting your business entity is a trademark for your brand and so we do those workshops in person or online throughout the year."
The biggest asset for those in the creative industry is what they create, according to Chahal. 
"When a creative individual or a creative business understands some of the most basic tenets of copyright law, they empower themselves, they empower their businesses and can actually support themselves and monetize their work a lot better," Chahal said. 
According to Ratner, working with CAFTA is not only a great resource for artists, but for lawyers as well. 
"Attorneys are encouraged to do at least 50 hours of pro bono work a year," Ratner said. "I think there's a lot of attorneys out there who don't find very exciting or interesting opportunities to do that pro bono work and here's a great resource to do what are oftentimes fun projects for great clients."
According to Badler, many attorneys have come back from their pro bono experiences and offered testimonials about the impact the program had, not only for the artist they were paired with, but for themselves. 
"It does provide some satisfaction to know that what you've done has made at least some small impact," Dave Rein, recipient of the CBCA's 2022 Volunteer Impact Award, said in his honoree speech. "I see this as trying to make a difference in my community — I live here, work here, play here. I want to see it succeed." 
Chahal echoed Rein's sentiments in her own speech, adding that "being involved with the creative industries has brought a lot of richness to [her] career, has kept up [her] engagement with the practice of law and allowed [her] to get a lot of fulfillment and satisfaction out of [her] career."
Interested parties in either community can find more information, including applications, on the CBCA's website.
"I'd love to see continued growth in the core services that we provide, I think there's always more heat there," Badler said. "But we'd also love to continue to experiment ways that we can provide legal assistance or guidance for the community."