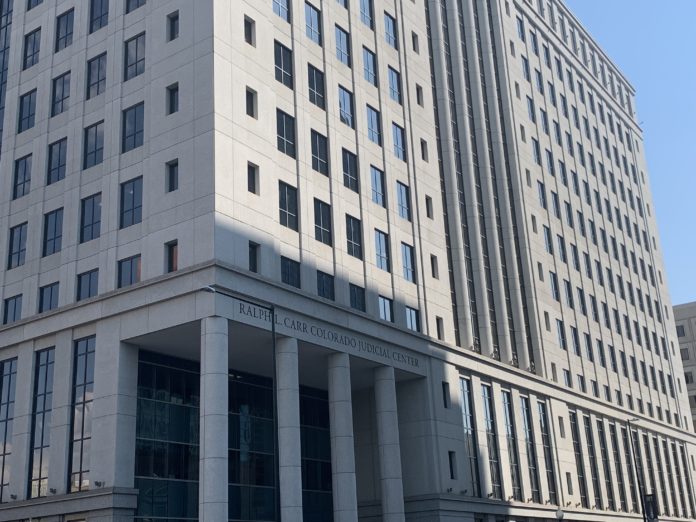 On Wednesday, the Colorado Court of Appeals heard oral arguments in a state lawsuit against Masterpiece Cakeshop, the Lakewood bakery that made headlines after the U.S. Supreme Court ruled on its legal battle against the Colorado Civil Rights Commission in 2018. 
Like previous lawsuits, the merits of the case involve questions about public accommodation law protections, protections for sincerely held religious views and if certain products can be considered speech. 
The panel of the Colorado Court of Appeals — Judge Timothy Schutz, Judge Stephanie Dunn and Judge Matthew Grove —  focused its questions on whether or not an administrative settlement requires certain routes for appeal and what circumstances turn a blue and pink cake into speech. 
The latest appeal came after Autumn Scardina, a transgender woman, called Masterpiece Cakeshop in July 2017, the same day the store's petition for U.S Supreme Court review was granted, to request a custom birthday cake. 
According to findings of fact by the Denver District Court, Scardina learned about the bakery from widespread media coverage of its lawsuit, Masterpiece Cakeshop v. Elenis which centered around owner Jack Phillips' refusal to make wedding cakes for gay couples due to his religious beliefs. Phillips publicly stated multiple times that while his religious views meant he didn't create wedding cakes for same-sex couples, he would create other kinds of cakes, like birthday cakes, for customers regardless of their sexual orientation or gender identity. The Denver District Court found Scardina's call was meant to test those public statements. 
According to district court records, Scardina requested a custom-made pink and blue birthday cake to feed between six and eight people. Staff at Masterpiece Cakeshop initially agreed that the bakery could do that, but when Scardina explained the symbolism of the colors which represented her gender identity, the store declined the order and cited Phillips' religious views, that people can't change genders and a gender transition shouldn't be celebrated. 
Scardina filed a complaint with the Colorado Civil Rights Division alleging Phillips violated protections of the Colorado Anti-Discrimination Act, which among other things, makes it illegal to deny public accommodations to people based on gender identity. 
Her complaint was dismissed with prejudice by the Colorado Civil Rights Division and in 2019 Scardina filed a lawsuit in Denver District Court against Masterpiece Cakeshop and Phillips citing CADA as well as the Colorado Consumer Protection Act. 
The CCPA claim was later dismissed and after a three-day bench trial in 2021, Denver District Court Judge A. Bruce Jones ruled Phillips broke CADA and rejected defense arguments the cake order was compelled speech. 
In his order, Jones referenced multiple high profile court cases that created a constitutional right protecting people from government-ordered speech or behavior. But, Jones noted, the context around this appeal is different since it centers on a product. 
"The anti-discrimination laws are intended to ensure that members of our society who have historically been treated unfairly, who have been deprived of even the everyday right to access businesses to buy products, are no longer treated as 'others,'" wrote Jones. "This case is about one such product—a pink and blue birthday cake—and not compelled speech."
Jones ordered Phillips to pay $500, the maximum allowable damages for violating CADA. 
On appeal, Phillips, represented by Jake Warner of the nonprofit legal organization Alliance Defending Freedom, argued Scardina didn't have grounds to bring the complaint in district court, that the suit should've been dismissed after Phillips agreed to deposit $500 with the court, that Scardina didn't prove a CADA violation and finally that being required to make the cake would break Phillips' state and federal constitutional rights to free speech and free exercise. 
For his portion of oral arguments, the judges pressed Warner on whether or not the commission's agreement with Phillips to dismiss the case prevented Scardina from filing her own claims in district court. Warner explained the commission dismissed Scardina's complaint with prejudice in exchange for Phillips agreeing to drop a federal complaint he filed against it, but Scardina wasn't a party to the settlement. 
The district court case amounted to a duplicative proceeding, Warner argued. "Who would play ball with the commission if they knew they were going to have to face another lawsuit in district court?" 
Dunn pressed Warner on what remedies would've been available to Scardina had she appealed the settlement to the Colorado Court of Appeals instead of filing a district court case. "Would it have been to force the commission to go forward with a complaint or would it be to unwind the federal settlement?" 
Warner argued there were multiple options, including the route taken in Colorado Supreme Court's 1984 ruling in Agnello v. Adolf Coors Co. 
Schutz asked Warner what would have happened to the federal settlement had the Colorado Court of Appeals reversed the commission's case dismissal. That's a question for another time, Warner said, but emphasized Scardina could have requested, but didn't, a right to sue letter from the commission. 
Following up, Schutz asked if the commission and Phillips had wanted to bar Scardina from suing, could they have included her in the settlement. 
"The plaintiff or the administrative complaint need not be a participant in the administrative settlement, but what's important is that the plaintiff had the opportunity to appeal that," said Warner. "So even though [the] plaintiff can't veto a settlement between the commission and a respondent, [the] plaintiff can appeal out to this court to challenge whether the action was appropriate in light of all the circumstances." 
Representing Scardina at oral arguments was Fenmore's Denver Director John McHugh.
McHugh opened with a quote from Phillips during testimony. 
"'I believe that God created male and female and we don't get to choose that. We don't get to change that. And I shouldn't be forced to create a cake for somebody who does,'" read McHugh, emphasizing the word somebody. "That was Mr. Phillips' testimony at trial as to why Masterpiece Cakeshop refused to bake a pink birthday cake with blue frosting for Ms. Scardina. That evidence in and of itself is sufficient to establish a violation of CADA."
Addressing Warner's arguments, McHugh made the case the commission's settlement was not a final order and while Agnello offers an appeal route for administrative decisions, the appeal in Agnello centered on the merits of the underlying dispute, unlike Scardina's case. 
"If Mr. Phillips and the Commission wanted to foreclose Ms. Scardina's right to bring a claim in district court, they could have done that, but what the settlement would have done was resolved the fundamental issue of whether there was a discriminatory act here," said McHugh. 
Pressing McHugh, Schutz asked about cases that are brought to the Colorado Court of Appeals without a ruling on merits. "Aren't there cases in the law where a party has standing to appeal even without an adjudication based on merits?" 
McHugh replied, yes, but not when it comes to administrative orders from agencies. Scardina's case was dismissed with prejudice, and McHugh argued CADA's appellate remedy to a dismissal with prejudice based on procedural grounds is to file a case in district court. 
"And this does not implicate concerns about duplicative proceedings, because as this case shows, there was no duplicative proceeding. They cannot point to a decision by the [administrative law judge] that is contrary or conflicting with a decision on the merits by the district court because ALJ never made one, the commission never made one," said McHugh. 
On the merits of the case, the judges pressed both sides about the context of Scardina's call and whether or not the surrounding circumstances meant creating the cake was compelled speech. 
The district court found Masterpiece Cakeshop initially agreed to make a pink and blue cake but only rescinded the offer once Scardina disclosed the meaning of the colors to her. 
Schutz asked Warner about this finding. Warner cast doubt on the finding and argued once Scardina disclosed the color's symbolism, the threshold from a product to speech was crossed. 
"CADA is declaring Phillips' speech to be the public accommodation here. And there is no compelling reason or even a legitimate reason to force Phillips to express that message," said Warner. 
Directing context questions towards McHugh, Schutz noted that as Scardina voluntarily explained the importance of the colors, it became clear they were in reference to her identity. "In volunteering this info, Scardina effectively asked for a sign off in the sale of the cake's message and context. Why is that not an expression?" 
McHugh answered there have been no findings Scardina asked for an endorsement and that Phillips did not call any witnesses to support that the cake, while symbolic, would be used to celebrate anything other than her birthday. 
"Phillips is responsible for proving that it's expressive and he has not presented evidence to assert that it's expression," said McHugh.
McHugh agreed with Schutz that in some circumstances, a blue and pink cake could be used to celebrate a gender transition, but added Scardina only said it was for a birthday and Masterpiece Cakeshop had no reason to believe otherwise. 
"What CADA compels is not for them to speak, not for them to affirm Ms. Scardina, and in fact, Ms. Scardina did not ask for an affirmation of her gender, what it compels them to do is if you make that cake for one person, then you must make it available to the general public," said McHugh. 
While the Colorado Court of Appeals considers the nexus between public accommodation laws, free exercise and what counts as speech, 1,600 miles east, the U.S. Supreme Court will consider parallel questions in another case based on CADA. 
Editor's note: This story was updated on Oct. 7 to clarify $500 is the maximum allowed damages to a complainant under CADA, not the maximum penalty.