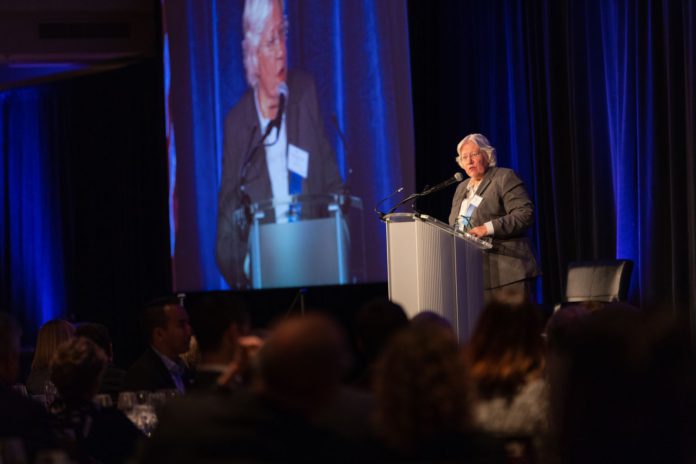 If you ask former Colorado Supreme Court Chief Justice Nancy Rice, she and retiring Court of Appeals Chief Judge Alan Loeb have made the state's appellate courts cool. That may be a big reason the Colorado Judicial Institute chose to honor the two of them with judicial leadership awards at its annual dinner on Thursday. 
Rice and Loeb took on their roles as chiefs of their respective courts around the same time in 2013. "I think [Alan Loeb] and I kind of made the appellate courts cool, if I have to say so myself," Rice said. "Would everybody agree with that?"
Along with her and Loeb, CJI recognized Magistrate Lisa Gomez, Jefferson County Judge Thomas Vance and 2nd District Judge Morris Hoffman took home the evening's judicial excellence honors. Presented by former Chief Justice Michael Bender, each award featured a video of the judge's colleagues and acquaintances talking about their personalities as jurists and why they've stood out in their roles.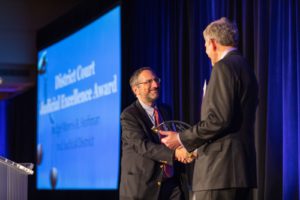 In Rice's tribute video, retired Court of Appeals Judge Sandra Rothenberg recalled what Rice told her when Rothenberg asked how she was acclimating to her role on the Denver District Court. "She said, 'I keep looking behind me, waiting for the judge to rule, and then I realize, oh my God, I'm the judge,'" Rothenberg said. "So I knew she was doing just fine. That happens to all of us."
Hoffman's tribute included a recount of how he made the decision to go to law school only after questioning whether he would be able to make breakthrough contributions in mathematics, his first chosen field. 
"He applied to the CU Law School at the last minute in hopes of at least being able to make a living," said a voiceover, to laughter from the dinner's attendees. "He wasn't sure he'd made the right decision until he started working as the managing editor of the law review. After that, his grades plummeted and his passion for law skyrocketed."
But by the accounts of those who know him professionally, Hoffman has gone from uncertainty to high esteem as a jurist. Bender said people who appear before Hoffman respect him for his attentiveness, preparedness and care he takes in his decisions.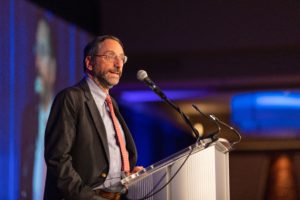 "They're here for Nancy Rice and Alan Loeb? You mean they're getting honored also?" Hoffman joked after thanking the Court of Appeals and Supreme Court judges in attendance at the dinner. "No wonder I'm limited to three minutes."
During his speech, Loeb said it's an honor to be recognized alongside Rice, and he touted the strong support Colorado's judicial system provides to its members. He thanked his family for their support but said it was probably a good thing his 20-month-old grandson was not at the awards dinner.
"I'm kind of glad he isn't here, because he would've stolen the whole show," Loeb said.
The tribute to Gomez, who is a magistrate in the Denver Juvenile Court, recognized her commitment to justice for families and the young people she comes across in her work. Vance was praised for his respectful, even demeanor, which Vance said is a judge's most important quality.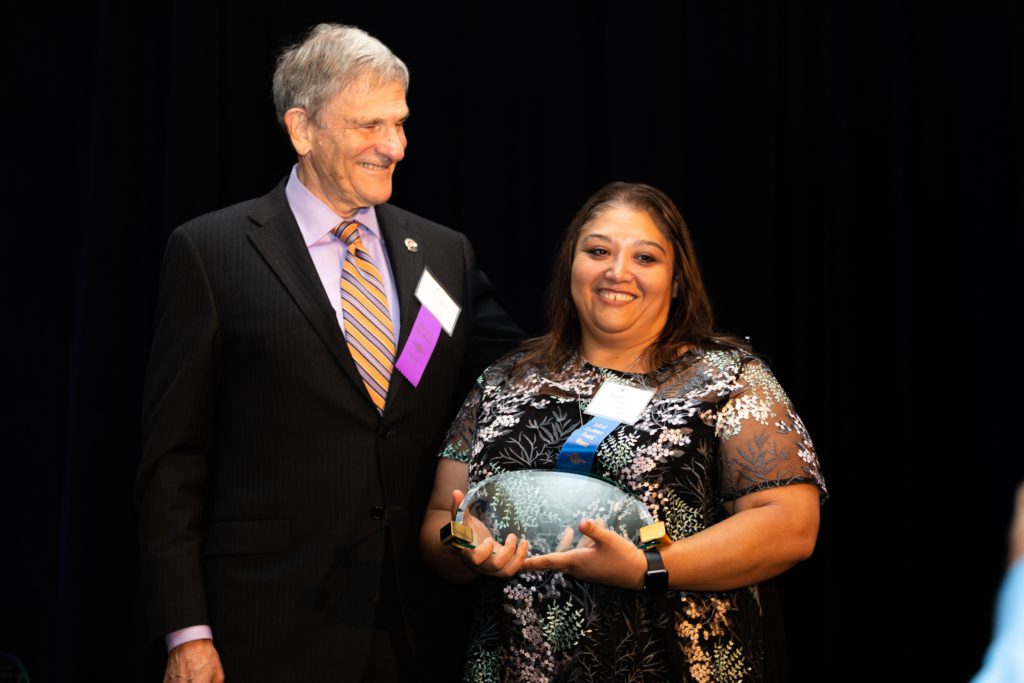 Rice joined the Judicial Arbiter Group in September after retiring from the Supreme Court at the end of June. She touted the aspects she enjoys about her new role, such as meeting attorneys in the state she didn't have the opportunity to cross paths with on the appellate court. She said she also enjoys getting to be "Nancy" again to those she works with, instead of the required deference that comes with addressing the chief justice of the Supreme Court. "Twenty years it feels like I've been in a big cave, and all of a sudden I'm out," she said. "I am no longer the chief justice, and it feels great." 
— Julia Cardi