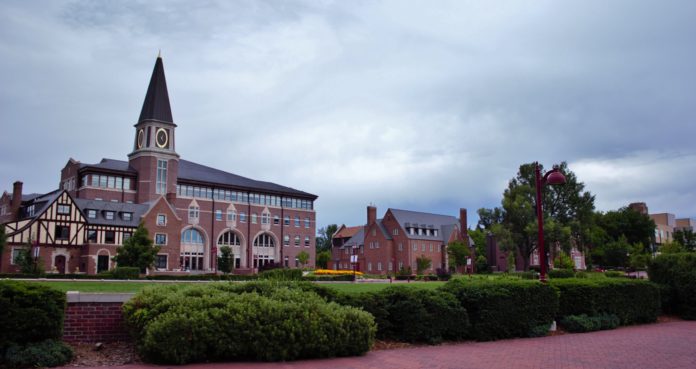 The University of Denver Sturm College of Law is capping its pro bono month celebrations with a call for attorneys to support young lawyers interested in working in the public interest.
The law school is ending its month-long pro bono celebration with a Pro Bono Week fundraiser drive where practicing lawyers can donate the value of one billable hour to the school in order to provide stipends for law students participating in the school's public interest externships. The goal of the fundraiser is to continue growing the externships in both participation and money in order to fight the "public interest drift" that happens in law schools.
The American Bar Association's 10th Annual Pro Bono Week, running through Oct. 27, is a national effort to get legal organizations to recognize the pro bono contributions of lawyers as well as to recruit additional volunteers to legal causes. At DU, the week is an opportunity to continue to "elevate" the call to public interest work, said Alexi Freeman, a faculty member and director of externships and public interest initiatives at DU law.
Freeman said the fundraising drive is a chance to encourage students with a passion for public interest work to find ways to do it. "I think a lot of students come to law school with the idea of contributing to the public good. They historically have impediments to those dreams and passions," she said. "We want to help students see how you can contribute in different ways and in different settings."
The school's externships put roughly 400 students in public interest projects. Previously, the school's externships' stipends were entirely student-funded, but Freeman said over the past two years, the school has been raising money from outside sources instead. The results have been dramatic. She said last year the school placed about 35 students in externships, the year before that 25 and before that only about five or six. By asking for a one-billable hour donation, she hopes attorneys in the community can feel they can contribute regardless of what level of their career they're in or how much money they make.
"The goal is to give a stipend to every student who needs one," she said.
Last year, stipends went to students working with a range of nonprofits and government agencies, such as the Colorado State Public Defender's Office, municipal public defender's offices, district attorney's offices, nonprofits such as the Rocky Mountain Immigrant Access Network, the Rocky Mountain Victim Law Center and the ACLU of Colorado as well as out-of-state and out-of-the-country organizations.
"We're hopefully finding a way to bridge the head, hearts and hands," Freeman said — connecting students' values and skills with the work they do everyday.
In addition to the externships, the law school last year launched an honor for students who dedicate themselves to public interest work. Last year, the program graduated about 20 students, and in 2019, it is on track to graduate as many as 50. 
"It shows commitment from students and the commitment from the law school to elevate public service," Freeman said. The school also announced at the beginning of the month that it received a gift of $687,000 from the Arnold & Porter Foundation to create two endowed scholarships and providing funding for the school's civil rights clinic, all to continue promoting public interest law among DU law students.
"We need to do everything we can through curriculum, culture and finances. All three of those impact students' ability to devote themselves to the public good," Freeman said. The law school's stipends, scholarships, clinics and curriculum hit the financial and curriculum aspects, Freeman said. The school has also been addressing the cultural aspect by hosting panels and trainings throughout the pro bono month of October to create buzz around the law school around what it does to promote public service work.
Previous events included election protection training, a panel about how private practice lawyers can do pro bono public interest law and a training by the National Lawyers Guild on how to be legal observers at protests and raids to ensure constitutional rights are being protected. In addition to the fundraiser, the school is hosting its final event, a spotlight on pro bono immigration law, on Oct. 29. The fundraiser website can be found at c-fund.us/hto. 
— Tony Flesor