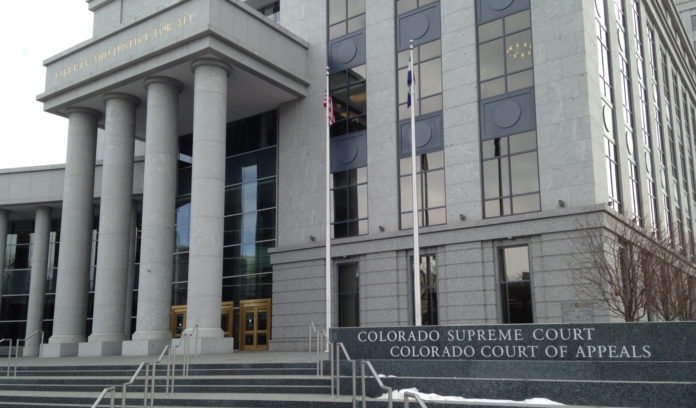 The Colorado Supreme Court en banc granted a petition for writ of certiorari in a case where a judge was disqualified.
Under Colorado Revised Statute 16-6-201(1)(c) a judge should be disqualified to hear or try a case if they had been of counsel in the case.
Donald Garcia was charged with first-degree aggravated motor vehicle theft in July 2017. Garcia was accused of taking his employer's truck without permission and going off the road and across a drainage ditch, where it broke down. Repairs to the truck were estimated at nearly $12,000. 
He was represented by an attorney from the State Public Defender's Office. In April 2018 another attorney, then Deputy State Public Defender Amanda Hopkins, appeared on Garcia's behalf at a pretrial readiness conference at which Garcia didn't appear. In July 2018, Hopkins was appointed to the district court bench and then presided over the remainder of Garcia's case including all pretrial hearings, the trial and his sentencing. 
Garcia then appealed to the Colorado Court of Appeals after being found guilty to determine whether the judge who presided over the trial was statutorily disqualified from doing so due to her prior involvement in the case and whether it leads to structural error.
The appeals court concluded it did and reversed the judgment of conviction, although the appeals court noted nothing in the record suggested Hopkins was actually biased toward Garcia. The appeals court added Hopkins was presumed to be biased by statute and Garcia's trial before her was a structural error. The appeals court did find the prosecution presented sufficient evidence.
The case was remanded for a new trial on the original charge before a different judge.
Colorado Court of Appeals Judge John Dailey concurred and dissented in part in the appeals court opinion. Dailey agreed with the majority's sufficiency of evidence analysis, but wouldn't reverse on structural error grounds.
Dailey made multiple arguments including that Garcia waived any claim the judge should have disqualified herself. Dailey noted by not objecting to Hopkins as judge, the parties consented to her presiding over the case.
In the petition for writ of certiorari grant, the Colorado Supreme Court would focus on whether the defendant waived or forfeited a claim the trial judge was statutorily disqualified under 16-6-201.