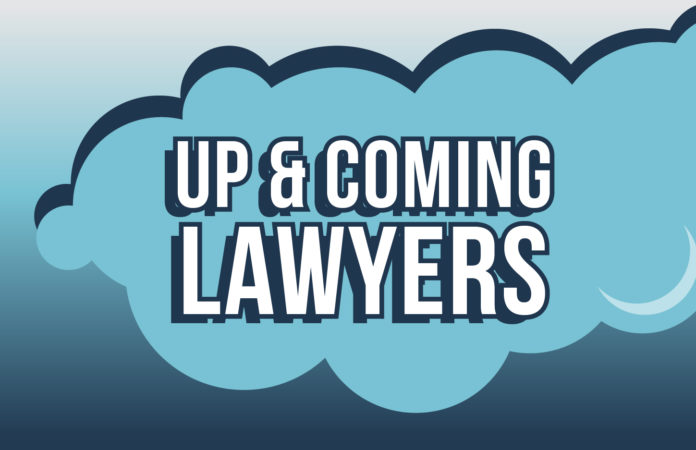 In less than five years as a practicing attorney, Matthew Ball has developed an impressive pro bono and appellate practice. But his favorite part about being an attorney is doing a little bit of everything, he says.  
Ball, a litigation associate at Gibson, Dunn & Crutcher's Denver office, has become a trusted attorney at the firm since he joined in 2019. 
"Matt is the go-to associate for complex cases that require great writing and a deft touch," wrote Laura Huie, communications coordinator at Gibson Dunn in Ball's nomination. "Matt has been trusted to handle a number of successful high-stakes appeals normally reserved for far more senior attorneys, frequently with nine-figure verdicts at stake."
At Gibson Dunn, Ball handles a mix of investigations work, including white collar defense, appellate matters, general litigation and pro bono work. 
He said the firm and its free market system has allowed him to explore a range of areas and develop a wide practice. 
"I don't have too much of an interest in being the world's leading expert in a very niche area of the law, I think. I just find it more interesting to work on lots of different things. That's what I've been able to do so far. And I hope to continue to do it," said Ball.
Ball grew up in Centennial, just south of Denver, before he left Colorado to attend Wesleyan University where he earned his undergraduate degree in 2008 in history, with an emphasis on Middle Eastern history, while also learning Arabic. After college, Ball enrolled in the U.S. Army and served in the 75th Ranger Regiment where he was deployed four times over the course of about seven years, primarily in Afghanistan, before he decided to enroll in law school. 
He said his time in active duty helped develop his love for the law. 
"I think, frankly, being in Afghanistan for such a large portion of my 20s really reinforced the importance of the rule of law to me," said Ball, who added becoming an attorney also appealed to him since it was a way to directly help people. Ball is currently a Major in the Army Reserves. 
Ball graduated in 2018 from Stanford Law School and clerked for Judge Carlos Bea on the 9th Circuit Court of Appeals before joining Gibson Dunn in 2019. 
While in law school, Ball was active with Stanford Law School's Supreme Court Clinic which helped spark his love for appellate work and his pro bono practice. 
"I think in law school, I discovered that I like to write and I like to think about hard problems," explained Ball. "That led me to the appellate work that I do." He also discovered a love for criminal law, he said. 
While in school, Ball assembled and led a team of other students representing Tim Kennedy in an appeal to the Colorado Court of Appeals. 
In 1991, Kennedy was convicted of a Colorado Springs double homicide. The initial convictions were vacated for ineffective counsel and Kennedy was retried, and again found guilty, in 2014. While appealing his second conviction, Kennedy found evidence someone else confessed to the killings, but a district court denied a motion to grant a new trial based on new evidence. 
Ball and a number of other third-year Stanford Law School students assisted Kennedy's assigned alternate defense counsel in appealing the denied motion. Ball was granted a one-time exception by the Colorado Supreme Court to the Law Student Practice Act to allow him to participate in oral arguments, although he had graduated by the time the case went to arguments in front of the court. 
The Colorado Court of Appeals in July 2021 declined to reverse the ruling and the Colorado Supreme Court agreed to hear the case on April 11, 2022. Kennedy died while incarcerated just 15 days later on April 27. The state Supreme Court later dismissed the appeal as moot. 
The case cemented Ball's passion for appellate and pro bono work, he said. "It really became, I think, something that a big group was passionate about. And I was really proud to lead it." 
Gibson Dunn has encouraged Ball to maintain a robust pro bono practice, he said, which in years since has included work on appeals around immigration matters and marijuana offenses. In his pro bono practice, Ball has argued appeals in front of the 9th and 6th Circuit Courts of Appeals. 
"I think this type of work can snowball sometimes," said Ball, who added his work on pro bono appeals has led to more appellate work. "As I do more appellate work, more appellate work arrives. And I think that momentum has just led to a decent amount of work."
Ball said he's also gained significant appellate experience through Gibson Dunn where he was part of the team that successfully represented Reddit in the 9th Circuit Court of Appeals over a Section 230 appeal. 
"I think I've been able to gain a lot of appellate experience simply because there's so much appellate work to go around at a firm like Gibson Dunn," added Ball. 
While he might specialize his practice down the line, Ball said he hopes to still be able to do a little bit of everything and pursue what work interests him. "The ability to do a lot of different things is probably the biggest thing that I like about my job."
Outside of work, Ball said he spends most of his time with his wife and their three young children. He's an avid Colorado Rockies fan ("A depressing thing to be," he added), loves to read and cycle. 
Ball is also involved in policy work as a co-captain for the Democrat Party of Denver's House District 6 and a policy director for a Denver mayoral candidate.