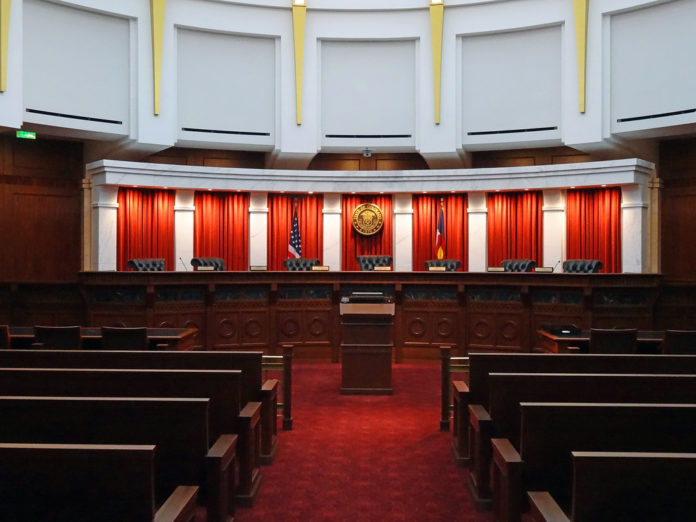 The Colorado Supreme Court will hear oral arguments in three cases on Tuesday, including a constitutional challenge to Colorado's family and medical leave program, a dispute over how to calculate parole eligibility and a case about whether a trial court properly defined "harm" in its jury instructions. The justices will return to hear two more criminal cases on Thursday.
Chronos Builders v. CDLE
On Tuesday morning, the Colorado Supreme Court will hear a TABOR challenge to the state's new family leave law.
Chronos Builders, a Grand Junction-based home builder, sued the state labor department over Colorado's family and medical leave program, which voters approved by ballot measure in November 2020. Chronos says the premiums employers will have to start paying in 2023 to fund a state-run family and medical leave insurance program violate the Taxpayer Bill of Rights.
According to Chronos, the family leave program will tax employers with fewer than 10 employees at a different rate than larger employers, with people at smaller companies paying 0.45% of their wages toward the premium while those at bigger companies pay 0.9%. Chronos argues this puts the family leave program at odds with TABOR, which requires all taxable net income to be taxed at one rate, without added tax or surcharge. The family leave program's funding mechanism is a surcharge on income, the company says, making it unconstitutional.
The Colorado Department of Labor and Employment argues the premium is a fee, not a tax or a surcharge, and TABOR doesn't apply. The district court agreed TABOR was inapplicable and dismissed the case with prejudice in December.
Chronos appealed a month later, and in February the parties filed a joint petition asking the Colorado Supreme Court to take up the case directly, citing the "imperative public importance" of the case. 
Owens v. Williams et al
Also on Tuesday morning, the high court will hear arguments about how to calculate the parole eligibility date for an inmate serving consecutive sentences.
Nathaniel Owens is serving two 10-year consecutive sentences for aggravated robbery — a crime that requires an inmate to serve 75% of his sentence before becoming eligible for parole. He is also serving an additional four-year consecutive sentence for vehicular eluding, requiring an inmate to serve 50% of the sentence before parole eligibility.
The Colorado Department of Corrections determined Owens' parole eligibility date through a "hybrid method" that involves calculating 75% of each of his robbery sentences and 50% of his vehicular eluding sentence and adding them together.
Owens sued the CDOC, arguing that because he had not been convicted of a prior crime of violence, he should be eligible for parole at 50% of all of his sentences.
The CDOC then filed a motion to dismiss along with an affidavit explaining that the department had abandoned the hybrid method of calculating parole in light of the Colorado Supreme Court's 2017 decision in Executive Director of the CDOC v. Fetzer. The CDOC concluded it should treat all of Owens' sentences as a continuous sentence and apply the 75% multiplier. This pushed Owens' parole date back a year.
The district court agreed that the CDOC had properly calculated Owens' parole eligibility date and granted the motion to dismiss. The Colorado Court of Appeals affirmed the CDOC's method. However, in a special concurrence, Judge Michael Berger raised concerns about how much discretion the CDOC had been given, noting the department could also have used the hybrid method. Berger recommended the Colorado Supreme Court take the case to provide clarity on how to calculate parole eligibility.
Since the high court granted certiorari, the CDOC has switched back to the hybrid method. Owens still contends the CDOC should use the 50% multiplier because he had no prior crime of violence convictions but has asked the court to hold that, according to statute, the hybrid model should apply for other prisoners with consecutive sentences. The CDOC contends the case is moot because it voluntarily returned to the hybrid model.
Plemmons v. People
In December 2016, Cheryl Plemmons was planning to end her life and asked a friend to come pick up her dog. Her suicidal thoughts waned that evening, but sheriff's deputies were dispatched to her home for a welfare check after they received an anonymous report that she was planning to kill herself.
Plemmons was upset by the deputies' arrival and cursed, yelled and told them to leave. They allege she pointed a knife at one of the officers and threw it across the room, hitting her friend. Plemmons says she displayed a small pen knife after the officers asked how she had planned to kill herself, which caused the deputies to draw their guns. Afraid the officers would shoot her, Plemmons says she reacted by flinging the knife across the room. The officers also say Plemmons spit in their faces. Plemmons admits she spit at officers while handcuffed in her home and locked in the patrol car but said she has no infectious diseases and didn't intend to harm the deputies.
A jury found Plemmons guilty of assault — a charge that can include spitting on peace officers. Felony second-degree assault addresses spitting done with "intent to infect, injure, or harm" while misdemeanor third-degree assault includes spitting "with intent to harass, annoy, threaten or alarm."
Plemmons contends the trial court erroneously instructed the jury that "harm" means "psychological or emotional harm" and can include "fear, anxiety, or other type of significant distress." She says the Colorado Supreme Court should reverse her second-degree assault convictions because the jury instructions "strayed into emotional and psychological harms" and because she didn't spit with intent to infect, injure or harm. The state counters that the legislature didn't intend for "harm" to be limited to physical harm and the jury instruction was proper.