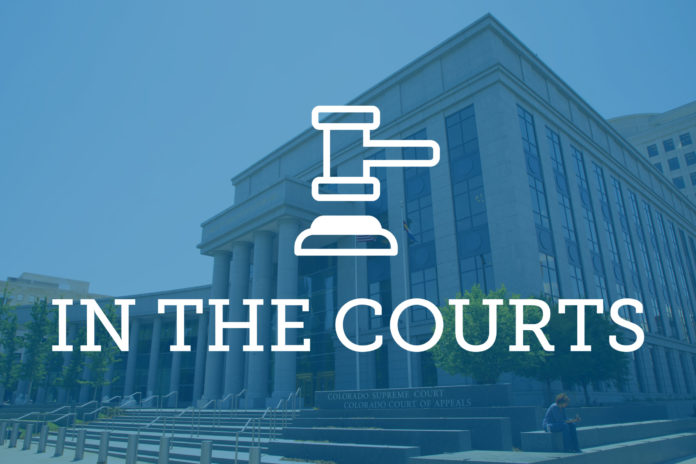 Editor's Note: Law Week Colorado edits court opinion summaries for style and, when necessary, length.
Jagged Peak Energy Inc. et al. v. Oklahoma Police Pension and Retirement System et al.
The Colorado Supreme Court en banc affirmed a judgment involving the Securities Act of 1933. 
Denver-based Jagged Peak Energy Inc. specializes in the exploration, development and production of crude oil and natural gas. In January 2017, Jagged had an initial public offering where it sold more than 31,000,000 shares at $15 apiece. In connection to the IPO Jagged filed a registration statement and incorporated offering materials with the U.S. Securities and Exchange Commission. 
The Jagged officers and directors named individually in this case each either signed or authorized the signing of the offering documents. Furthermore, some investment banking houses underwrote, worked as financial advisors for and assisted in the preparation and dissemination of Jagged's offering documents.
The Oklahoma Police Pension and Retirement System purchased shares of Jagged pursuant or traceable to the IPO. According to the OPPRS, shortly after the investment, facts came forward indicating Jagged, the individual defendants and underwriter defendants negligently overstated Jagged's ability to increase its gas and oil production. As a result, the price of Jagged's shares saw declines, according to the Colorado Supreme Court, and except for a brief surge, Jagged's stock traded below its IPO price.
OPPRS filed a class action lawsuit in Denver District Court, where it alleged the defendants made materially untrue statements and omissions in their offering documents in violation of sections 11, 12(a)(2) and 15 of the Securities Act. After the removal of the case to federal court and it being remanded back to state district court, OPPRS filed an amended complaint adding details to support its claim Jagged negligently overstated its ability to increase its oil and gas production by representing it owned prime territory in a core oil producing window of the area to be developed and had highly a highly experienced workforce capable of developing Jagged's property in an efficient manner.
The high court said the issues before them require them to look at two particular statements. One of the statements provided Jagged's primary business objective was to increase stockholder value through a strategy that reads in part: "Maximize returns by optimizing drilling and completion techniques through the experience and expertise of our management and technical teams."
The Colorado Supreme Court also looked at another statement that provided Jagged's "development drilling plan is comprised exclusively of horizontal drilling with an ongoing focus on reducing drilling times, optimizing completions and reducing costs." 
OPPRS alleged, among other things, Jagged's statements were untrue and misleading while omitting material information because Jagged failed to disclose it hired inexperienced employees to oversee drilling operations in the development area at issue, the contractors had favorable provisions in their contracts with Jagged giving them more money for increased costs and as a result of inefficient contract terms, Jagged incurred additional drilling and production costs. 
Jagged moved to dismiss the amended complaint, arguing OPPRS didn't sufficiently plead the offering documents contained materially false misstatements or omissions, as required to state a claim under sections 11, 12(a)(2) and 15 of the Securities Act. OPPRS argued the documents provided sufficient grounds for relief. The district court granted Jagged's motion to dismiss in part, finding OPPRS failed to state a claim under section 11, but its remaining allegations stated viable claims for relief under section 12(a)(2) and 15.
Jagged filed a motion for clarification of the court's order, requesting the court clarify its order ruling that its dismissal of OPPRS 's section 11 claim was dispositive of OPPRS's remaining claims, which would lead to the dismissal of the entire amended complaint. The district court agreed, issuing a supplemental order dismissing with prejudice all of OPPRS's claims, ruling section 12(a)(2) and 15 are dependent on findings under section 11.
OPPRS appealed, narrowing its focus to two general categories of alleged misrepresentations and omissions, one of which was at issue before the Colorado Supreme Court: the alleged material misrepresentations regarding the competence and expertise of Jagged's management and workforce. 
Jagged argued none of the statements OPPRS relied on were actionable. Jagged contended the statements at issue were vague statements of corporate optimism which are immaterial under the "puffery" doctrine, and assertions regarding post-IPO events that didn't support plausible claims of relief (because OPPRS was required to allege Jagged's representations and omissions were misleading at the time of the IPO).
The appeals court reversed the district court's judgment in part, finding that as to both statements, OPPRS pleaded actionable claims under sections 11, 12(a)(2) and 15 of the Securities Act. The appeals court affirmed the district court's judgment in other aspects that were not before the high court.
The Colorado Supreme Court affirmed concluding on the specific facts presented in the case, OPPRS stated a plausible claim for relief because its allegations regarding the alleged misrepresentations at issue, were as a matter of law, more than just puffery and not based on hindsight pleading. The high court further surmised the appeals court correctly applied federal law concluding OPPRS plausibly pleaded viable claims under sections 11, 12(a)(2) and 15 of the Securities Act.
Justice Monica Marquez was joined by Chief Justice Brian Boatright in dissent. 
"I acknowledge this is a close case," Marquez wrote. "To prevail on a claim under the Securities Act, a complaint must sufficiently plead that a challenged statement is both material and misleading. These are separate hurdles. Vague statements of corporate optimism cannot be propped up by nearby historical statements and data, and such puffery cannot be rendered material by looking to a plaintiff's separate allegations that the statements are misleading. Because the majority opinion adopts a method of analyzing materiality that departs from federal precedent, I respectfully dissent."