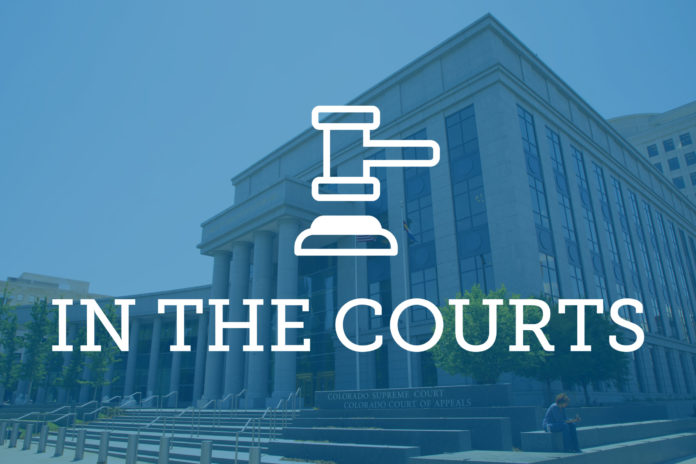 Editor's Note: Law Week Colorado edits court opinion summaries for style and, when necessary, length.
The Colorado Court of Appeals unanimously affirmed the conviction of man on two counts of child abuse resulting in death and one county of accessory to a crime. 
According to the opinion, the appeal came from Ashford Archer, who did not physically mistreat the victims, but actively participated in the decision-making that led to their deaths. Archer was part of an itinerant religious group which met Alec Blair by chance at a gas station near Grand Junction in 2017. Blair owned 20 acres near Norwood where he was trying to grow vegetables and marijuana. The undeveloped land had no electricity or plumbing, but once he got to know the group, he allowed them to stay on the land.
The group, when they met Blair, consisted of five adults and four kids. Co-defendant Madani Ceus was the spiritual leader and her and Archer were the parents of two of the children. The other two kids, who were the victims in this case, were the daughters of co-defendant and group member Nashika Bramble.
On the property, there was no permanent structure, so the group set up camp in cars, shacks and tents. The group sought spiritual purity which included a strict diet and limiting possessions. If the rules were followed the group believed the members could get light bodies so they could enter heaven after an upcoming purge. Even though Ceus was the leader, she made decisions with a three-person hierarchy which included Archer.
The victims in this case died after they were sent to a vehicle on an isolated piece of the property to work on spiritual development. Ceus declared that the victims were not able to eat the food she cooked and barred anyone from leaving to get provisions, and no one gave the victims food, water or any other assistance again. The children died sometime later.
By the time the bodies were discovered and got to the medical examiner, they were so decomposed, officials were unable to determine a cause of death. The medical examiner testified they likely died of starvation, dehydration, hyperthermia or a combination of factors. 
On appeal, Archer contended the evidence at trial wasn't sufficient to sustain his convictions for child abuse leading to death. The appeals court disagreed saying he was one of the people responsible for the well being of the children and there was sufficient evidence Archer acted knowingly or recklessly because he disregarded the risks being taken which could lead to the death of the children. 
Archer also contended the trial court erroneously admitted unreliable scientific evidence and the trial court reversibly erred by admitting some hearsay statements from Ceus. The appeals court disagreed with Archer on both claims.
The Colorado Court of Appeals unanimously affirmed in part and vacated in part a ruling connected with a dependency and neglect case. 
The appeals court ruled that a juvenile court in a dependency and neglect case may not require a parent to complete a Sex Offender Management Board evaluation and treatment if that parent hasn't been convicted of a sex offense and objects. In conclusion the appeals court said a parent can appeal the content of an initial dispositional order contemporaneously with the appeal from an order that adjudicated a child as dependent or neglected.
The case focuses on a father, named in court documents as D.W., who appealed the adjudication of his child, named as M.W., as dependent or neglected. D.W. contended the juvenile court erred by prohibiting out-of-state witnesses from testifying during an adjudicatory hearing through WebEx, while also requiring him to complete a psychosexual evaluation and complying with any recommendations for treatment.
The Mesa County Department of Human Services began a dependency and neglect proceeding after allegations were made that D.W. sexually assaulted his daughter M.W. and that M.W. didn't have proper parental care and was in an environment that was not good for her health or welfare. D.W. contested the petition, which led to an adjudicatory hearing before a jury. D.W. also asked to have two witnesses testify remotely from Oregon. The juvenile court denied that motion. 
The jury returned a verdict finding M.W. was in an injurious environment and did not have proper parental care due to the D.W.'s actions, or his failure to act. Due to the jury's verdict and M.W.'s mother's admission the child was dependent or neglected, the court entered an order adjudicating M.W. dependent or neglected concerning both parents. 
Before a dispositional hearing, the Department of Human Services filed a treatment plan which would require D.W. to take part in a psychosexual evaluation that would assist in determining a risk for reoffending and potential need for sex offender therapy. D.W. filed a written objection for the requirement saying it was not reasonably calculated to render him a fit parent, it violated his constitutional rights against self incrimination and being free from criminal sanctions without a criminal conviction. After a contested hearing the juvenile court ruled against D.W. and adopted the treatment plan. That court cited ongoing concerns connected with D.W.'s alleged inappropriate sexual conduct and the trauma M.W. was suffering due to her relationship with D.W. 
The appeals court disagreed with D.W. concerning the exclusion of the WebEx testimonies. The appeals court looked at a variety of factors connected with excluding the interview requests and concluded the trial courts are better positioned to determine whether remote viewings are necessary.
Next up for the court of appeals was D.W.'s argument that the juvenile court erred in adopting a treatment plan that would require him to complete a SOMB psychosexual evaluation, while complying with all recommendations resulting from the evaluation. The appeals court agreed with D.W.'s argument based on him not being convicted of a qualifying sexual offense.
"To be clear, we do not hold today that a juvenile court may not require a respondent parent to participate in an evaluation and obtain treatment or counseling for sexual behavior that poses a risk to the parent's children," wrote Judge Timothy Schutz in the court's opinion. "However, in a situation like [the] father's, where the parent has not been convicted of a qualifying sex offense and objects to participating in SOMB treatment, the juvenile court may not require a parent to comply with an SOMB evaluation or treatment pursuant to the SOMB Standards."
The juvenile court did make findings to support its conclusion that D.W. needs appropriate psychological counseling and treatment for his alleged deviant sexual behavior. On remand, the appeals court said the juvenile court can create an appropriate order, provided it's not under SOMB evaluation or treatment.
The appeals court affirmed the juvenile court's adjudicatory order, but vacated the SOMB evaluation and compliance, while remanding with modifications that are consistent with the opinion.