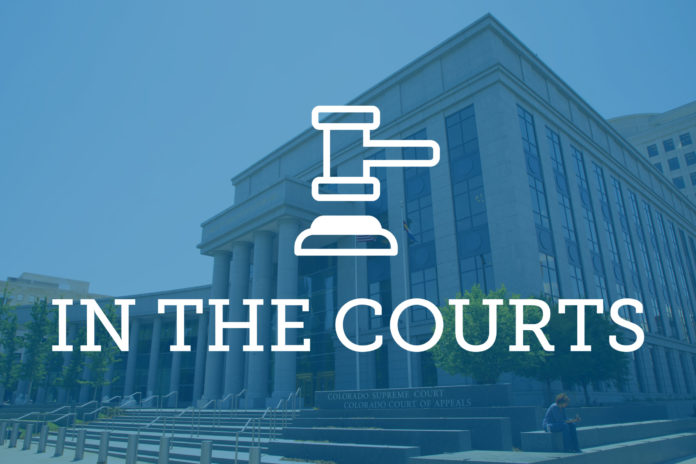 Editor's Note: Law Week Colorado edits court opinion summaries for style and, when necessary, length.
The Colorado Court of Appeals unanimously affirmed orders involving probation.
Abdullahi Salah appealed a trial court's order that revoked his sentence to sex offender intensive supervision probation and the court's order resentencing him to SOISP with the same conditions. Salah contended the two probation conditions he was found to have violated, infringed on his constitutional right to familial association by prohibiting him from contacting or living with a minor family member. Salah challenged the revocation of his SOISP sentences based on his violation of these conditions and the imposition of the same conditions on new SOISP sentences.
Salah was found guilty of second-degree kidnapping, sexual assault and two counts of sexual exploitation of a child. A trial court sentenced him to concurrent terms on SOISP. As part of his probation, Salah couldn't be around children, but the court found he didn't pose a threat to his own children. Salah's probation conditions prohibited him from contacting or residing with a child under the age of 18 except for children who were his siblings or with whom he had a parental role, which included biological children, adoptive children or step-children.
Salah's probation officer filed a complaint to revoke Salah's SOISP sentences, alleging Salah violated his probation conditions by living with his sister and infant child. In a revocation complaint, the defense counsel argued Salah had a constitutional right to familial association with his nephew and the probation conditions violated that right, noting a federal case held a court can't prohibit a probationer from having contact with minor biological children and siblings and the underlying rationale of the case argues for an extension of that exception to other familial relationships where the probationer had some sort of parental like role.
The defense counsel claimed in this particular community and family, Salah would have a parent-like role with his young nephew. The trial court rejected Salah's constitutional challenge, determining there wasn't evidence before the court as it relates to Salah and his nephew, that there was a parental-like role. The trial court found Salah violated his probation conditions, revoked his SOISP sentences and re-imposed the original SOISP sentences with the same conditions plus a 90-day jail sentence.
Salah appealed and the Colorado Court of Appeals affirmed, concluding the record doesn't show Salah's right to familial association was implicated.
The Colorado Court of Appeals unanimously affirmed a judgment involving an assault on a police officer.
William Cline VI appealed his conviction finding him guilty of first-degree criminal trespass, second-degree assault of a peace officer, third-degree assault, harassment and criminal mischief.
In February 2019, Cline was accused of crashing a golf cart into a snowbank near his neighbor W.P.'s house. According to court records, Cline then entered W.P.'s house through an unlocked garage door and woke W.P., flashing a light into his bedroom. W.P. saw Cline inside the kitchen and outside his garage. W.P. called the neighborhood's security gate guard and then 911. The guard informed responding officers deputies Draughon and Christensen, the cart belonged to the Cline family.
When the deputies arrived at the Cline home, Cline invited them inside. The deputies eventually handcuffed Cline and he would not stand and struggled with the officers. At some point, all three tumbled to the floor. Cline is also accused of kicking Draughon. The two physically struggled and Draughon punched Cline, wrapped his legs around him and put Cline in a chokehold, according to court records. Christensen then tased Cline, subduing him. 
Cline was eventually escorted to the patrol car and jail. On the way to jail, Cline is also accused of shouting at Draughon and calling him racist names, while kicking the door of the vehicle causing damage. 
Cline was found guilty on many of the charges against him.
On appeal, Cline contended the district court erred by refusing to have an in-camera review of Draughon's personnel file; erroneously instructing the jury on his defenses and precluding him from presenting certain expert testimony. 
For the first contention, the appeals court was required to clarify that a defendant who has been charged with assaulting a police officer, must make the showing required under the Colorado Supreme Court case People v. Spykstra, in order to be entitled to an in-camera review of the officer's subpoenaed personnel file. The appeals court found Cline failed to make the required showing. The appeals court affirmed the district court's order quashing the subpoena without conducting an in-camera review.
For the second contention, the appeals court declined to follow its interpretation of the term "unlawful entry" in People v. Zukowski, which examined the definition of the term for the purposes of the Colorado force-against-intruders statute. Instead, the appeals court deferred to the Colorado Supreme Court's definition in People v. McNeese. Since no credible evidence showed unlawful entry under the McNeese definition, the appeals court concluded the district court didn't err when it refused Cline's force-against-intruders instruction.
The appeals court rejected the balance of Cline's contentions and affirmed Cline's conviction.