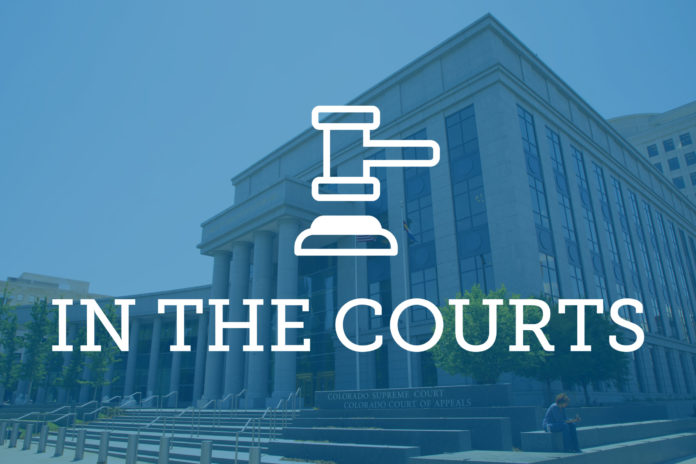 Editor's Note: Law Week Colorado edits court opinion summaries for style and, when necessary, length.
In the case of Magana v. People of Colorado, the Colorado Supreme Court affirmed in part, while also reversing in part, a judgment from the Colorado Court of Appeals.
The ruling stems from an arson case from April 2016 where Christopher Magana was accused of setting fire to his ex-girlfriend's car, which then spread to another car and a nearby duplex housing 14 people, who all escaped uninjured. Magana was charged with 18 counts of arson including two counts of first-degree arson (one for each of the units), two counts of second-degree arson (two cars) and 14 counts of fourth-degree arson (14 people in the units). Magana was found guilty of all 18 counts. The two first-degree counts were charged as a crime of violence due to the use of "fire and accelerant," which can be a deadly weapon.
The jury found that the first-degree arson involved a deadly weapon, but during sentencing the verdict was tossed, because the judge concluded the jury reached that sentence-enhancement conclusion based on just the fire.
"The trial court concluded that first-degree arson necessarily requires the use of fire," wrote Supreme Court Justice William Hood III the court's opinion. "Without more, it refused to sentence Magana under the COV statute."
An appeals court then affirmed the convictions, but said the trial court should have used the COV.
The Supreme Court en banc addressed two arguments that Magana made after challenging the judgment from the court of appeals. His first claim was over his 18 convictions, arguing that the trial court imposed multiple punishments for the same crime or double jeopardy. Magana continued the argument saying any form of arson is based on the act of starting a fire or an explosion, and should not be based on the number of buildings burned, property torched or how many people were endangered, which means he should have been convicted on three counts (one for each category of harm). His second argument is that the General Assembly didn't intend for fire to be a constituent element of first-degree arson, while also being the basis for a COV.
"We hold that (1) the unit of prosecution under the first, second and fourth degree-arson statutes is, respectively, each building or occupied structure damaged or destroyed, each person's property (other than a building or occupied structure) damaged or destroyed and each person endangered; and (2) fire alone is not a deadly weapon for the purpose of prosecuting first degree arson as a COV," Hood wrote. "We therefore affirm in part and reverse in part the division's judgment."
The Supreme Court argued that the General Assembly made only first-degree arson by explosive a COV, adding that if the General Assembly wanted all first-degree arsons to be COVs, it would have said so.
On the second claim, the state Supreme Court argued that each building or person damaged or injured would involve using different proof, which means each requires its own unit of prosecution.
Chief Justice Brian Boatright was joined by Justice Maria Berkenkotter who concurred and dissented from the ruling.
In dissent, they agreed on the units of prosecution for first-, second- and fourth-degree arson, but disagreed "with the majority's conclusion that fire cannot be a deadly weapon that enhances first degree arson as a crime of violence ("COV") because fires destructive enough to sustain a first-degree-arson charge would always meet the definition of a deadly weapon under section 18-1-901(3)(e), C.R.S. (2021)."
Boatright wrote the jury was originally correct that the fire qualified as a deadly weapon because Magana's actions revealed he used the fire as a weapon due to factors like how close the vehicle was to the home, lighting an object on fire that contained gasoline and the potential for fire to cause bodily harm.
"In sum, I cannot agree with the majority that allowing fire itself to enhance a sentence for first degree arson contradicts the statutory scheme. I would hold that fire, depending on whether it is used or intended to be used as a weapon and is also capable of producing serious bodily injury, can result in a deadly weapon COV sentence enhancer for first degree arson. That determination is a factual question for the jury," Boatright wrote.
Danks v. Colorado Public Utilities Commission and DCP Operating Company, L.P.
In this case, the Colorado Supreme Court unanimously en banc affirmed a district court's judgment in favor of the Colorado Public Utilities Commission that ruled a gas-gathering operation is not a public utility which means the PUC doesn't have jurisdiction over it.
The ruling is connected with DCP Operating Company, LP which has a gas-gathering system in Weld County. The system, known as the Grand Parkway Pipeline, collects unprocessed and raw gas located on private land that's then brought to processing facilities that are mainly owned by DCP. After being processed, the gas is then sold into other markets and is delivered through trucks or pipelines.
In 2019, the Weld County Oil and Gas Energy Department sent out a letter to nearby property owners saying DCP was planning to construct two smaller pipelines, the Red Cloud and Lindsey, and connect them to the Grand Parkway Pipeline. William Danks, a lawyer and farm owner in the area, received the letter and then filed a complaint with the PUC, which was subsequently brought to an administrative law judge.
In his complaint, Danks argues that DCP did not get a Certificate of Public Convenience and Necessity from the PUC before it began constructing its 62-mile Grand Parkway Pipeline. Danks also alleged that DCP did not get a CPCN for its new proposed pipelines.
DCP moved to dismiss Danks' complaint saying he did not have a standing in the case because he didn't allege any injuries and DCP was not supplying the public when it gathers raw gas, which means DCP is not a public utility and it does not fall within the PUC.
Danks eventually had an amended complaint accepted by the ALJ which focused on damage to his property that reduced the value of it. Two more amendments and a summary judgment were also brought before the ALJ and denied.
The ALJ followed up issuing a decision that recommended Danks' amended complaint be dismissed, adding that Danks' accusations didn't have a connection with the CPCN proceeding. The ALJ had not reached the question of whether the PUC lacked jurisdiction because DCP is not a public utility.
The PUC eventually investigated further and reviewed the record to see if the DCP was a public utility. It said it wasn't because it doesn't supply the public with its gas, therefore it is not required to have a CPCN. The case eventually made its way to district court, which also sided with the PUC and its lack of jurisdiction. 
The Colorado Supreme Court agreed. An opinion written by Justice Richard Gabriel said "we conclude that the PUC regularly pursued its authority in determining that DCP's gas-gathering system does not meet the statutory definition of a public utility and therefore is not subject to the PUC's jurisdiction. We further conclude that the PUC's decision in this regard was just and reasonable and was in accordance with the undisputed evidence presented to it."
Park County Department of Human Services v. B.A. and J.A. n/k/a J.W., and Special Respondent A.W.
The Colorado Supreme Court en banc unanimously vacated a juvenile court's order that would have required therapeutic visits between a child and their siblings.
The case focused on whether the juvenile court had the proper jurisdiction to require the visits.
The case involves parents who adopted a minor (known as S.A.) and his two younger siblings. In 2020, S.A. began showing homicidal and suicidal tendencies and is accused of acting out against his siblings. The parents then had that child placed in foster care.
After many hearings and looking into treatment plans, the juvenile court ordered therapeutic visits between S.A. and his younger siblings, even though they had not been involved in the case.
The parents objected to this and the Supreme Court asked the Park County District Court to show cause to justify the order, which was submitted. The Supreme Court held that there's no statute that would force the siblings into therapeutic sessions with S.A.
One of the items at focus here was the Foster Youth Siblings Bill of Rights which allows for those in foster care to continue relationships with their siblings. The Supreme Court argued this does not apply to the district court's authority over the other children. The Supreme Court also argued that the Colorado Children's Code also doesn't apply in this case for similar reasons.
The Supreme Court ended its argument by making it an absolute rule to show cause, while also vacating the juvenile court's orders and remanding for more proceedings that are consistent with the Supreme Court's opinion.