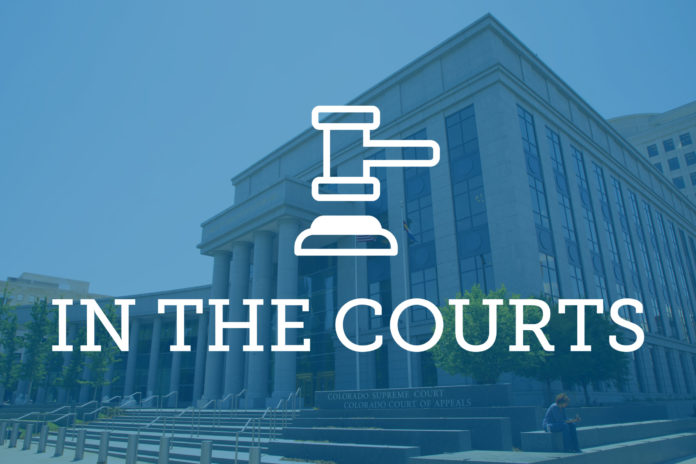 Editor's Note: Law Week Colorado edits court opinion summaries for style and, when necessary, length.
In this interlocutory appeal, the Colorado Supreme Court affirmed the suppression of defendant Alexander Brown's statements following his detention by police.
Brown and a woman were sitting in a car in a Denver parking lot when they were approached by police. According to police, there was smoke and a strong marijuana smell coming from the car. An officer asked to search the car for drugs, which Brown initially refused. The officer said he was going to call for a drug-sniffing dog, but the dog wasn't available. Police asked again to search the car, and Brown eventually agreed.
While Brown and the officers talked, the woman in the car said she wanted to go back to her apartment. One of the officers patted her down as she left the car and found a gun, at which point Brown said the gun was his.
Brown was handcuffed, put into a police car and advised of his Miranda rights. An officer asked again whether the gun was his, and Brown said it was and that he had given it to the woman because he was scared. Brown was arrested and charged with possession of a weapon by a previous offender.
Brown moved to suppress statements he made during his police encounter, asserting he was subjected to investigative detention without reasonable suspicion. The trial court agreed that the police didn't have reasonable suspicion to seize Brown, despite the marijuana odor, based on the subjective intent of the officer, who stated he was "not concerned with the marijuana," according to court documents. The court suppressed all statements that Brown made after the officer said he would be calling for a drug-sniffing dog.
On appeal, the state asked the high court to reverse the order suppressing Brown's statements. The state argued the police had probable cause to arrest Brown because public consumption of marijuana is illegal. Because a crime was being committed, the police were "objectively reasonable" in detaining Brown, who consented to a search and "spontaneously declared ownership" of the gun, according to the state.
Brown also contested the trial court's conclusions, arguing the lower court erred when it found Brown's exchange with the police officers was initially consensual and only escalated to an investigatory stop when the officer announced he would call for a K-9 unit. Brown argued the police lacked reasonable suspicion to stop him, so the seizure was unlawful.
The Supreme Court agreed with the state that the officers had reasonable suspicion once they smelled burnt marijuana. But the court concluded that Brown was seized from the moment the officers boxed in his vehicle in the parking lot — before they smelled marijuana — and lacked reasonable suspicion at the time of seizure.
In its unanimous decision, the court found that the officers' seizure of Brown was unreasonable under the Fourth Amendment. Although the trial court "erroneously considered the officers' subjective intent," the opinion states, "it nonetheless correctly ordered the suppression of the evidence discovered as fruit of an unconstitutional seizure."