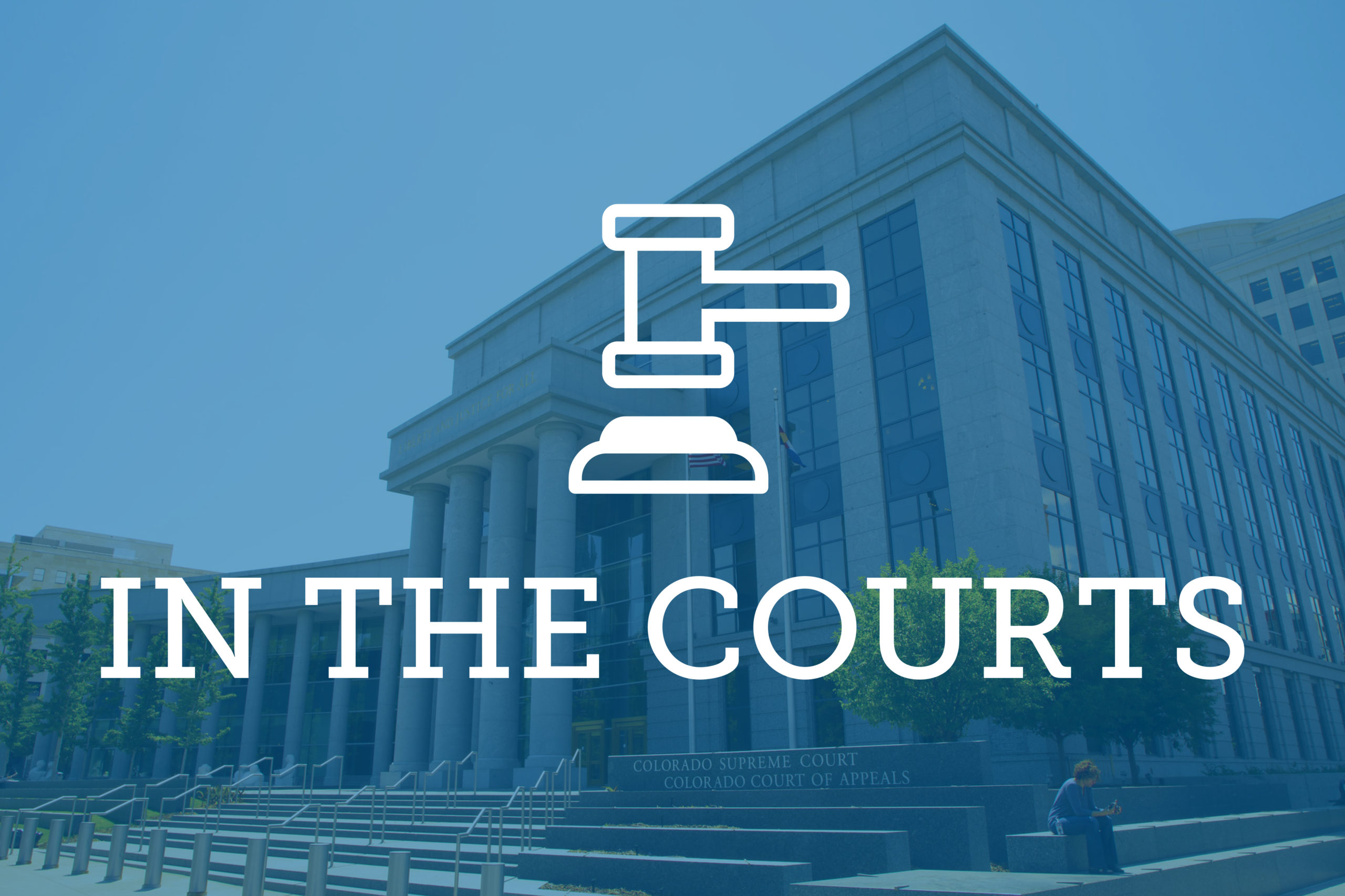 Burton v. Colorado Access 
Olivar v. Public Service Employee Credit Union Long Term Disability Plan 
Caroline Burton and Brenda Olivar submitted claims for long-term disability benefits to insurance companies under employee-benefits plans set up by their employers. The insurance companies denied Burton and Olivar's claims. Burton and Olivar sued the plans under the Employee Retirement Income Security Act for benefits due to them under the insurance policies. 
They each served complaints on the U.S. Department of Labor secretary, relying on an Employee Retirement Income Security Act provision allowing such service when a plan hasn't designated "an individual" as an agent for service of process. 
In both cases, the labor secretary never forwarded the complaint to the plans' designated agents for service of process, the plans failed to answer and Burton and Olivar obtained default judgments in their favor.
The Colorado Supreme Court considered whether ERISA section 1132(d)(1)'s use of "individual" provides that service on the labor secretary is sufficient when an employee-benefit plan designates a corporation as its administrator and agent for service of process. 
The Colorado Supreme Court held that "individual" in this context included a corporation and service on the labor secretary as proper only when a plan fails to designate either a plan administrator or some other person as agent for service of process. The Supreme Court further held that judgments void for lack of service may be set aside at any time. Finally, the court addressed which party was the proper defendant in an ERISA claim for benefits due. 
The Supreme Court held the insurer, not the plan, as the only proper defendant in an ERISA claim for benefits due when the plan's terms provide that only the insurer is obligated to pay and to determine eligibility for benefits.
Oakwood Holdings v. Mortgage Investments Enterprises
This case involved the rights of two parties who participated in Colorado's statutory foreclosure and redemption process. Oakwood Holdings and Mortgage Investments Enterprises each claimed a right to the deed on a piece of foreclosed property. In 2014, Mortgage Investments purchased the property at a foreclosure sale. 
On or around the date of the foreclosure sale, Oakwood Holding purchased junior liens on the property and then attempted to redeem pursuant to section 38-38-302 of the Colorado Revised Statutes. Mortgage Investments, however, did not provide redemption figures and instead, acting under a limited power of attorney granted by the prior property owner, attempted to pay off the amount due to Oakwood Holding under the junior liens. Oakwood Holding, however, refused the payment.
Mortgage Investments then filed a declaratory judgment action, seeking a declaration that its payoffs were valid and that Oakwood Holding was not entitled to redeem the property. 
The parties ultimately filed cross-motions for summary judgment, the district court granted summary judgment for Oakwood Holding, Mortgage Investments appealed, and in a unanimous, published opinion, the Court of Appeals reversed. 
The Colorado Supreme Court reviewed whether the Court of Appeals erred in holding that Oakwood Holdings, a junior lienor, had a duty to accept the tender of funds from the Mortgage Investments Enterprise, a certificate of purchase holder acting on behalf of a foreclosed debtor, after the junior lienor has filed a notice of intent to redeem but before it has tendered redemption funds.
The Colorado Supreme Court reversed the division's judgment. The Supreme Court concluded that under the plain language of the applicable redemption statutes, a junior lienor who has complied with its obligations under section 38-38-302 by timely filing its notice of intent to redeem is entitled to redeem, and at that point, it has no duty to accept a tendered lien payoff from a certificate of purchase holder. Once Oakwood Holding complied with the statutory requirements to redeem, it was permitted to do so and had no obligation to accept what amounted to cure funds tendered by Mortgage Investments on behalf of the debtor-prior owner. 
The district court therefore properly granted summary judgment in Oakwood Holding's favor. 
Gatewood v. VA GOV. Compensation 
In November 2017, Ron Gatewood filed a Title VII complaint in the District of Colorado. Gatewood named "V A GOV . Compensation," Barbara Martinez and "Field Offices" as the defendants but did not allege any facts suggesting he was or ever had been an employee of any of the defendants. A lower court judge determined this complaint failed to comply with Federal Rules of Civil Procedure 8.
 Judge Gallagher ordered Gatewood to file an amendment complaint that satisfied Rule 8 within 30 days. 
In December 2017, Gatewood filed an amended complaint, this time naming "VA- Gov-Compensation, et al." as the defendants. On Jan. 10,  the district court dismissed the complaint without prejudice because it was "unintelligible and fail[ed] to comply with the pleading requirements of Rule 8." The district court entered judgment and Gatewood filed a timely notice of appeal. The 10th Circuit Court of Appeals construed Gatewood's brief to argue the district court erred in dismissing his complaint because of his failure to comply with Rule 8.
As Gatewood's amended complaint failed to meet this standard, the 10th Circuit Court of Appeals decided that the district court appropriately dismissed the complaint. 
The 10th Circuit Court of Appeals affirmed for substantially the same reasons set forth in the district court's order of dismissal. Gatewood's motion to proceed in forma pauperis was denied. 
Campos v. Mantech International Corporation 
In November 2014, William Campos filed a complaint in federal district court alleging claims of discrimination on the basis of disability in violation of the Americans with Disabilities Act, retaliation under Section 503 of the Rehabilitation Act of 1973 and retaliation under the Colorado Anti-Discrimination Act. 
The district court resolved Campos' motion for summary judgment by entering judgment in favor of Campos on his federal claims and dismissing his Colorado state claim without prejudice. 
Campos filed three motions for reconsideration. Each was denied by the district court.
In July 2017, Campos filed a Motion for Relief from Judgment pursuant to Rule 60(b) of the Federal Rules of Civil Procedure. 
The district court denied the motion, and Campos filed a timely notice of appeal. 
The 10th Circuit Court of Appeals reviewed the denial of a Rule 60(b) motion for an abuse of discretion. 
The 10th Circuit Court of Appeals held that the court did not abuse its discretion when it denied Campos' July 2017, motion. 
The district court correctly concluded that Campos is not entitled to relief under Rule 60(b) and there was no error in the court's statement that "a motion for reconsideration is not an appropriate vehicle to use to present arguments that could have been raised previously and were not, nor is it a substitute for taking an appeal."
Medical Lien Management v. Dampier
Billy Dampier was convicted of theft for stealing from his employers, and the court ordered restitution of approximately $197,000. The following year, Dampier filed bankruptcy and listed his restitution debt. Shortly thereafter, the employers sought a determination that the restitution obligation was not dischargeable under section 523(a)(7). The bankruptcy court granted summary judgment to Medical Lien Management, Inc. and Credit Investments, Inc., holding that a Colorado state court's order to Mr. Dampier for criminal restitution was not dischargeable under 11 U.S. Code section 523(a)(7). The 10th Circuit Court of Appeals affirmed. 
Aronstein v. Thompson Creek Metals 
David Aronstein and Lesley Stroll appealed from the district court's judgment in favor of the defendants. The plaintiffs' complaint asserted securities fraud claims based on sections 36b-4 and 36b-29 of the General Statutes of Connecticut and state law fraudulent and negligent misrepresentation claims against the defendants. The district court granted the defendants' motion for summary judgment and denied the plaintiffs' motion for partial summary judgment concerning these claims. It also denied as futile plaintiffs' motion to file a third amended complaint. The 10th Circuit Court of Appeals affirmed the district court's judgment. 
Brown v. Zupan 
Toney Brown was convicted of aggravated robbery, first-degree criminal trespass, two counts of third-degree assault, false imprisonment and two habitual criminal counts. After seeking post-conviction relief in state court, Brown filed his U.S. Code section 2254 application asserting eight claims for relief. The district court dismissed all but two claims as procedurally defaulted because Brown failed to exhaust them in state court, where they would be barred. Exercising jurisdiction under 28 U.S. Code section 1291 and 2253(a), the 10th Circuit Court of Appeals denied a certificate of appealability and dismissed the matter.