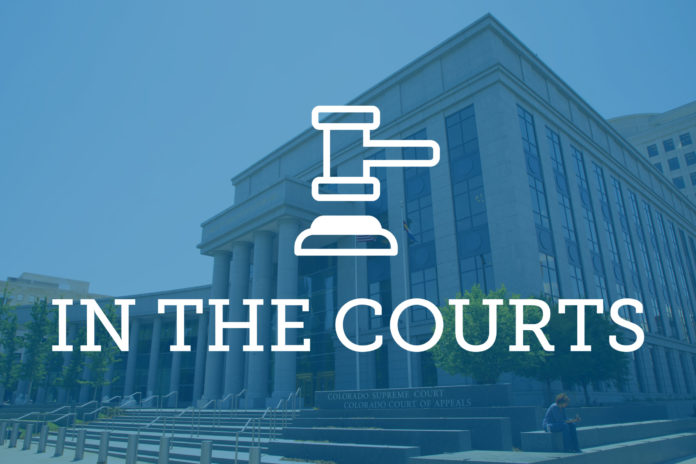 Editor's Note: Law Week Colorado edits court opinion summaries for style and, when necessary, length.
People v. John S. Burton
This reciprocal discipline case arose out of discipline imposed upon John Burton in Arizona. On Sept. 30, 2021, the presiding disciplinary judge for the State Bar of Arizona entered an order suspending Burton from the practice of law for 90 days, to run concurrently with his suspension in Arizona case number PDJ 019-9101. The sanction was premised on Burton's improper use of his trust account for personal expenses, resulting in the overdraft of his trust account on three occasions, and his refusal to provide his trust account records to disciplinary authorities in Arizona.
The Presiding Disciplinary Judge entered default and imposed reciprocal discipline, suspending Burton from the practice of law in Colorado for 90 days, to run concurrently with his suspension of six months and one day in case number 21PDJ009. Burton's suspension took effect on March 4.
People v. Robert Jason Herrera
Following an appearance by Robert Herrera under C.R.C.P. 251.29(j), the Presiding Disciplinary Judge approved Herrera's stipulation and reinstated Herrera to the practice of law, with conditions, effective March 10. The parties agreed that Herrera has been rehabilitated, has complied with disciplinary orders and rules, and is fit to practice law. 
No opinion was issued.
People v. Jay Brett Freedman
This reciprocal discipline case arose out of discipline imposed on Jay Freedman in California and Arizona. On Dec. 16, 2015, the Supreme Court of California disbarred Freedman after he defaulted in two disciplinary cases. The order entering default established that Freedman intentionally, recklessly or repeatedly failed to perform with competence when he failed to prosecute a civil action for fraud, failed to appear on his client's behalf at a show cause hearing, failed to respond to discovery requests, failed to oppose a motion to compel discovery, failed to appear at a hearing on the motion to compel discovery and failed to seek a waiver of costs from the defendants before filing a request to voluntarily dismiss the action. 
The order entering default also established that Freedman knowingly or with gross negligence made a false statement to his client, failed to keep his clients informed of significant developments in their case, failed to release the client's file and failed to respond to requests for information from disciplinary authorities. Freedman was disbarred under a California rule that requires a lawyer's disbarment when the lawyer fails to respond to disciplinary charges and thus defaults.
On April 23, 2020, Freedman defaulted in a Nevada reciprocal disciplinary proceeding, which was premised on his California discipline. The Supreme Court of the State of Nevada concluded that Freedman's misconduct warranted substantially different discipline than that imposed in California, reasoning that Nevada rules don't call for disbarment when a lawyer defaults in a disciplinary case and that disbarment in Nevada is irrevocable. The Nevada court suspended Freedman for five years and one day.
Freedman's misconduct constitutes grounds for reciprocal discipline under C.R.C.P. 242.21. Because Freedman did not participate in this matter or assert any affirmative defense, Colorado's Presiding Disciplinary Judge imposed reciprocal discipline of disbarment after holding a sanctions hearing. The disbarment took effect on March 16.
People v. David Andrew Bovino
In 2015 and 2016, and again from 2018 through 2020, David Bovino failed to make all of his child support payments. In 2016 and 2019, he misrepresented that he was in compliance with support orders on his attorney registration form. On Bovino's attorney registration forms for 2018 and 2020, he misrepresented that he was not under any child support obligation.
In October 2020, Bovino pleaded guilty to harassment, a class-three misdemeanor, for sending three obscene and harassing text messages to his wife's friend with the intent to annoy the friend and to prompt her to leave his home. Bovino received a deferred judgment with 12 months of unsupervised probation, 20 hours of community service and court costs. The criminal case has since been dismissed.
The Presiding Disciplinary Judge approved Bovino's conditional admission of misconduct and suspended him for a year and one day, with six months to be served and six months and one day to be stayed upon the successful completion of a three-year conditional probation. The suspension will take effect April 21.