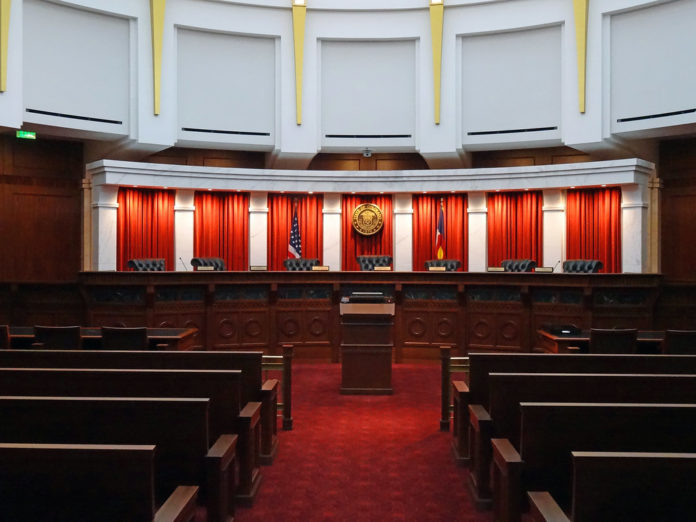 The Colorado Supreme Court on Monday allowed a lawsuit against El Paso County Sheriff Bill Elder to move forward, finding the sheriff's office doesn't have sovereign immunity in a case alleging false imprisonment of a jail inmate who was detained for months after posting bond.
The question at the heart of the case was whether an exception to government immunity that allows pretrial detainees to sue jail operators for injury "due to negligence" applies only to cases of negligence. The court found it doesn't and that immunity may also be waived when the injury was intentional.
In November 2017, Saul Cisneros was booked into the El Paso County Jail and charged with two misdemeanors. Days after he was detained, his daughter posted bond. But Cisneros wasn't released. The jail placed an "ICE hold" on him because U.S. Immigration and Customs Enforcement suspected he could be subject to deportation and issued an immigration detainer and administrative warrant. Cisneros wasn't released until March 2018, nearly four months after his daughter posted bond, when a court blocked the sheriff's hold.
Cisneros' detention led to a pair of lawsuits. He and another plaintiff filed a class action alleging Elder exceeded his authority under state law by holding people who had posted bond or completed their sentences but were suspected of breaking immigration laws. A district court ruled in their favor, finding the Colorado Constitution required their release. While the case was on appeal, the state legislature codified the district court's decision into statute by passing House Bill 19-1124, which bars state personnel from placing people on ICE holds.
In a separate lawsuit, Cisneros sued Elder for damages for false imprisonment. The sheriff said he was immune under the Colorado Governmental Immunity Act and moved to dismiss. But there are exceptions under the CGIA, Cisneros argued, noting that a section of the CGIA waives immunity for jail operators if a pretrial detainee "can show injury due to negligence." According to Cisneros, the statute also allows Elder to be sued for intentional conduct — namely, his decision to keep Cisneros detained after bond was posted. The district court agreed with Cisneros and permitted the lawsuit to go forward.
The Colorado Court of Appeals later reversed, finding that "negligence" should be interpreted literally and the waiver doesn't apply to intentional misconduct.
The justices of the Colorado Supreme Court unanimously agreed that this literal interpretation would lead to absurd results. "Under this interpretation, a pretrial detainee could recover damages for injuries caused by the negligent operation of a jail but not for injuries caused by the intentionally tortious operation of the same jail," states the opinion penned by Justice Richard Gabriel. He added this logic would allow defendants to defend against liability by claiming they didn't accidentally cause harm but rather meant to cause harm.
Gabriel noted that the legislature's intent in enacting the waiver was to avoid strict liability for jails for injuries suffered by pretrial inmates, but the requirement to show negligence "was intended as a floor, not a ceiling." Therefore, the CGIA waives immunity for intentional torts by jail operators, including false imprisonment, the high court concluded.