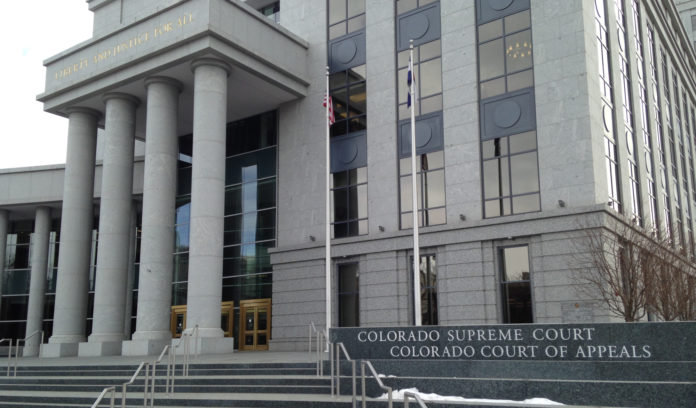 The Colorado Supreme Court will hold its first oral arguments of 2022 next week. The justices will kick off the new year with remote arguments, rather than the masked, in-person proceedings held in the fall. The return to WebEx arguments was announced in orders filed Jan. 3 in the three cases the high court will hear on Jan. 11. The cases raise questions about water rights, sovereign immunity and whether an insurance claims adjuster can be personally liable under Colorado bad faith laws.
'ICE Hold' Immunity
Saul Cisneros sued a sheriff for false imprisonment, but the sheriff claimed sovereign immunity. The Colorado Supreme Court will hear arguments on Tuesday about whether Cisneros' suit against El Paso County Sheriff Bill Elder should proceed.
Cisneros was booked into the El Paso County Jail in late 2017 and charged with two misdemeanors. Days after Cisneros was detained, his daughter posted bond. But Cisneros wasn't released. The jail placed an "ICE hold" on Cisneros because U.S. Immigration and Customs Enforcement suspected he could be subject to deportation and issued an immigration detainer and administrative warrant. Cisneros was held nearly four months after his daughter posted bond. He was released in March 2018 after a court blocked the sheriff's hold.
Cisneros' detention led to a pair of lawsuits. He and another plaintiff filed a class action alleging Elder exceeded his authority under state law by holding people who had posted bond or completed their sentences but were suspected of breaking immigration laws. A district court ruled in their favor, finding the Colorado Constitution required their release. The state legislature codified the court's decision when it passed House Bill 19-1124, which bars state personnel from making ICE holds.
In a second case, which the Supreme Court will hear on Tuesday, Cisneros sued Elder for damages for false imprisonment. The sheriff moved to dismiss based on sovereign immunity, as jails and those who run them are generally immune from being sued. However, there are exceptions allowing a lawsuit to proceed, such as if a statute permits the right to sue a government entity or employee.
Cisneros argued that a section of the Colorado Governmental Immunity Act waives immunity for jail operators if a pretrial detainee "can show injury due to negligence." According to Cisneros, the statute also allows Elder to be sued for intentional conduct — namely, his decision to keep Cisneros detained after bond was posted. The district court sided with Cisneros and permitted the lawsuit to go forward.
A split panel of the Court of Appeals reversed, finding that "negligence" should be literally interpreted and the statute does not apply to injuries caused by intentional torts.
In his opening brief to the Colorado Supreme Court, Cisneros argues the Court of Appeals' majority opinion is "deeply flawed" and that the state legislature "intended for negligence to be a floor, not a ceiling." The high court will consider whether the CGIA waives sovereign immunity for intentional conduct by jail operators for pretrial detainees.
The American Civil Liberties Union of Colorado, which is representing Cisneros, has also sued Teller County Sheriff Jason Mikesell for cooperating with ICE to hold people suspected of violating immigration law.
Bad Faith
In a case that has grabbed the attention of the insurance industry, the Colorado Supreme Court will consider whether an insurance company adjuster acting in the course of employment may be personally liable for statutory bad faith under state law.
Alexis Skillett was injured in a car accident in 2020. She was insured by Allstate under an auto liability policy that provided underinsured motorist coverage. Skillett settled with the at-fault driver and his insurer and then made a claim to Allstate for UIM benefits.
Allstate claims adjuster Collin Draine was assigned the UIM claim, and Skillett was denied UIM benefits resulting from the accident. In addition to suing the insurance company for breach of contract and bad faith, Skillett also brought a claim for statutory bad faith against Draine personally based on his actions as a claims adjuster.
The Colorado federal court that was handling the case certified a question to the Colorado Supreme Court: Can an employee claims adjuster be personally liable under Colorado's bad faith statutes? It's a question the state Supreme Court doesn't appear to have answered, according to the federal court, and the question "is of particular importance to Colorado's insurers and insureds alike." In its order certifying the question, the U.S. District Court for the District of Colorado said there has been a "recent influx of lawsuits" against employee claims adjusters following its 2020 decision in Seiwald v. Allstate.
"The answer to this question will likely exert substantial influence on who is sued in statutory bad faith cases, the venues where such litigation is decided, and various legal questions governing insurers and their employees," the federal court's order states.
Several groups have filed amicus briefs in the case, including the U.S. Chamber of Commerce, the Colorado Defense Lawyers Association, the Colorado Civil Justice League and a number of insurance industry organizations. Oral arguments will take place Tuesday afternoon.
Seepage Suit
On Tuesday morning, the court will hear arguments in a water dispute. The Farmers Reservoir and Irrigation Company applied for a decree confirming absolute and conditional water rights within Beebe Seep Canal for storage and direct use in the Barr Lake and Milton Lake Divisions. A water court issued a decree confirming FRICO's rights but imposed some restrictions and requirements related to its use and storage of seep water.
FRICO appealed and asked for a reversal of the limitations and conditions imposed by the water court. The company argues the terms violate its constitutional right to appropriate unappropriated water, are inconsistent with statutory requirements and fall outside the water court's jurisdiction.
Arapahoe County Water and Wastewater Authority and East Cherry Creek Valley Water and Sanitation District say the water court was correct to limit FRICO's ability to appropriate seepage and the limitations are necessary to prevent harm to other water users. They also argue on cross-appeal that FRICO engaged in diversion practices that were at odds with the prior appropriation system, and these practices should not be the basis for a water right decree.