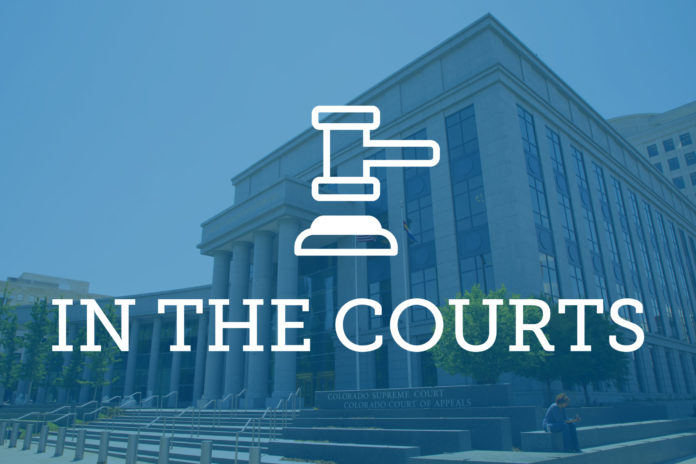 Editor's Note: Law Week Colorado edits court opinion summaries for style and, when necessary, length.
People v. Christopher W. Alber
In September 2020, while under stress from personal and family health issues, Christopher Alber submitted billing to his firm that included entries for work that he had not actually completed. The entries were "prebills" that were not sent to the firm's clients and no clients were charged for work he had not done. The firm laid off Alber after discovering the billing entries. Upon leaving the firm, he self-reported his conduct to disciplinary authorities. 
The Presiding Disciplinary Judge approved Alber's conditional admission of misconduct and suspended him for nine months, all to be stayed upon the successful completion of a two-year conditional probation. The probation took effect June 29.
People v. Thomas Blumenthal
In March 2018, Thomas Blumenthal entered a written fee agreement to represent a client in a criminal case for $2,500. The agreement, which stated that the fee was an initial retainer that was earned upon receipt, did not contain any milestones or benchmarks describing how Blumenthal would earn the retainer. 
Blumenthal accepted $400 in cash from his client at the time of the engagement but did not deposit it into a trust account. The client gave Blumenthal jewelry as collateral toward the balance of the retainer; Blumenthal placed the jewelry in an unlocked drawer in his office and later transferred the jewelry to an unlocked credenza in a new office. At a court appearance that month, the client gave Blumenthal a set of coins as additional collateral, which Blumenthal stored on a shelf in his laundry room. In June 2018, Blumenthal accepted $2,100 in cash from his client but did not deposit the money into his trust account. 
On July 10, 2018, the client asked Blumenthal for the discovery in the case. Blumenthal said he would produce it within three days but didn't do so for several weeks. He formally entered his appearance in his client's case and requested discovery on July 17, 2018. The next day, the prosecution sent his client the discovery, which had been available since March 2018. In August 2018, the client demanded that Blumenthal return the jewelry and coins, but Blumenthal could not find them. The client hired a new lawyer to replace Blumenthal and Blumenthal paid the lawyer $3,000 from his trust account even though he was not holding any of his client's funds in the account. Blumenthal didn't know whether the money he used from his trust account was unearned funds from other clients or Blumenthal's earned funds that he had commingled with unearned funds, as he did not maintain financial records for his trust account. Blumenthal eventually located the jewelry, which he returned to his former client in December 2018, and the coins, which he provided to disciplinary authorities in September 2020.
The Presiding Disciplinary Judge approved Blumenthal's conditional admission of misconduct and suspended him for one year and one day, with six months to be served and six months and one day to be stayed upon the successful completion of a two-year conditional probation. The suspension takes effect Dec. 1.
People v. Ryan Richard Call
In June 2016, Ryan Call's law firm entered into an agreement to represent a political action committee, or PAC. As part of that agreement, Call agreed to act as the PAC's treasurer. In January 2017, Call contracted with the PAC in his personal capacity to provide strategy and fundraising services for a monthly flat fee of $5,000. Call authorized the contract on behalf of the PAC and signed for both parties. He did not obtain the PAC's written informed consent concerning possible conflicts of interest arising from transacting with the organization for personal business while acting as its treasurer, nor did he advise the PAC in writing that the advice of independent counsel would be desirable. Call also did not obtain the PAC's written informed consent to the essential terms of the contract, including whether he was representing the organization in the matter. He never disclosed the contract to his law firm.
In October 2016, the PAC received a $1 million contribution from a donor who had previously contributed the same amount. A fundraising consultant deposited the money directly into the PAC's account. Call didn't include the donation in federal reports in 2016 and 2017. He says that he realized he'd made a mistake in 2018 during a review of the PAC's federal reports, after which he submitted an amended federal report that included the donation. From September 2016 to January 2019, Call withdrew or wired to himself PAC funds, some of which he mistakenly withdrew and later reimbursed. He also disbursed to himself PAC funds and reported to federal authorities that the funds were paid to his firm, even though the firm didn't receive the payments. In June 2019, the PAC fired Call after discovering the discrepancies between its disbursements and the federal reports he filed.
Afterward, Call didn't return all of the PAC's papers and property in his possession. In addition, he misled his law firm about the disbursements and concealed from its partners and the PAC's counsel information about the disbursements he had made to himself. He resigned from the law firm in August 2019.
The Presiding Disciplinary Judge approved Call's amended conditional admission of misconduct and disbarred him. The disbarment takes effect on Oct. 14.
People v. Heather S. Hodgson
In 2020, Heather Hodgson was suspended from the practice of law for thirty days, all to be stayed upon the successful completion of a two-year period of probation. Her probation was subject to certain requirements, including her abstention from all alcohol and drugs and her compliance with sobriety monitoring conditions. Hodgson violated the terms of her probation when she failed to satisfy her abstention and sobriety monitoring conditions, and the Presiding Disciplinary Judge determined that he must revoke Hodgson's probation and lift the stay on her period of suspension.
On Aug. 5, the Presiding Disciplinary Judge issued an order revoking Hodgson's two-year period of probation, vacating the stay on her thirty-day period of suspension and suspending her for thirty days. At Hodgson's request, the judge briefly extended the effective date of the suspension, which took effect on Sept. 1.
People v. Robert Willis Ingram 
A client retained Robert Ingram in May 2017 because she was considering filing for legal separation from her husband. Ingram didn't provide the client a fee agreement, but the client paid him a $3,000 retainer in two payments in mid-May 2017. Ingram didn't deposit any portion of these funds into his trust account. According to his invoices, Ingram didn't bill for any work until Aug. 15, 2017, and, at his hourly rate, he wouldn't have earned the retainer until the end of March 2018. 
In July 2017, the client brought her friend to Ingram's office, who was considering filing for divorce from her husband. The client paid Ingram $3,500 by check on her friend's behalf on Aug. 16, 2017, with a memo line that stated it was for her friend. Ingram didn't deposit the check into his trust account. The friend never proceeded with her divorce and at some point Ingram and the client agreed that he would apply the check from Aug. 16 to the client's case. By October 2017, the client still hadn't decided whether to file for legal separation. The client's husband died at some point thereafter. After her husband's death, the client had difficulty contacting Ingram for several months. 
In February 2018, the client contacted Ingram for help with a small claims court case that a former employee had filed against her. Ingram represented the client in the small claims case through roughly September 2018. At the earliest, he earned by Aug. 2, 2018 the client's $3,000 retainer and the additional $3,500 she had paid. The balance of Ingram's trust account from May 2017 through September 2018 was $1.06. 
The Presiding Disciplinary Judge approved Ingram's conditional admission of misconduct and suspended him for six months with the requirement of reinstatement under C.R.C.P. 251.29(c), all stayed upon the successful completion of a two-year period of probation. The probation took effect on Aug. 23. 
People v. Peter D. Menges
Peter Menges has an alcohol use disorder. From 2012, he maintained sobriety for periods of time but then would drink again. In October 2016, while acting as alternative defense counsel for client-facing criminal charges, Menges appeared at a proffer meeting exhibiting indications of intoxication. He also may have exhibited similar indications at various court proceedings predating the proffer meeting. Menges was admitted to an inpatient alcohol treatment center for five weeks in autumn 2016 and thereafter was monitored. He sent his monitoring reports to disciplinary authorities. He remained sober until August 2017, when he relapsed.
In October 2017, a deputy district attorney reported that Menges appeared for a criminal hearing exhibiting a strong odor of alcohol, bloodshot watery eyes and a shaky and disheveled appearance. The following week, a similar incident occurred. In November 2017, Menges appeared in court as alternative defense counsel smelling like alcohol, sweating and looking disheveled. The judge asked him to submit to a portable breath test, but Menges refused and got angry. His client's matter was continued. Menges began a second round of inpatient treatment in late November 2017. When released, he attended AA meetings, took Antabuse and tested on a Soberlink device several times per day. He sent the test results to disciplinary authorities for an eighteen-month period. During that time, he largely maintained his sobriety, with some isolated relapses. He experienced a more significant relapse in spring 2020 and began a third inpatient alcohol treatment program in April 2020, followed by an intensive outpatient program.
In December 2020, Menges appeared in federal district court via videoconference for a client's sentencing hearing. Menges seemed to be under the influence of alcohol during that hearing. Then, in January 2021, disciplinary authorities received a report that Menges was apparently impaired during another remote sentencing hearing in state court. The prosecutor noted her concerns with proceeding to sentencing and the court continued the hearing. Menges failed to respond for several days to requests from disciplinary authorities to perform an alcohol test.
The Presiding Disciplinary Judge approved Menges' conditional admission of misconduct and suspended him for ninety days, all to be stayed upon the successful completion of a three-year period of probation with extensive monitoring conditions. If Menges violates his probationary conditions and serves the ninety-day suspension, he will be required to petition for reinstatement under C.R.C.P. 251.29(c). The probation took effect Feb. 23. The probationary period restarted on Sept. 14, 2021, after Menges self-reported two instances of noncompliance with his probationary conditions.
People v. Christopher Glen Skipp
In autumn 2018, Christopher Skipp was working at an office managed by a nonlawyer paralegal who was enjoined from the unauthorized practice of law. A client charged with criminal felonies contacted the paralegal about possible representation and Skipp agreed to represent the client.
The client's mother signed a fee agreement as warrantor; the agreement called for a $15,000 flat fee "for entirety of case/matter, exclusive of trials, appeals" and required a $5,000 retainer. Under the agreement, the flat fee was to be earned at the matter's resolution. Skipp didn't deposit the client's $5,000 retainer, which was made payable to Skipp, in a COLTAF account. Between September 2018 and July 2019, the client's mother submitted $17,650 toward the representation, all payable to the law office. The paralegal may have placed these payments, other than the initial retainer, in a locked drawer in his office. Skipp does not recall being paid any money in connection with the representation. Nor does he recall if billing statements were sent to the client, as he does not have access to the records.
By March 2019, the client became unhappy with Skipp's representation. Another lawyer took over the case and Skipp left the office in July or August 2019. The paralegal also left the office at some point and took all of the client files with him. As such, Skipp has not returned the file to the client.
The Presiding Disciplinary Judge approved Skipp's stipulation to discipline and suspended him for three months, to take retroactive effect on July 28 and to run consecutive to his suspension of one year and one day in case number 20PDJ036.
People v. Michael A. Smith
In June 2017, Smith's license to practice law was administratively suspended after he failed to meet his continuing legal education requirements. He received a second administrative suspension in May 2018 when he did not pay his attorney registration fees. Although several notices and two orders of suspension were mailed to his registered home address, Smith said that he didn't always track his mail and email.
From 2018 to 2020, Smith represented a friend and the friend's trust in a real estate transaction and related litigation concerning the sale of the friend's condominium. The guaranty company in the transaction filed an interpleader action. Smith filed an answer to the action and a cross-claim against the buyers for damages. In March 2020, counsel for the buyers mailed Smith a letter that included attorney registration files showing that Smith's law license was suspended. In
June 2020, Smith represented his clients at court-ordered mediation. Eventually, the case proceeded to Arapahoe County District Court, which found that Smith had filed the answer and cross-claim while suspended and directed Smith's clients either to refile the pleading pro se or to have a licensed lawyer refile it.
During his suspension, Smith also worked part-time as general counsel for an insurance firm, performing legal services like reviewing policy language, corporate documents and company newsletters on risk management.
The Presiding Disciplinary Judge approved Smith's stipulation to discipline and suspended him for one year and one day, effective Oct. 19. To be reinstated to the practice of law, Smith must prove by clear and convincing evidence that he has been rehabilitated, has complied with disciplinary orders and rules and is fit to practice law. His suspension takes effect on Oct. 19.