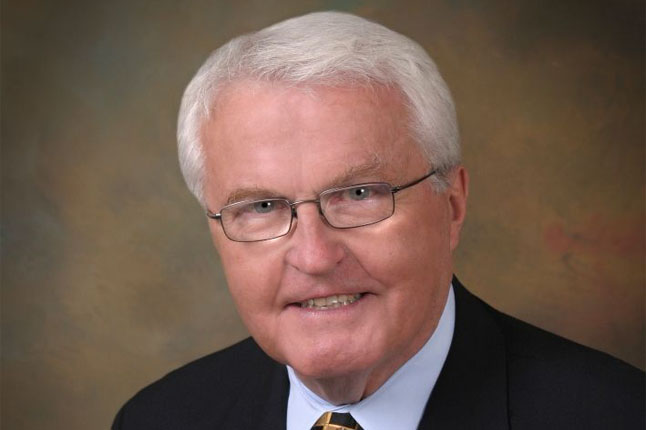 Peter Dietze said he hadn't expected to receive the University of Colorado Law School's highest alumni award.
But when the school announced its annual Colorado Law Alumni Award recipients in November, it chose for its top honor a lawyer whose career was deeply intertwined with his home and alma mater. 
CU Law School named Dietze for its William Lee Knous Award, which "recognizes outstanding achievement and sustained service to Colorado Law." Past recipients have included former Colorado Gov. Bill Ritter and former Colorado Supreme Court Chief Justice Michael Bender. The school will honor Dietze, along with other alumni in various practice settings, at its banquet March 8 at the Denver Performing Arts Center.
In his law career spanning six decades, Dietze had served as Boulder city attorney and later co-founded Boulder firm Dietze & Davis. He served on CU's board of regents from 1977 to 1996 and chaired it for two terms.
He said he feels "humbled" by the award and "deeply indebted" to CU. He first attended the university as an undergraduate student four years after he'd first emigrated to the U.S., having escaped Soviet East Germany in the '50s.
Dietze served as Boulder's city attorney from 1962 to 1972. After that, he and Joel Davis founded Dietze & Davis, which now has about 20 attorneys and 10 staff. 
Robyn Kube, a Dietze & Davis shareholder, remembers when she was brought into the firm back in 1983 as a 1L, she was struck by the 6'4" founding partner's imposing stature. He was an at-large CU regent colleagues sometimes lightheartedly referred to as "the large German Regent," she said. "He was actually quite intimidating back then."
But Kube found Dietze to be open-minded toward opposing views, even when she had to contradict his legal analysis in a memo early on in her career.
"He always wants to learn," she said. "He's always interested in hearing what others have to say, about law or about anything." Dietze was inclined to use the Socratic method in training junior attorneys, and legal discussions with him were usually a process of give and take, Kube recalled.
Outside his legal career, Dietze chaired the CU Board of Regents for two terms. He was involved in some of the CU system's most significant expansions, from the Boulder South Campus annex to the Health Sciences complex at the Anschutz Medical Campus in Aurora.
From his early days as city attorney to his later private practice, Dietze witnessed a lot of change in Boulder's landscape.
"When I first came to Boulder in 1957, it was a sleepy community at the foothills of the Rocky Mountains," Dietze said. "But over the years it became the trend-setting city that we know today."
He played a significant role in that change. In his time as city attorney, Dietze handled the legal parameters of projects that still influence Boulder, from open space to water rights to the original Pearl Street Mall development.
"Newcomers to Boulder take [that work] for granted, but that was all very radical at the time," Kube said.
As a trial lawyer, Dietz would show up in 40 reported opinions as counsel of record.
Dietze said his most common advice to young lawyers was to "work hard and be prepared."
"I've always tried to walk into the courtroom knowing more about the case than anyone else there," he said. While that's not always possible, he added, that level of case knowledge is what the lawyer should strive for in trial preparation.
In November, the same month CU Law School announced its alumni award winners, Dietze & Davis announced the creation of the Peter C. Dietze Scholarship Fund. The fund is intended to benefit students attending the law school who exhibit financial need.
Dietze, who has Parkinson's disease, recently moved to Eugene, Oregon, to be near his son. While he misses Boulder, Dietze said his condition has made it difficult to live independently without assistance from nearby family. 
He said he plans to make the trip back to Colorado to receive the Knous award, health permitting.
In addition to Dietze, CU Law School will honor the following individuals at the March 8 banquet:
• Distinguished Achievement – Recent Alumnus: Javed Abbas, The Harris Law Firm
• Distinguished Achievement – Corporate Counsel: Sonny Cave, ON Semiconductor
• Distinguished Achievement – Public Sector: Timothy Monahan, Colorado Office of the Attorney General
• Distinguished Achievement – Private Practice: Niki Frangos Tuttle, Hogan Lovells
• Dean's Choice – Richard Schaden Adopted Alumna Award: Chief Justice Nancy Rice, Colorado Supreme Court
• Dean's Choice – Dean Edward C. King Making a Difference Award: Mekela Goehring, Rocky Mountain Immigrant Advocacy Network
— Doug Chartier