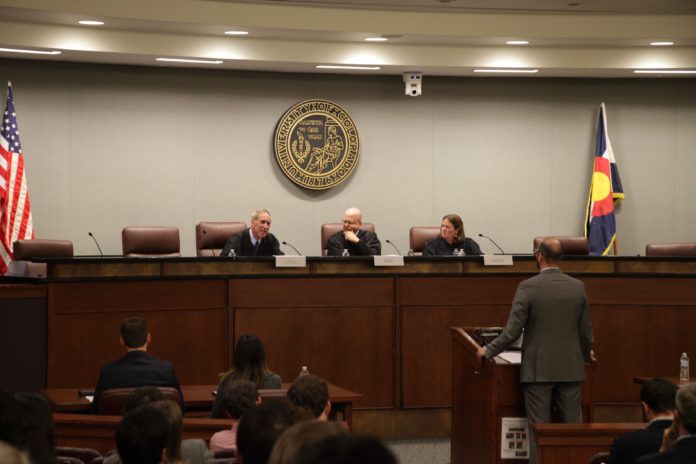 Four students from the University of Colorado Law School got to show off their appellate potential last week at the annual Rothgerber Moot Court Competition. The event was the final internal round for the competition, and students argued Dragontown University v. Foster at the "14th Circuit Court of Appeals." The event was sponsored by Wheeler Trigg O'Donnell.
The Rothgerber competition was started at CU Law in 1951 and honors former Denver attorney and Judge Ira Rothgerber. The Moot Court Competition is a national event, and New York University's School of Law puts out a case book each year and comes up with the issues. They tailor the problems to align with issues that are before the U.S. Supreme Court but haven't totally been precluded by an actual previous ruling. Colorado Supreme Court Justices Melissa Hart and William Hood and Justice Harris Hartz of the 10th Circuit Court of Appeals served as judges for the case.
This year's case is centered on two main issues: free speech under the First Amendment and due process under the 14th Amendment. Dr. Peter Foster was a medical professor at Dragontown University, which is a public school. He claimed he was fired as retaliation for a blog post he wrote on his personal website concerning the treatment of epilepsy, that included some unorthodox medical views on treatment. Some practitioners took Dr. Foster's advice and a patient died as a result. The university became caught up in the controversy and fired Dr. Foster. His claim was dismissed at the trial court and that decision was overturned by the circuit court. 
"There are a lot of free speech issues in society right now, and we thought it would be a fun way to see these arguments tackled," intraschool chair for Barrister's Council of Moot Court Division Josiah Beamish said.
Alex Kirven and Hannah Regan-Smith acted as counsel for the university. Kirven argued that stigma to an individual's reputation is not enough to bring a 14th Amendment challenge, but rather "stigma plus the loss of another government right or benefit" must be shown. Regan-Smith argued that Foster's role as a professor includes engagement with the public and that his speech on the blog is not protected by the First Amendment.
Regan-Smith argued that professors' duties are responsible to the public, and that "supports the idea that when a professor of medicine speaks on a topic of medical concern, he is actually speaking pursuant to his job responsibilities."
"You're not hanging your hat on the fact that he used his work email address, or that his bio referred to what he does?" Hood asked. Regan-Smith argued that those facts lend credibility to the argument but also that professors are expected to engage with the public.
Foster's counsel, 2L students Hanna Bustillo and Shane O'Connor, argued that under the Garcetti-Pickering balancing test — which concerns public employees and free speech —significant workplace disruption must occur to trigger that argument, but that did not happen in Foster's case.
Respondents argued that because the government (through the university) had engaged in what they viewed as defamatory statements about Dr. Foster  rather than a private party, it was not a defamation case. 
"Because the university deprived him of both his interest in reputation as well as his interest in continued employment, and despite the fact that he had these clear constitutional interests at stake, the university failed to provide him the benefit of that procedure," Bustillo argued.
Judges asked participants several tough questions, and commended students' abilities to respond in a timely and articulate manner, even when the question was about a separate argument point.
While audience members waited for the ruling, they were given the chance to ask participants about the experience and how they prepared. Regan-Smith said she found it helpful to run her arguments by people who don't have law experience.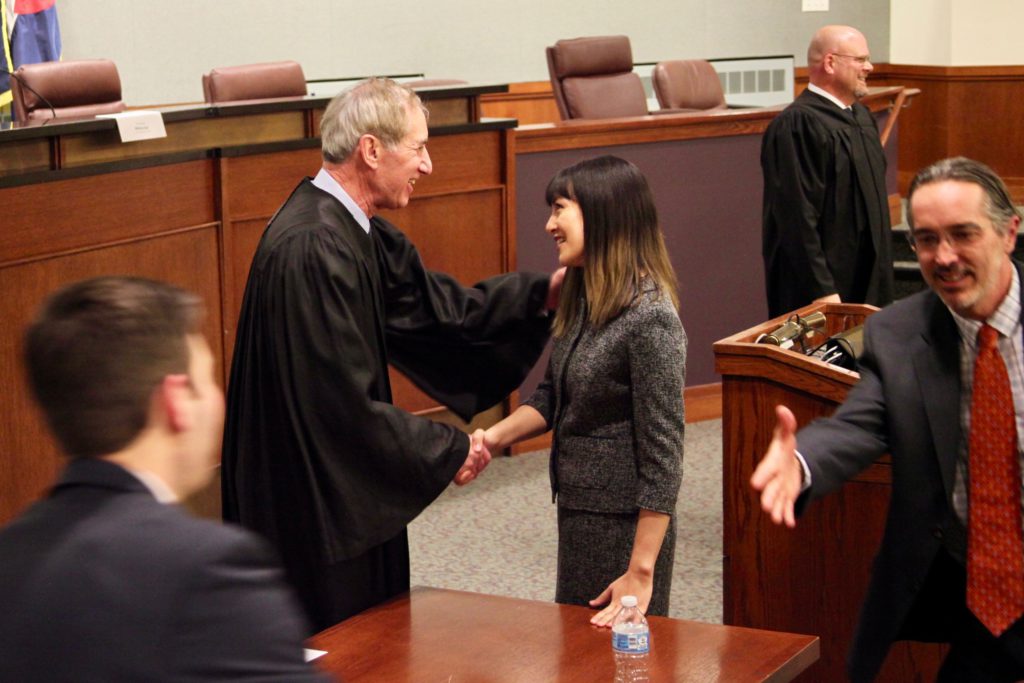 She practiced delivering her briefs to friends and family prior to the competition, because "if it doesn't make sense in plain English then it's not a good argument."
Shane O'Connor acted as counsel for Dr. Foster. He said attending oral arguments at the Colorado Supreme Court helped him realize that even professional lawyers who argue briefs regularly still make mistakes.
"You just can't be perfect for 15 minutes straight," O'Connor said. "That takes away some of the nerve."
Finalists' names will be included on a plaque in the law school and the best oralist's name will be engraved on a trophy as well. Kirven and Regan-Smith's team won the overall competition, and Regan-Smith was named as the best oralist for her argument.
The judges provided constructive criticism afterward and encouraged students to continue honing their skills.
"When you're in court, you want to go with the flow. You don't need to respond to something the other side never said," Hartz said.
Hart noted that though she's still fairly new to hearing arguments on the Colorado Supreme Court, the competitors' arguments reached a similar caliber to what she's seen so far. 
"I can think of a couple lawyers who were as good as you, but only a couple, for all four of you," Hart said. "That was really remarkable."
— Kaley LaQuea