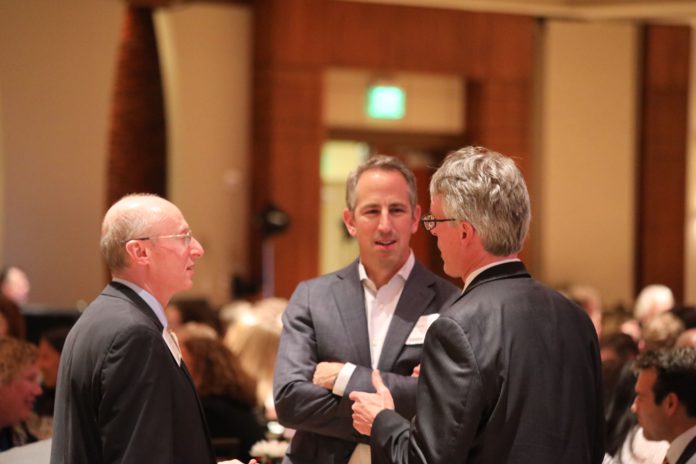 Graduates of the University of Denver's law school had their night out last Thursday to recognize three of their best and brightest.
Held each year, the DU Law Stars alumni awards gala honors graduates from DU's law school who have gone on to make outstanding accomplishments. Its 2018 honorees were M&A and corporate attorney Christopher Richardson, plaintiffs' personal injury attorney Patricia Jarzobski and DU law professor K.K. DuVivier. During the dinner program, which was held at the Denver Hilton City Center, attendees were shown tribute videos produced for each of the award winners.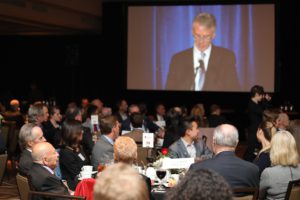 Richardson, former managing partner of Denver firm Davis Graham & Stubbs, is this year's recipient of the William L. Keating Outstanding Alumni Award. The 1983 law school grad is a partner in DGS' finance and acquisitions department and has been recognized by Chambers USA as a "Leader in Their Field" for corporate and M&A law.
Richardson said in his tribute video that being part-Italian, he could be excitable, so "it was suggested that I always be the calmest person in the room." 
"And you need to maintain your reputation, it's the most important thing you have," he continued. "The reputation you have in any setting as a lawyer is extremely valuable."
Richardson's calm demeanor belies his and his family's penchant for world travel and adventure, which has included climbing Mount Kilimanjaro. Before he went to law school, he met his future wife, Laney, while teaching in Brazil. When he returned to the states alone to attend DU, he took immigration law, he said, "for the sole purpose of figuring out how to get Laney into the country."
Jarzobski was given the Hon. Robert H. McWilliams Alumni Professionalism Award. The 1989 DU Sturm grad and plaintiff's personal injury lawyer served as the 2016-2017 president of the Colorado Bar Association, becoming only the fifth woman to do so in the CBA's 120-year history. One of the hallmarks of her tenure was when she hit the road in her RV and visited all 27 of the local bar associations.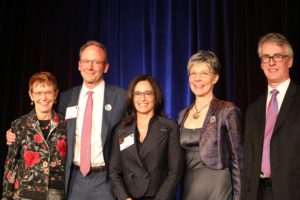 An avid athlete and sports fan, Jarzobski said in her tribute video she studies the dynamics of teams that win championships and applies them to her leadership. "There's a something-something that happens when a team reaches a championship. There's a camaraderie, there's a connection, there's a commitment."
Jarzobski currently leads the CBA and Denver Bar Association's joint diversity and inclusivity committee. "I really love seeing other people succeed," Jarzobski said. "I mean, that's in my heart, that's in my DNA." 
DuVivier received the Robert B. Yegge Excellence in Teaching Award. A law professor at DU who graduated from its 1982 class, she is best known for her teaching and work in energy law and legal writing. Before teaching, she practiced natural resources law at Sherman & Howard and Arnold & Porter. 
After a teaching stint at the University of Colorado Law School, DuVivier went to DU in 2000 to direct its legal writing program. The law school still uses her iteration of the program.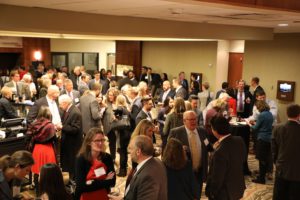 "I would say law school is a great place to learn how to think," DuVivier said in her tribute video. "And I used to tell my students … 'I'm not trying to change you,' and now I tell them, 'Actually, I'm trying to change you.'"
The DU Law Stars event also highlighted Joaquin Gallegos, a member of the Jicarilla Apache Nation who is attending the school as recipient of its Robert B. Yegge Memorial Scholarship. 
Gallegos, who was featured in a tribute video, is an active advocate for the health and welfare of Native Americans and Alaska Natives and currently interns at the 10th Circuit Court of Appeals. 
— Doug Chartier