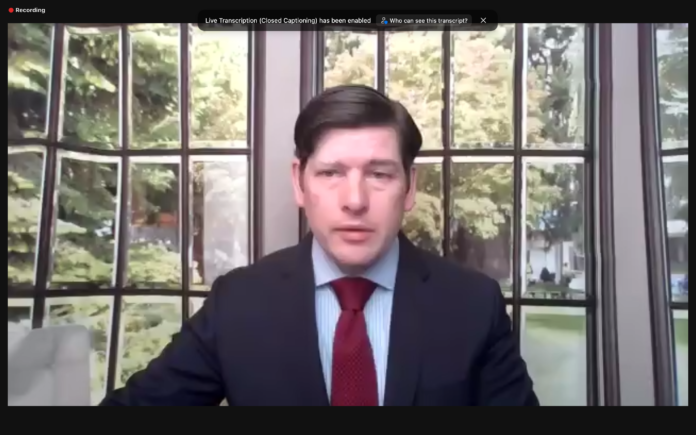 While debates abound about the current high usage of different spectrums, be they radio, TV or cellular, the Hon. Nathan Simington, Commissioner of the Federal Communications Commission feels that a busy spectrum is a good problem to have. During a keynote speech last week, he told a virtual audience about the importance of automatic sharing regimes.
Speaking at the University of Colorado's Silicon Flatirons 2021 Spectrum Policy Initiative Conference, Simington discussed the "land" of spectrum sharing and his FCC team's work and progress in the field.
"People often say that spectrum is congested," Simington said. "This is a good problem to have. It means that spectrum is desirable and heavily used; as such, we have a spectrum congestion problem that we didn't have when we were less developed and lacked the ability to exploit spectrum as thoroughly as we do today."
Simington was nominated to be a commissioner by former Pres. Donald Trump, and confirmed last year by the Senate. He previously served as Senior Advisor at the National Telecommunications and Information Administration and as private counsel. He's a U.S. citizen, but grew up in Canada.
Spectrum sharing is a "way to optimize the use of airwaves, or wireless communications channels, by enabling multiple categories of users to safely share the same frequency bands," according to the U.S. Department of Commerce's National Institute of Standards and Technology. This is necessary because growing demand is crowding the airwaves.
But, just like the need for new planning and land use regimes as cities grow and get more sophisticated, the question of how to handle new demands on spectrum suggests spectrum-use regimes, according to Simington.
Simington noted that recently the congestion surrounding 5G mid-band has been in the news, but it was only one single example of the new demands on spectrum. 
"And I hope you'll indulge me if I return now and then to land sharing as an extended metaphor, because spectrum is like land – they just aren't making any more of it," he added.
He mentioned that in living memory the Silicon Valley was made of farmland, and also spectrum was once so abundant that the easiest way to connect services and give each service its own band, according to Simington's presentation.
Simington referred to "Taking Stock of Spectrum Sharing" by John Leibovitz and Ruth Milkman, which makes the point that use of spectrum is restricted in frequency, space and time, and in practice also as signal through the use of protocols and techniques permitting massively scaled coexistence in a single band and service.
Under that framework, the Table of Frequency Allocations is a sharing system that distinguishes the space and the time by frequency of use under licenses. While the TFA is static at any given time, he said it is only dynamic as it is gradually revised. It also furnishes a helpful definition of a sharing policy and one permitting overlapping types of spectrum use in a single band and geography.
However, Simington said that automatic sharing regimes "promise to go farther than the TFA in fulfillment of this definition." Any static system would exclude almost all uses, and whenever out of use, the "spectrum is fallow." An automatic sharing regime proposes the opposite, according to him, enabling diverse uses by permitting time and frequencies to be used by multiple services in a coordinated way.
Under Leibovitz and Milkman's categories, regimes can exist in two parameters: it can be coordinated, informing and sensing, and centralized or decentralized. In a coordinated regime, multiple radio systems plan their co-existence in advance. In informing, one service tells others to be quiet so it can speak and in a sensing regime, services detect when another is talking and hold back. In a centralized regime, one or more central agents run the regime, and in a decentralized the users themselves coordinate.
Each has its place, whether centralized or decentralized, he said. Regimes should be tailored to anticipated uses, priority of users and the physical characteristics of the frequency at issue. Mixing in new uses is a compelling aspect of the sharing model and if the TFA must be revised every time a new service is created — those new services face steep barriers to entry, in costs and time, than under a regime permitting a variety of users at a variety of priorities.
"However, there are no free lunches, even in spectrum sharing," Simington said. And, under a static allocation regime, coordination problems are solved from inception at the "price of rigidity." Dynamic regimes address them on the fly and limit the functionality of each shared service.
He said that American spectrum regulators have faced criticism for not making more of the vital mid-band spectrum available, and that lack of flexibility in an environment of incumbents is what sharing proponents point to in warnings about the future.
"And that's why I think the real answer is a synthesis," Simington said. "We need both exclusive and shared spectrum today and for the future." 
"But, while our eyes are trained on the future, we also have to identify how to succeed today, in one year, in five years, and the knowledge of how to do so is highly specific and granular," he wrote in prepared remarks.
He discussed how perhaps in the future artificial intelligence and machines may help to regulate spectrum, but noted that they're not tools without challenges.
"Without denigrating sharing, we face many present challenges that are not easily resolved through sharing alone," Simington said.