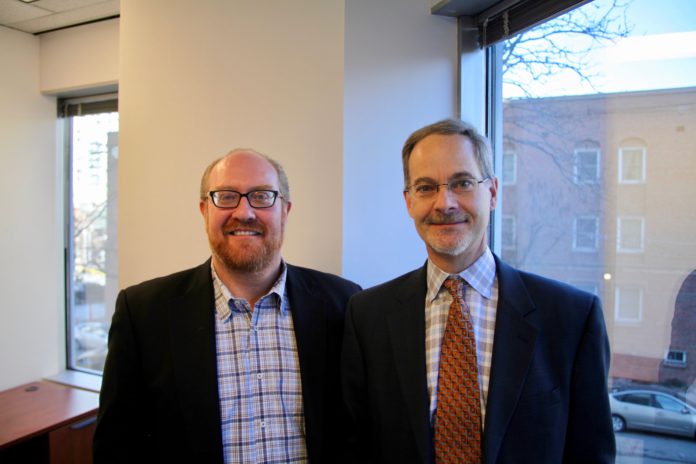 A new partnership in legal recruiting is looking to help firms make more permanent lateral hires by disrupting the current hiring process. Veterans in real estate law and consulting Jay Kamlet and Doug Johnson, respectively, co-founded Denver Legal Recruiting Specialists late last year. 
Kamlet said the service was borne out of a frustration with recruiters whom he feels miss the mark when it comes to finding a good fit for both firm and lawyer. 
"I felt like they were so unprepared to talk to me, because they didn't know who I was. They were really just flipping through their list of cold calls for the day," Kamlet said. He estimated that recruiters approaching him were working with "some nebulous description of 'I need a real estate lawyer with 10-plus years of experience with a good book of business, who wants to make a move. Go forth and find.'"
Kamlet said in the rare event he did call back, he found a level of ambivalence. After receiving multiple calls like this, he realized that in order to create a beneficial match, a firm's culture must be well understood before a recruiter tries to place a lateral hire.
"The intention here is really to utilize our connections within the group of lawyers that we know and then work for the firms that we select to work with," he said. 
Finding a Culture Fit
Kamlet said he and Johnson plan to only work with a handful of firms so they can take a deep dive into each firm's culture in order to ensure a positive connection is cultivated to achieve the best hiring outcome possible.
According to a report released late last year by consulting firm ALM Intelligence, 96 percent of survey respondents considered lateral hires very important to revenue growth, but the same report found that only 30 percent of laterals deliver less than half of their expected book of business in their first year at the new firm.
"Firms are just sort of saying 'Well here's our laundry list of the type of lawyers we're looking for, go find it,'" Johnson said. "And the recruiters will throw tons of stuff against the wall and occasionally something sticks, as opposed to saying, 'Here's why someone like this should join the firm; here's who we've identified; here's the value proposition for that individual lawyer.'"
Johnson said clearly articulating strategy and answering why someone might or might not be a good fit is one of the biggest challenges for firms and laterals. Kamlet said the culture of a firm isn't usually so explicit.
 "You've got the evil dark empire and you've got the Happy Meal firm. You really have to understand which end of that spectrum or where in between firms are," Kamlet said.
In order to make the cultural fit they say is necessary, Kamlet and Johnson are targeting a small number of firms of any given size. That way, they figure they can help place the right person for the right reasons. Kamlet asserted that his 30 years of experience in the Denver legal market and familiarity with the culture at firms of all sizes gives him a leg up on understanding what firms look for in lateral hires. Placing a partner who is better suited for the "dark empire" into a "Happy Meal firm" will only end badly.
"You have the power to destroy a firm with one bad hire," Kamlet said.
Fixing the System
Johnson said that because there is not a lot of organic growth in the legal industry, law firms have started to realize that growing through mergers isn't always the best option, and if they can't do that, then the other way to grow is acquiring talented partners through these lateral hires. 
"The process is really broken from the firm's perspective. They spend a crazy amount of money and then … a third of those lawyers they bring in two years later are still there," Johnson said. "The recruiters really are just incented to get somebody in the door, make sure they stay the 12 months because that's when they get their full payout, and the firms are so anxious to grow that they don't really clearly vet these candidates as well as they should, so there's kind of a breakdown on both sides."
Johnson said he's advised larger national and regional firms looking to expand into Denver, and sometimes that's not the best choice, because "Denver feels a lot larger than it is." He said a lot of firms have come to town and failed without bringing a clear strategy and specific niche to serve in the market. Johnson and Kamlet see their experience and familiarity in the Denver market as an advantage over national recruiters trying to help firms expand here. 
"My whole raison d'etre is creating connections with people," Kamlet said. "It really is a deep part of my psyche, of how to create deep connections between people, whether it's clients or a lawyer to a firm, so this is a natural offshoot of what I try to do on a daily basis." 
— Kaley LaQuea