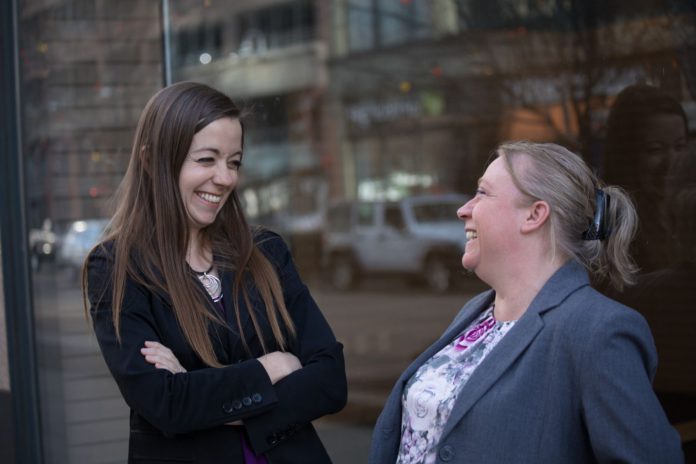 For Denver attorney Liz Oertle, the transition from business attorney to business owner made perfect sense.
After experiencing firsthand the difficulty of balancing being a parent and finding reliable childcare as a practicing attorney, Oertle went about solving the problem herself. After putting her head together with a web developer and coming up with the idea for an on-demand nanny app, Oertle set her legal practice aside to work on the startup company full time.
Being an attorney helped her discover the niche for her childcare app, and working with startups helped her launch her own. 
The Idea of Nanno
Think of Nanno as an Uber for nannies. Like many female attorneys, Oertle juggled being a mom to two kids while also having a busy law practice. Once she became a solo practitioner, she found she had time to think about other ideas outside of her legal practice. Among them was a co-working space with an on-site day care. 
After meeting a mom and website designer, Desi McAdam, Oertle pitched her the idea of the co-working space, but the two got hung up on the idea of how to staff the day care according to the fluctuating needs of a co-working space.
"We kind of came up with the idea at the exact same time," Oertle said. "Ever since then, we've been partners and co-founders and totally equally owning the idea, which I think is cool and unique."
The app allows parents to find child care providers within their social or professional networks who can watch their kids on an as-needed basis.
She said she saw for herself that becoming a parent made it difficult to attend evening networking events or to balance the needs of her job when "childcare fails" would come up like a child needing to stay home from school on short notice. 
"It really makes me want to make it so that having kids doesn't have to mean you have to give up on your career," Oertle said.
How it Works
Oertle calls Nanno an on-demand childcare platform. Users can access it through the web or a mobile-enabled web app — iOS and Android apps are on the way this spring. When someone needs childcare on short notice, they can find someone to step in on the fly. 
Rather than being a matchmaking tool for parents and babysitters, it's most useful in single-instance scenarios such as when a child starts getting up the night before a school day or when a parent who already works from home has an important call or meeting.
While the idea of trusting a stranger to watch your child might, for some reason, seem riskier than asking someone for a ride or sleeping in someone else's vacation home for a night, Oertle said Nanno tackles that trust issue by vetting its child care providers and using an invitation-only hiring process. 
Childcare providers must be invited either by Nanno itself or by other users. Then, each one undergoes a background check. Nanno also looks for trustworthy child care providers by focusing on four groups: teachers, nurses, college students and professional nannies. 
Parents also get a say in the people they choose to trust. They can focus the search only on caregivers who are connected to their child's school, for example, or they can open it up to caregivers connected to other people they trust.
"The important thing to realize is parents are very personal in how they look at this. Some parents, as long as [the caregivers] have the basic training, and they're good caregivers they don't care," Oertle said. "These are the things parents already do to find caregivers. We're trying to find ways to map with technology the things that people already do."
Nanno is active in Denver now with other locations being considered. In the short-term, the company has its eyes set on Colorado's resort towns so that parents can find short-term childcare on vacation. 
Meeting a Need
The idea for Nanno came from Oertle's personal experience, but it is one she shares with many others. She said many of Nanno's existing users are female lawyers — partly because the company sponsors the Colorado Women's Bar Association with discounts and onsite childcare during events.
But lawyers might particularly be attracted to the app because it's a demographic that needs the extra help, according to Oertle.
"I think it disproportionately affects women lawyers, but I don't think that's fair because I think just as many male lawyers run home when their kid is sick. 
To combat that on a lot of levels," she said. She added that she thinks the legal profession is more motivated than many others to address that disparity.
"You don't have to worry that a woman, when she has a kid, is not going to be reliable anymore, because there's a way to handle it. Oertle said. "Because there's an easy way, and it works every time, and it's just kind of backup for everyone."
Personal Experience
Prior to becoming a business owner, Oertle practiced in business law, specifically working with startups as a solo practitioner. She said she was always drawn to business law because she enjoyed supporting businesses. There was also some envy, she said, for the startup founders. 
Not long after starting the company, she left her legal practice in order to work on the business full-time, a requirement of an accelerator program the business entered. 
She said she otherwise wouldn't have left her practice to start the business, it just seemed like a niche that needed to be filled and that it was something she needed to do. 
Now that Nanno is off the ground, she's not sure she'll go back to her legal practice. If she does, she thinks the experience of being a startup owner, herself, will help her be a better startup lawyer. She's finding there's a lot to it she didn't understand until she did it herself.
"[Starting a business is] kind of like having kids," Oertle said. "You don't know the whole story, and then you find yourself in it and you're like, wow, I don't think I would have chosen this if I knew what it was going to be like. But I'm really happy that I did."
— Tony Flesor