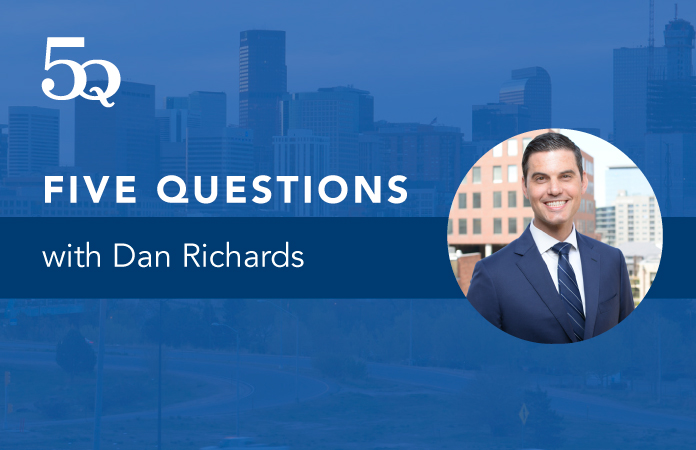 5Q is your way to get more acquainted with the local legal community. Submissions come from lawyers, paralegals, judges and law professors alike. In 5Q, you'll discover insights on the profession while learning more about the people behind the practice. Responses are edited for clarity and length.
Want to be featured in our next 5Q? Respond to the survey today.
This week, we heard from Dan Richards, a partner and civil litigation attorney at Davis Graham & Stubbs. He represents "domestic and international corporations in complex and consequential civil lawsuits and arbitrations pending throughout the U.S." Read more about his practice and experience in his online biography.
Question 1
If you could choose to master a musical instrument that you don't already know how to play, which one would it be and why?
A: Blues guitar. There is just so much opportunity for creativity.
Question 2
What is your favorite clause of the Constitution and why?
A: As a trial lawyer, I am partial to the Seventh Amendment.
Question 3
Which celebrity was on the posters you had hanging on your teenage bedroom wall?
A: Acknowledging that this is somewhat nonresponsive, my parents saved the maps that came with National Geographic magazine for years before I was born. They then wallpapered my room with dozens of National Geographic maps depicting places around the world. Way better than a celebrity poster!
Question 4
What is your favorite restaurant and what's your favorite thing to order there?
A: Uchi, and my favorite dish is the sake toro (salmon belly).
Question 5
What's your favorite weekend activity?
A: Skiing in the winter; mountain biking in the summer.