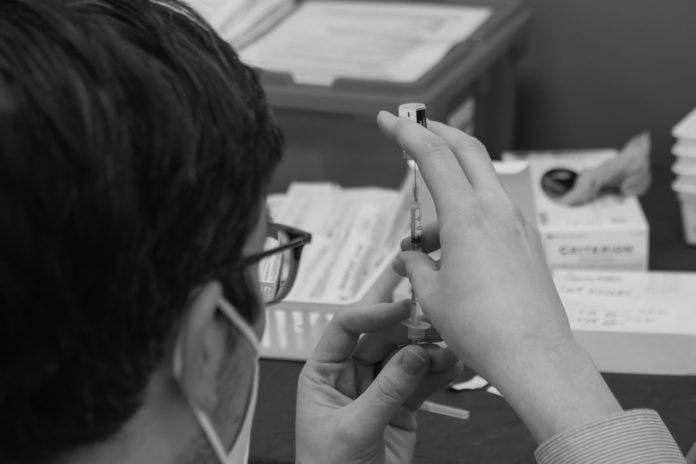 More than 1 million Coloradans have been fully vaccinated against COVID-19, and the state extended vaccine eligibility to the general public on Friday. As the vaccine becomes available to more workers, employers will face new decisions about immunization and the workplace. 
One of the biggest questions employers have had is whether they can require employees to get the vaccine. The Equal Employment Opportunity Commission released guidance in December giving employers the green light to implement mandatory vaccination policies. 
Employers must still comply with the Americans with Disabilities Act and Title VII and provide reasonable accommodations for employees who cannot receive the vaccine for medical or religious reasons. If employers can prove an accommodation poses an undue hardship, they need not provide it. But Holland & Hart partner Jeremy Merkelson said that would be a difficult standard to meet in the COVID-19 context because of the potential for remote work or other arrangements to keep the employee out of the workplace until the public health emergency ends.  
"We're advising most employers to be flexible," Merkelson said. "If you ask most employment lawyers, they'll tell you that [employers] should not take adverse action against someone for having a religious or medical reason not to get the vaccine." 
Fisher Phillips partner Kristin White said she has seen more employers choose to encourage, rather than mandate, vaccination. "We're seeing employers have quite a bit of luck just educating employees about the benefits of vaccines," she said. White said education efforts have included compiling resources on company intranet sites so employees can learn about vaccine priority groups, how to register and safety information. 
Some employers are offering incentives for employees who choose to get vaccinated. In January, the EEOC proposed rules for wellness programs requiring that employers offer only de minimis incentives for participation such as a water bottle or gift card of modest value. The EEOC withdrew the proposed rules in February.  
The attorneys said that employers have typically been following the withdrawn guidance by offering de minimis incentives. A good rule of thumb is to limit the value of gift cards and other incentives to $100 or less, Merkelson said, adding that offering more could have implications for taxes and withholdings.   
"You can't just throw up an incentive program. You've got to make sure that you've got some things in place," White said, including offering accommodations. Employers must ensure that any incentive opportunities for vaccination must also be available to employees with legitimate medical or religious reasons for avoiding the vaccines. For example, Merkelson said, a supermarket that offers a $100 bonus to employees who get vaccinated could offer the same bonus for employees who cannot be vaccinated but choose to complete an educational course instead. 
Many workers will ask for leave to get their shots or recover from the side effects. Under the Healthy Families and Workplaces Act, Colorado employers are required to provide up to 80 hours of supplemental sick leave for full-time employees during a public health emergency. White and Merkelson noted the supplemental leave under the HFWA covers preventive care, which could include vaccination. 
"I would advise employers to offer the paid time off up to the 80 hours of supplemental leave for purposes of both getting the vaccine as well as dealing with any emergency complications or issues following the receipt of vaccine," Merkelson said. "It would be a folly for an employer to deny such leave, especially if they're trying to incentivize employees to get vaccinated." 
As for other vaccination-related issues on the horizon, White said there could potentially be whistleblower complaints from the Occupational Safety and Health Administration. She said she had heard that an OSHA office in another region had plans to pursue whistleblower complaints against employers who retaliate against employees who refuse to get the COVID-19 vaccine.  
"It's interesting to hear because the language OSHA used was 'refuse to get the vaccine,' so that is different than someone who medically cannot get it," White said. "I see those as two different issues. Could they both lead to litigation? I think we could have new whistleblower issues on our hands in the next few months."  
Another question for the near future is whether COVID-19 vaccine passports certifying a person's immunization status will be required for travel or other activities. If a vaccine passport is required for international or interstate travel, Merkelson said, "I think employers are going to have to grapple with the question of whether they will still require travel." Vaccine passports could raise issues of employee privacy as well as discrimination, Merkelson said, and he's not aware of any guidance yet to address the concept of vaccine passports.  
"I imagine that is going to be a new frontier, and one that people are going to be thinking about, as we move toward hopefully reopening and getting out of our cocoons," he said.  
The Biden administration announced last week it is working to create standards for COVID-19 immunization certification. Israel has already debuted a type of vaccine passport, the Green Pass, which provides fully vaccinated citizens with a paper or digital certificate they can use to access hotels, theaters, gyms and other restricted facilities. The European Union, South Korea and Japan have also announced plans to launch similar certification programs.  
Employers will also want to watch for state legislation that would limit the ability of employers to mandate vaccines. As of February, lawmakers in nearly two dozen states had introduced bills banning employers from requiring vaccines, according to Stateline, although several of the proposals were quickly defeated.  
On March 4, Colorado lawmakers introduced HB21-1191, which would prohibit an employer from taking adverse action against an employee or job applicant based on their COVID-19 immunization status. The bill has not yet been scheduled for a committee hearing. 
"If the bill passes, then you could end up having both a state remedy along with the federal remedy [of] filing with OSHA as a whistleblower over this vaccine issue," White said. 
"I just struggle to see what the public health justification for such a law would be," Merkelson said of the Colorado proposal, adding that it "seems to strike a curious balance" between the competing goals of responding to the public health emergency while preventing discrimination, "and certainly one that would seem to go against what employers' interests might be in the workplace."