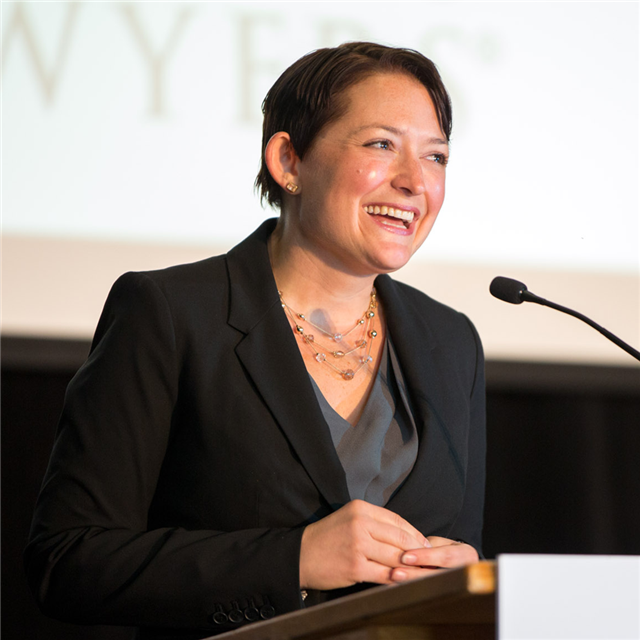 Wicked smart. A physical force. A magnet. These are words Alli Gerkman's friends and colleagues in the Colorado legal community use to describe her. 
Gerkman, an attorney and senior director at the Institute for the Advancement of the American Legal System, died Aug. 31 after a four-year battle with a rare form of cancer. At age 41, Gerkman had already amassed accomplishments in legal system research reform, and friends describe her having a luminous presence at lawyer groups in the Denver area and beyond.
"Through her work, Alli transformed the way our nation thinks about legal education and the role lawyers play in our society," said IAALS founder and former Colorado Supreme Court Justice Rebecca Love Kourlis in a statement. "She was a leader in envisioning a better system where new lawyers could better serve clients and the public had better access to justice."
Broadly, Gerkman is best known for her work at IAALS, based at the University of Denver. At the legal thinktank, she led a national study, "Foundations for Practice," that identified the qualities attorneys need to succeed in the legal profession. Since then, she'd been leading studies to determine skills clients want in their attorneys and how a lawyer's minimum competency should be defined.
Gerkman, who'd joined IAALS in 2011, helped drive much of the organization's initiatives as a reform-minded thinker and persuasive speaker, according to IAALS senior director, Brittany Kauffman.
"She loved to challenge the norm and the status quo and to push the boundaries of assumptions in a discussion [asking] 'Why does the system have to be like that?'" Kauffman said. "And her willingness to ask those questions and to think outside the box, I think, really pushed our work forward in the areas of the legal profession and legal education, particularly given that it's a profession steeped in tradition."
Gerkman took medical leave from her role this summer. When she received her diagnosis in 2015, a small-cell tumor in her breast, she was transparent about her illness at work. If anything, it "lit a fire" in her about work and activity she was already passionate about, said Logan Cornett, an IAALS senior research analyst who worked with Gerkman for eight years.
"I think that it really made her do even more to want to get out there, and just do everything that she could and in whatever time that she had left." As open as Gerkman was about her diagnosis — to the point of making light of it at times — she didn't let it define her but rather help drive her, Cornett said.
Not Shy
Gerkman's path through the legal profession was unorthodox. While she was ambitious, her ambitions lay outside the BigLaw trajectory that so many law school grads are expected to seek. 
This May, the Colorado Women's Bar Association gave Gerkman its annual Mary Lathrop Trailblazer Award. Past Trailblazer honorees include former Colorado Supreme Court Chief Justice Nancy Rice and Justice Jean Dubofsky.
In her acceptance speech for the award, Gerkman said she never wanted a big-firm job — and joked that a big firm wouldn't have wanted her anyway.
Without a predefined path, attorneys can set out to go any direction they want in their career, Gerkman told attendees. "Not least of all, you can set out to undermine a system and a set of assumptions that are harming our law schools, our profession, and most critically our clients and legal consumers." The room erupted in laughter when Gerkman added, "And if it ends up happening to be a system that also tried to tell you you weren't good enough all those years ago, well that's just icing."
Private practice isn't the ideal setting for every attorney, and it wasn't for Gerkman. After receiving her law degree from DePaul University, she spent three years at Winzenburg Leff Purvis & Payne, a Littleton firm that represents homeowners' associations. The practice area wasn't a great fit for someone like Gerkman who was wired for social justice issues and wanted to "effect change," according to Suzanne Leff. Leff met Gerkman after joining the firm in 2004. "She was frustrated … because her path and purpose weren't matched in that setting," Leff said.
Gerkman eventually joined CBA Continuing Legal Education, where she managed the organization's online content. She built a reputation there as a social media maven, being an avid blogger, Facebook poster and tweeter at a time when attorneys still mostly shied away from it. She created the CBA CLE LegalConnection blog that won the Professional Excellence in Technology Award from the Association for Continuing Legal Education in 2011.
Gerkman wasn't on social media to get likes, Leff said. She didn't promote herself so much as ideas that might improve justice or law practice. Social media was an opportunity that she "grabbed … to boost her from a place of unknown to a presence in the conversation, and a leader in the conversation," Leff said.
"She's always had big ideas. And she's always had a voice that she's not been shy about using," Leff said.
Bringing Others In
Friends credit Gerkman for bringing them into the fold of Colorado's community of women lawyers.
"She was a woman who really supported other women," Leff said. "I think that's why there are so many people who feel this great loss with Alli, because of how she built up communities in a way that was uncharted."
Alison Zinn, CWBA president from 2014–2015, said that recruiting Gerkman into the CWBA board "was probably one of the best presidential decisions that I ever made." In addition to bringing her insights to the board and forging valuable connections with its other members, Gerkman "was just an incredible face for the organization," Zinn said. 
Zinn met Gerkman by bonding over their dogs, which they brought with them to a CWBA "Yappy Hour" event five years ago. "It was abundantly clear" that Gerkman "was a person full of life, she was full of passion, and wicked smart," Zinn said. Not long after that meeting, she'd told another colleague that Gerkman had the qualities of a future CWBA president.
"Some people are just magnets for other human beings, and she's one of those people."
Gerkman never served as CWBA president, but she chaired its public policy and convention committees. In bar meetings, she was unafraid of voicing her opinions, yet she was willing to defer to more senior members when it was for the good of the organization, Zinn said.
Once she became a fixture in bar association meetings and events, Gerkman made it a priority to bring others in. Emma Garrison, staff counsel at Wheeler Trigg O'Donnell, still remembers a gesture of support Gerkman gave her not long after they met in 2010. Garrison was attending one of her first meetings at the CBA Young Lawyers Division and was on the meeting agenda. Still new to lawyer functions, Garrison was nervous about speaking in front of the group. Gerkman, who presented earlier in the meeting, sensed it.
"She could have just left [the meeting], but she knew I was feeling anxious about my presentation and gave me a look to say, 'Hey, do you want me to stay?' And [I] looked back, 'Yes, please, if you don't mind.' And she stayed. It was such a kind, gesture of support and I'm so appreciative that she gave me the gift of her time and presence."
Garrison went on to serve on the YLD Executive Council for five years, and she served as its chair in 2013-2014. She and Gerkman became close friends.
"Alli gave my baby girl a onesie that says, 'The Future is Female,'" Garrison said. "If my daughter gets an ounce of Alli's fire, wit, innovativeness, and intelligence, I will feel like I did my job right."

Playing Outside
Gerkman's Twitter profile said that when she wasn't working on legal problems at IAALS, she was "playing outside." Friends and colleagues said biking, hiking and other physical activity was gratifying for Gerkman and was another way she forged lasting connections throughout the legal community. 
She was a regular participant in the Wheels of Justice cycling team, which rides in Colorado to raise money for children with cancer each year in its Courage Classic. Garrison said it was Gerkman's suggestion that they join the team in 2011. She added that Gerkman even rode the Courage Classic in 2015 after her first round of chemotherapy.
Gerkman was driven athletically much like she was mentally, according to Wheels of Justice teammate Kristi Disney Bruckner, who is executive director of Sustainable Development Strategies Group. But biking wasn't just a physical outlet for Gerkman — it was also yet another subject where she was voluminously knowledgeable.
"She had a lot of technical know-how about the mechanics of a bike," said Bruckner. She remembers Gerkman knowing exactly what Bruckner needed to do to fix her derailleur. 
Gerkman was also "a physical force" who powered herself up steep hills and was fearless flying down them. "She loved speed," Bruckner said. "And it just made her so happy."

The 'Laugh Test'
Gerkman regularly used blogging and public speaking to share what she'd learned about her experience with cancer with audiences in the legal realm and beyond. Some of her writings can be found on her blog at alligerkman.com, which she titled "Not Looking for Anything Long-term."
"I still think about my own death all the time," Gerkman told listeners in a 2016 presentation she gave at an Ignite Boulder event. But she didn't just think about dying from the cancer she was diagnosed with a year earlier, she said, but from any cause unforeseen. "I am mortal," she said. Closing her talk, she encouraged listeners to consider their mortality, too.
"Every single one of you is going to die. Actually cease to exist. And you won't have a choice in how or when. And you should sit with that," Gerkman said. "And while you almost certainly will have no say in how you die, you do get to choose in every single moment of this beautiful, beautiful life just how you will live."
Accepting the Mary Lathrop Trailblazer Award in May, Gerkman encouraged the audience to pursue "big ideas." But they should make sure their big idea passes the "laugh test," she said — that at least one person laughs at it because it seems ridiculous or out of reach. 
"If nobody laughs at your idea, it's not big enough. And then pay attention to the people who don't laugh, to those people who have a sparkle in their eye and a fire in their belly to change the unchangeable. … These are the people who will turn that dream into a reality."
"And your work can only outlive you if you find others who are willing to make it their work, too."
— Doug Chartier