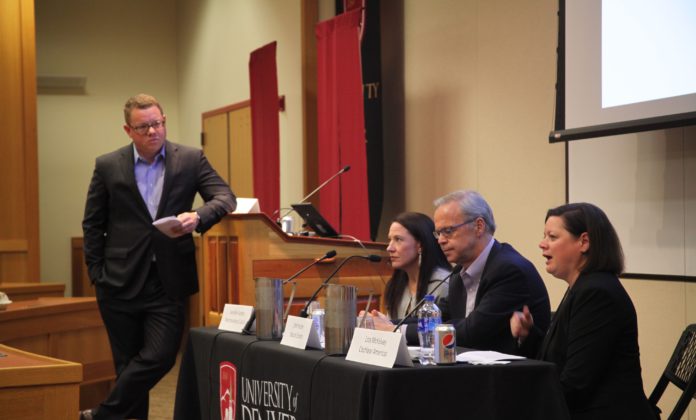 General counsel don't have time to read pages-long client alerts they get from law firms. But a short, personalized message on a relevant legal issue might get their attention and, perhaps, a follow-up phone call.
In-house leaders offered this and other insight into their likes and dislikes in a panel discussion held Tuesday. At the University of Denver Sturm College of Law, the Denver group of the Legal Marketing Association gathered four Colorado-based general counsel to speak in a presentation titled, "Delight & Despair: How Law Firms Deliver Excellent Service, and How They Drive General Counsel Crazy."
Jason Lynch of investment firm Foundry Group moderated the discussion with Jennifer Grafton of Westmoreland Coal Company, John Fischer of Natural Grocers and Liza McKelvey of Cochlear Americas.
'Show that you care about me, not just my company'
According to the panelists, law firms would do well to take an interest in all of the in-house lawyers they work with, and on a personal level. If they allow one of the client's key team members to feel left out, they might imperil the client relationship. 
Grafton said that's the reason she'd cut ties with one law firm that had long-received her company's business. 
When she was an associate general counsel at Westmoreland, the firm's lawyers never made an effort to get to know her personally, instead focusing all of their attention on the coal company's GC. But eventually the GC retired and Grafton assumed his role.
"Guess who was out the door?" she said. 
The firm seemed to rely on its longstanding relationship with the company as a whole and failed to cultivate a relationship with other people running the company's legal functions.
McKelvey echoed that sentiment, saying that outside counsel shouldn't take their client's in-house team for granted. "Show me that you care about me, not just my company."
'I've got plenty of lawyers to choose from'
Another consensus on the panel was that some law firms overvalue their legal expertise as a reason to retain them. If anything, expertise might be a law firm's most replaceable trait, according to Lynch, who recently went in-house to Foundry Group from Denver firm Davis Graham & Stubbs.
To illustrate that point, Lynch projected a slide showing part of a spreadsheet he keeps that lists potential attorney contacts in various practice areas (with names and other identifying information left out). The list had scores of entries, with multiple — presumably competing — attorneys in the same practice area, such as corporate law. "I've got plenty of lawyers to choose from," Lynch said.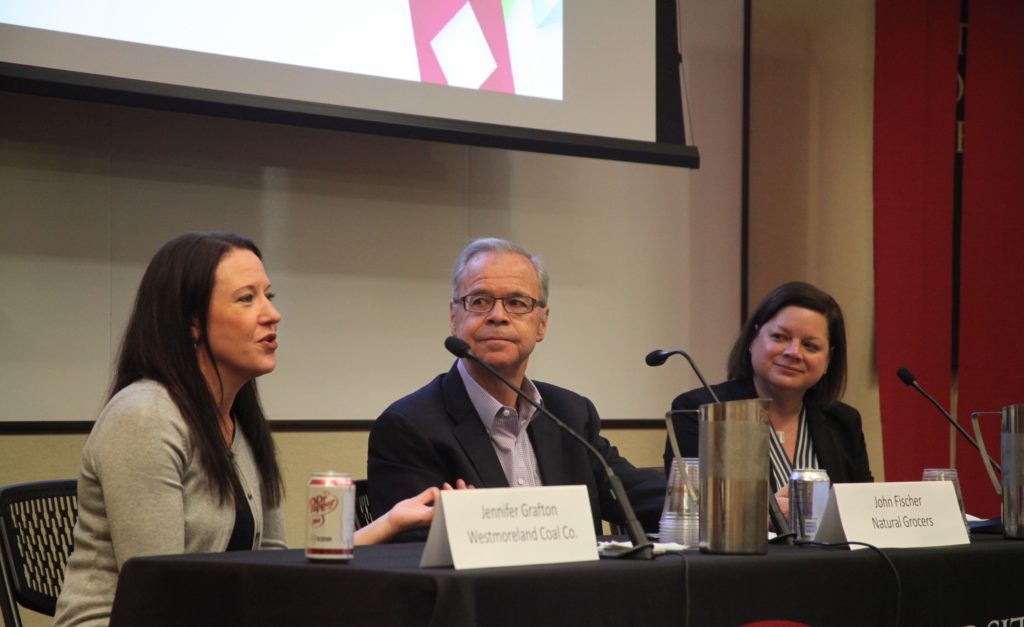 Legal expertise tends not to be one of the deciding factors for which outside counsel he hires. But one trait that makes outside counsel stand out — and what some firms fail to cultivate — is great customer service. Outside counsel should try to learn strong customer service fundamentals but not from other lawyers, Lynch said. 
He recommended using consultants and corporate trainers based in other industries, like food service and hospitality.
Outside counsel can often unknowingly send flags to GCs that convince those in-house leaders not to hire them. Grafton recalled a time when Westmoreland invited an East Coast law firm to come pitch on a matter. 
Just before the firm's attorneys showed up for the appointment, she looked out the window to spot a line of five black SUVs pulling up in the parking lot. Each attorney from the pitching firm had arrived in their own chauffeured vehicle. Grafton still listened to the team's presentation, but she had all but decided not to retain them after seeing the motorcade.
"I see that and I'm like, 'This is what my bill is going to be?'" Grafton said.
'How do you not know what the case might cost?'
Fischer said that when he asks outside counsel how much it might cost to litigate a matter, the most frustrating answer to receive is "It depends," and have it left at that.
McKelvey agreed, saying that while several factors could emerge in a case that drive up legal costs, law firms should try to give less vague predictions. After all, these are often the same lawyers who, in pitching their services, say they've litigated a certain type of case numerous times. "How do you not know what the case might cost?" she said.
One time McKelvey, whose company makes the Cochlear hearing implant, received a ballpark estimate of between $500,000 and $5 million for a case, which wasn't helpful to her when she's trying to budget her company's legal spend, she said.
Law firms are increasingly offering alternative fee arrangements like flat fees to help legal departments better control their budgets. 
But when a legal matter becomes more complicated — and therefore more costly — for the law firm to work on, it's O.K. to revisit the flat fee deal with the GC, McKelvey said.
— Doug Chartier